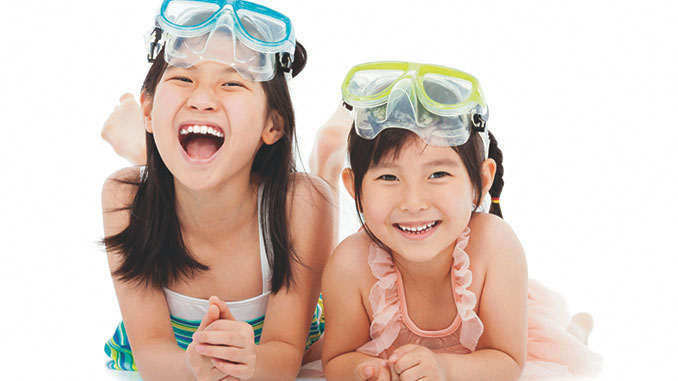 FAVORITE BEACH
Hollywood Beach
Sure, the Margaritaville Resort has brought a bit of an upscale sheen to Hollywood Beach, but it's still pretty much the same great funky destination for a flip-flop family outing. The Broadwalk enhances the beach-day experience with a variety of international eateries and shops just steps off the sand, where the little ones can frolic under the watchful gaze of Mom and Dad chilling at an al fresco table with an ocean view. The two-plus miles of brick-paved promenade are perfect for breathing in the sea air by jogging, biking, rollerblading or simply strolling. It's also home to two parks, a splash fountain and the annual Candy Cane Parade, one of the country's longest-running holiday parades. Mandee Adler of Hollywood says, "Family-friendly, clean, a lot to do for those who don't want to just sit on the beach." The beach itself is so clean it's annually certified by the national Clean Beaches Council. There's also the 56-acre North Beach Park, with fishing piers and a tower. Rachel Kaplan of Hollywood says she likes "the splash pad, pizza and free live music at the bandshell." Judy Klar of Hollywood says, "Love that there are no cars by the beach."
954-921-3500
FAVORITE PARK OR PLAYGROUND
T.Y. Park
The summertime gem of this 138-acre Hollywood park is Castaway Island, an enjoyable spot to beat the heat whatever your age. There's a water playground for children 5 and under, and for the older kids, a water park with slides, dumping buckets and other wet-and-wild diversions. And kids and adults young and old can enjoy the lagoon/swimming pool with zero-degree entry and a waterfall. After 3pm, you can take the plunge for a reduced entry fee. If you like water activities but not getting soaked, there's a large lake with a lovely geyser-like fountain and a marina for boat rentals and fishing. Of course, there's plenty to do on dry land, too, including walking, jogging, skating or biking (rentals available) on a two-mile loop of paved pathways, picnicking in one of its many picnic shelters, or turning your kids loose in the large playground. There are also the customary sports facilities as well as a 61-site RV campground and a primitive camping site. And with the park's expansive tree canopy, you have it made in the shade. 
3300 N. Park Rd., Hollywood
954-357-8811
Sugar Sand Park 
Here's the rare park where there's just about as much to do indoors as there is outdoors. Within Sugar Sand's 132 acres, you'll find the Children's Science Explorium and the Willow Theatre, both located in the Community Center, and the Field House, a 14,000-square-foot gymnasium. The exhibits of the hands-on Explorium make the physical sciences come alive for kids 5-12 years old. There are also camps and programs like the Explorium Science Squad and Friday Night at the Museum. For more active scientific pursuits, the tri-level Science Playground is just outside. The 155-seat theatre stages a variety of productions, such as the family-friendly Summer Children Series, featuring The Little Mermaid's Adventure, on July 7, and Community Cabaret, where on July 24 residents and non-residents ages 12 and up can take the stage to show off their talents. The Community Center is busy with classes, programs and events. And, of course, there are the more-expected outdoor amenities — nature trails, pavilions, athletic fields, hockey rink. There's even a carousel — and it's all just a few minutes north of the Broward County line. 
300 S. Military Trail, Boca Raton
561-347-3900
FAVORITE PLACE TO SWIM &  SPLASH
Quiet Waters Park
This splash playground of a park is aptly named, except perhaps for the "quiet" part — because Quiet Waters is a great place for making waves. Ski Rixen USA offers cable water-skiing, boarding and/or slalom-skiing to families with children 7 years and older and their grandparents, as well as lessons in the controlled environment of its large lake. Splash Adventure is a child-sized water park, with a pool depth ranging from zero at its edges to 12 inches at its deepest. There are slides, tunnels, water curtains, and a huge bucket that empties onto the kids below at regular intervals — and lifeguards are always on duty. Woofing Waters Dog Park features separate areas to cool off larger and smaller dogs with spray hydrants, shower nozzles and a spraying water loop. As for quieter water activities, fishing is permitted from the shores of several lakes and the marina offers boats to rent for a peaceful float. 
401 S. Powerline Rd., Deerfield Beach
954-357-5100
FAVORITE SOUTH FLORIDA FAMILY RESORT   
Margaritaville Hollywood Beach Resort
Of course, you don't have to be a Jimmy Buffett "parrothead" to enjoy this gleaming resort themed to the super-chill lifestyle of the singer's classic hit, but you may be by the time you leave. Since it opened four years ago, the $175 million resort has managed to both polish and blend with Hollywood Beach's funky-Florida vibe. Just off the Broadwalk, Pool Paradise is a palm-shaded, island-inspired recreation and entertainment spot with two unique pools, a waterslide and a FlowRider® Double for surfing without having to set foot in the surf just steps away. The Parakeets Kid's Club offers games, crafts and activities daily with trained counselors. But you don't have to be from out of town to enjoy Margaritaville. For locals, it's also an inviting destination for a relaxing staycation in one of 349 rooms, an indulgent night on the town or a casual or deluxe meal at one of eight dining and entertainment venues. So, whether resident or guest, you can kick back, sip that frozen concoction and take a bite of a cheeseburger in paradise. 
1111 N. Ocean Dr., Hollywood
954-874-4444
www.margaritavillehollywoodbeachresort.com
FAVORITE LOCAL ADVENTURE
Everglades Holiday Park
When you hear the word "Everglades," does the image of an alligator snap into your mind? If so, this is the place for you. It's the rare attraction where you can see the jaw-dropping reptiles both in their natural habitat via state-of-the-art airboat tours and up-close in live shows featuring TV's Gator Boys Alligator Rescue team. And if gators aren't your thing, this is still Broward's go-to family-fun destination for an up-close glimpse of the eons-old River of Grass ecosystem. The newest attraction, Animal Encounters, gives visitors a touchy-feely experience with furry and scaly inhabitants of the 29-acre wildlife preserve, working park and rescue operation. It's also the place for fishing the 'Glades from a Jon boat, the dock or a professionally guided tour and everything from boats to bait are available.
21940 Griffin Rd., Fort Lauderdale
954-434-8111
FAVORITE FREE FUN  (other than the beach)
Broward Parks
South Florida is famous for its beaches, but the nearly 50 Broward parks offer a staggering assortment of fun and educational diversions to engage residents and visitors without their ever setting foot on the sand (except, of course, for those beachfront parks where setting foot on the sand is part of the fun). For example, at T.Y. Park and several others, they can take a hayride and toast s'mores over a campfire. Or they can gaze at the stars from the huge telescopes of Fox Observatory at Markham Park. Or they can tee up at C.B. Smith Park's driving ranges or mini golf courses. Within their 6,500 acres, county parks also offer four lush nature centers, 12 pristine natural areas, several water parks, dog parks, campgrounds, a target range, a multipurpose stadium, mountain bike trails, horse trails, a velodrome, an educational farm and stables, fishing and boating sites, and much more. And the price is right, too, as admission to regional parks is always free for children age 5 and younger, and on weekdays, it's free for everyone else. On weekends and holidays, it only costs $1.50 per person. 
FAVORITE SOUTH FLORIDA ATTRACTION
Butterfly World
Hold out your arm here and within minutes it could be alighted on by beautiful butterflies. With about 20,000 of the most enchanting flying insects from around the globe flitter-fluttering about, Butterfly World is a natural wonderland and the world's largest butterfly park, right here in our own backyard. "My daughters love it there," says Adam Vivadelli of Fort Lauderdale. "We go a few times a year. They love to be able to hold the butterflies on their hand." Located in Tradewinds Park, it's home to three open-air butterfly aviaries, six free-flight aviaries for hundreds of exotic birds and hummingbirds, an interactive lorikeet encounter, a butterfly museum and even a Bug Zoo. Waterfalls, botanical gardens, passion vines, and roses complete the natural habitat, and educational tours provide an up-front look at the miracle of metamorphosis. 
3600 W. Sample Rd., Coconut Creek
954-977-4400
Lion Country Safari
It's definitely a day-trip away for Broward residents, but once you've arrived at this 600-plus-acre park, you'll have the thrill of staring face-to-face — through the windshield, of course — at lions, giraffes, zebras, rhinos and many more of the over 900 wild animals from six continents that roam here. After driving slowly through the four-mile safari, you can stretch your legs at Safari World, a walk-through safari and amusement park. There, you'll find an Animal Theater and exhibits, a petting zoo, bird-feeding and giraffe-feeding, a pontoon boat tour and paddle boats, miniature golf, a flying elephant ride, a safari maze, water slides and a splash playground, a restaurant, picnic sites, a campground and more. When Lion Country Safari opened in 1967, it was the first drive-through safari park in the country, and it remains the only attraction of its kind in the state.
2003 Lion Country Safari Rd., West Palm Beach
561-793-1084
FAVORITE SOUTH FLORIDA MUSEUM
Museum Of Discovery And Science
With most museums, visitors enter a building to learn about the world outside. This museum brings the world inside — at least part of our little piece of it. For example, a two-story exhibit presents one of the largest living captive Atlantic coral reefs on public display, featuring hundreds of living and replicated plants, animals and habitats. Visitors can board a 20-person airboat for a simulated ride into the Everglades. North American river otters in their own indoor/outdoor habitat — complete with swimming pool and waterfall — can be observed as they play underwater on the first floor or from above from the second floor. And in the hurricane simulator, visitors can brave the rush of hurricane-force winds. The museum also goes back outside in the recently added Science Park, a play zone for scientific experimentation. Inside or out at MODS, learning is always fun — such as in its current traveling exhibit, Hall of Heroes, which brings guests inside a different world: superheroes, crime-­getters, gadgets and spies. The immersive experience is on display through Sept. 2. 
401 SW Second St., Fort Lauderdale
954-467-6637
FAVORITE FAMILY EVENT
Las Olas Art Fair
What began as a small block festival decades ago has grown into one of the top art events in the country — an annual celebration of art, artists, art-lovers young and old… not to mention those who come purely for an eye-boggling stroll down Fort Lauderdale's signature boulevard. On three weekends during "The Season," the Las Olas Art Fair offers onlookers the opportunity to peruse the works of over 200 national artists, mingle with them, discuss their techniques and inspirations, take their works home or even  commission a piece. Life-size sculptures, spectacular paintings, one-of-a-kind jewelry, stunning photography, creative ceramics and much more blend with the sounds of live music and aromas of edible treats to turn the affair into a colorful kaleidoscope of imagery and sensations. Four-legged art-lovers are welcome as well. The 32nd annual events are Oct. 19-20 this year, and Jan. 4-5 and March 7-8 next year.
Along Las Olas Boulevard, Fort Lauderdale
561-746-6615