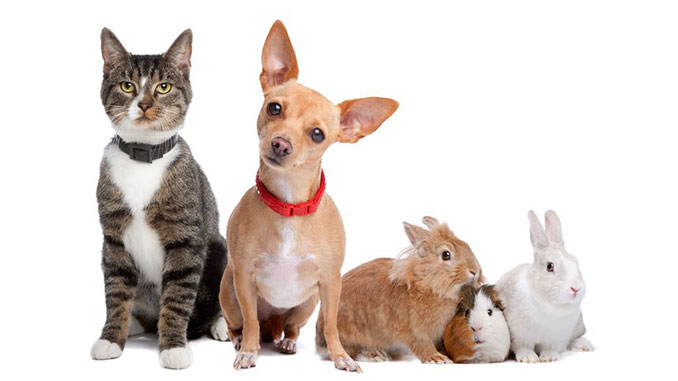 FAVORITE VETERINARIAN/HOSPITAL
Banfield Animal Hospitals
We wouldn't necessarily call it a dog-eat-dog industry, but there are certainly a lot of competing animal hospitals for Broward pet owners to choose from. Thanks to its size and accessibility, however, Banfield stands out. With over 900 clinics, the 60-year-old company is the country's largest privately owned veterinary practice. There are over a dozen locations in Broward alone, many inside PetSmart stores. With a caliber of service and professionalism you might associate with a medical facility, the hospitals help keep you from barking up the wrong tree for your pet's health-care needs by offering introductory exams and flexible Optimum Wellness Plans. Covering all your pet's preventive care with one package, the plans include unlimited office visits, routine vaccinations, comprehensive physical exams, diagnostic testing, product and service discounts and online access to your pet's records. Banfield's BARK program takes findings from the millions of pets treated annually by its vets, incorporates them into its practice and shares them with its customers through its patented PetWare® medical records software.
877-656-7146
Humane Society Of Broward County
"The best people on earth." That's how reader Elsa Colon of West Park describes the Humane Society. The nearly 7,000 dogs, cats and other furry friends adopted from there in a year would likely agree. While they wait, up to 300 of them at a time have air-conditioned accommodations in the 33,000 square-foot shelter — as well as access to full-time vet services. And when those special someones give that lucky pet a new home, they receive a $250 credit to a local VCA Animal Hospital for the first 14 days after adoption for a post-adoption check-up, treatments and even hospitalization. HSBC also offers a low-cost, walk-in only vaccination clinic, 9am-4:30pm Monday-Thursday, with four dog packages and two cat packages as well as individual vaccines and heartworm tests. Low-cost and free spay/neuter surgeries are also available at a custom portable unit, the first of its kind in the nation to be used for such procedures. Appointments can be made at the unit's rotating county locations by calling 954-463-7729 or emailing spayneuter@hsbroward.com.
2070 Griffin Rd., Fort Lauderdale
954-989-3977
FAVORITE GROOMER
PetSmart
PetSmart is doggone serious about grooming. It takes a year to become a stylist at this leading pet store chain, including four weeks at a grooming academy and over 800 hours of hands-on grooming instruction that includes bathing, trimming and styling at least 200 dogs of all breeds and sizes — plus annual safety certification. PetSmart provides appointment services, which include full-service grooming and bathing, and walk-in services, which include nail trim and grind, PAWdicure, teeth brushing, ear cleaning and trimming. Express services are also offered, and some locations offer grooming and bathing services for cats, like nail trim, nail caps application and ear cleaning. Of course, grooming is just one of many reasons pet-owners frequent this one-stop shop for pets. Dog training and day-care, PetsHotel, and at many locations, Banfield Animal Hospitals complement a wide range of pet products and services. And since 1994, PetSmart Charities has granted over $400 million to pet-loving organizations throughout the country, contributing to the saving of over 8.5 million pets. 
FAVORITE BOARDING FACILITY
Country Inn Pet Resort
South Florida is a vacation paradise, and that goes for vacationers of the four-legged variety who stay at this top-dog getaway. Three of the resort's eight acres are outdoor recreational areas, including two salt-chlorinated pools and even "a pawcuzzi." There's also an indoor turf area for rainy days. Designed in a country-style theme, private suites make pets feel at home with natural light, soothing music and access to a private outdoor area. Pets are taken out four times daily to exercise, play or just roam around. As reader Rebecca Noonan of Cooper City puts it: "Space, pools and Bruna!" She refers to Bruna Silva, who with Dr. Monica Silva is co-owner of the family-run resort. For emergencies or routine medical services, there's an AAHA-accredited Animal Hospital on the grounds. Country Inn also offers doggy day-care, a private spa and grooming, as well as training provided by the handpicked professional trainers of TV's "Dog Whisperer," Cesar Millan. And the resort bills itself as South Florida's only hurricane-proof pet boarding facility. 
2100 S. Flamingo Rd., Fort Lauderdale
954-424-6000
FAVORITE DOG PARK
Hollywood Dog Beach
There are few places that get your dog's tail wagging as wildly as the beach will, and Hollywood Dog Beach, with its clean sand and uncluttered locale in North Beach Park, sees more than its share of wagging tails — only on weekends, though. The dog beach is open year-round 3-7 pm. During daylight savings time, the hours are 4-8 pm. Admission for city residents is $5/day per dog or $30 for a six-month pass. Non-residents pay double those prices. Good dog park etiquette is highly encouraged, but the beach is monitored by a park ranger just in case. Aggressive dogs are not tolerated, and all dogs must wear their rabies tag and respond to their owner, who must pick up after them. So bring your license as proof of residency — and don't forget your pooper-scooper. Located one-half mile north of Sheridan Street, between Custer and Pershing streets.
Woofing Waters At Quiet Waters Park
As its catchy name signifies, Woofing Waters is a park-full of fun for water-loving barkers. Situated on two acres at the northwest corner of the park, it is divided into two sections — one for bigger dogs and the other for more petite pooches. In the large-dog area, there's a spray fire hydrant, a shower nozzle, an eight-nozzle line jet, and nearly 800 linear feet of hard-surface paths. For the smaller dogs, there's also a shower nozzle and an eight-nozzle line jet, but they also get a water loop that shoots a variety of sprays to run through. Woofing Waters is closed from January-April and is open the rest of the year Mon-Sun, 8am-6pm. A gate fee of $1.50/person is assessed on weekends and holidays only, and children 5 and under are free.
401 S. Powerline Rd., Deerfield Beach
954-357-5100