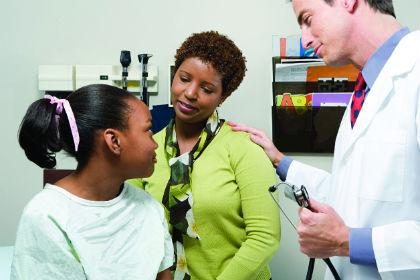 We asked the readers of Broward Family Life to vote for their favorite health care providers and facilities in Broward County. Here are the results.
Published: April 25, 2018
Favorite Pediatric Emergency Room
Joe DiMaggio Children's Hospital
From minor injuries to the most severe, families rush to Joe DiMaggio Children's Hospital — the only pediatric trauma center in south Broward County — for treatment. When it comes to emergency care, "this is the only hospital I go to," says Ryan Myles of Cooper City. The emergency room at this leading pediatric hospital is staffed 24-hours a day, year-round. The team is comprised of experienced, board-certified pediatric emergency medicine physicians, specialty-trained pediatric nurses and respiratory therapists. Medical experts provide care to the youngest of patients within a child-friendly environment that features colorful and playful décor designed to calm the nerves of little ones. A child life specialist is also available to help ease the fears of young patients. 1005 Joe DiMaggio Dr., Hollywood, 954-265-5324 www.jdch.com
Favorite Hospital For Pediatrics
Joe DiMaggio Children's Hospital
For the past two and a half decades, Joe DiMaggio Children's Hospital has been putting the importance of children's health at the forefront of all they do. The full-service hospital treats minor illnesses, trauma-related accidents and complex medical conditions. Like the community it serves, the hospital has grown over time and today is staffed by more than 650 physicians and last year treated more than 69,500 patients through the ER alone. Mindful of its young patients, the "Power of Play" is a healing force at this hospital, and the kid-friendly environment and decor reflects sports, arts, games and dreams throughout the facility. Parents describe the staff at Joe DiMaggio Children's Hospital as professional, responsive and caring. "They really care about their kids," says Jessica Sanchez of Hollywood. 1005 Joe DiMaggio Dr., Hollywood, 954-265-5324 www.jdch.com
Favorite Pediatric Dentist/Orthodontist
Journey Kids Dental
Dr. Marisabel Olivera, DMD, and the entire staff at Journey Kids are giving their patients something to smile about. "Dr. Olivera and the team are excellent," says Milagros Izquierdo of Pembroke Pines. "They treat my children
with love and compassion."
Certified by the American Board of Pediatric Dentistry, Dr. Olivera has created a warm and nurturing environment where she provides both preventative and therapeutic oral health care to children starting in infancy through adolescence.
Dr. Arghavan Welch is the on-site orthodontist whose passion is giving patients a smile they are proud of. 4800 NE 20 Terrace, Fort Lauderdale, 954-727-9865 www.journeykidsdental.com
Favorite Pediatrician
Pediatric Associates
With a dozen locations throughout Broward County, the message of Pediatric Associates is comforting: "We're here when you need us." Offices are open 365 days a year, including evening hours, to deliver quality care to patients ages newborn to 21. Maria Block of Coconut Creek says, "I like the after-hour options, plus the option of consultation via smartphone with camera."
In addition to routine visits, Pediatric Associates provides on-site services including labs and x-rays, free support groups, chronic disease management assistance, educational and safety classes, and events. Sarah Arellano of Fort Lauderdale says she appreciates the "great staff, excellent doctors and short wait time." They also have "very flexible hours," she says. www.pediatricassociates.com
Favorite Pediatric Specialist
Dr. Jason Adler Pediatric Critical Care
When it comes to caring for the most fragile patients, Dr. Adler is recognized for his compassion, kindness and expertise. "He is calm, professional and has an amazing way with children," says Cheree Liebowitz of Hollywood.
Affiliated with the Memorial Healthcare System, including Joe DiMaggio Children's Hospital, Dr. Adler is a graduate of the University of Pennsylvania and Tufts University School of Medicine, and completed his residency and fellowship training at Children's Memorial Hospital/Northwestern University in Chicago. He is a board-certified doctor of pediatric critical care medicine and a Certified Physician Executive by the American College of Physician Executives. 3501 Johnson St., Hollywood, 954-265-6301 www.mhs.net
Favorite Special Needs Activity
We Rock the Spectrum
We Rock the Spectrum is a place for kids of all abilities to play and grow together. With an all-inclusive philosophy, the gym is designed with ten pieces of specialized sensory equipment including a zip line, crash pit, trampoline, tunnel, and a bolster swing to aid children with sensory processing disorders and to create a fun, energetic environment. Classes, parties and an open gym allow kids an opportunity to gain strength and coordination while making new friends. 5159 S. University Dr., Davie, 754-216-2153 www.werockthespectrumdavie.com
Favorite Special Needs Provider
Nicklaus Children's Dan Marino Outpatient Center
Internationally recognized, the Autism/Attention Deficit/Developmental Disorders Program at the Dan Marino Outpatient Center provides a comprehensive care program to children who come from all over the world. The Center provides additional services including diagnostic and rehabilitation services, swimming instruction with individualized programs for infants and children with special needs. 2900 S. Commerce Parkway, Weston, 954-385-6200 www.nicklauschildrens.org
Favorite Special Needs Camp
David Posnack JCC Camp Giborim
Giborim, a Hebrew word meaning heroes, is a special needs program that serves campers with autism, Down syndrome, developmental delays and other disabilities. Campers ages 3-22, have summertime fun while participating in activities such as arts and crafts, dance, sports and sensory activities. Ethel Montag of Pembroke Pines says that Camp Giborim is orderly and organized with great teachers and activities. 5850 S. Pine Island Rd., Davie, 954-434-0499 www.dpjcc.org/camp/giborim
Favorite Urgent Care
After Hours Pediatrics
When the pediatrician's office is closed, many parents turn to After Hours Pediatrics to address everything from ear infections and sore throats to aches and pains. The urgent care staff of board-certified pediatricians provides medical attention to those ages newborn to 21. In addition to meeting the medical needs of children, After Hours provides same-day reports to primary pediatricians and is available for consultation to ensure appropriate follow-up care. 5067 N. Dixie Highway, Oakland Park, 954-267-1621 www.afterhourspediatrics.com
Favorite Maternity Hospital
Memorial Hospital West
For those starting a family or adding to it, The Family Birthplace at Memorial Hospital West is a top pick for maternity services. From pregnancy to delivery and beyond, this hospital ranks high for its top-notch support, education and services for a healthy pregnancy, delivery and post-partum experience. The award-winning Birthplace features comfortable amenities for moms and their families including completely private rooms and bathrooms and free Wifi access. A number of classes offered to families include Infant Safety and CPR, Bootcamp for New Dads, Breastfeeding, Baby Care and a Sibling Class. 703 N. Flamingo Rd., Pembroke Pines, 954-844-5493 www.mhs.net