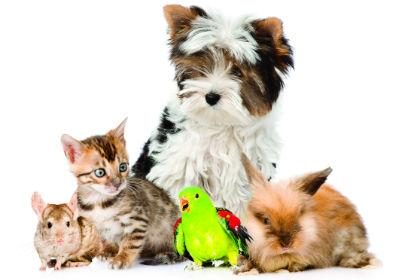 We asked the readers of Broward Family Life to vote for their favorite places to bring their furry family members in Broward County. Here are the results.
Published: April 25, 2018
Favorite Dog Park
Barkham at Markham
Almost every Broward County park welcomes leashed dogs, but Markham dog park has been a special leash-free zone for fun-loving Fidos since 2005. This 3-acre, fenced area just west of the park entrance includes sections for both large and small dogs, and it was the first such park in the county landscaped with Bermuda sod to provide a smooth, grassy playing surface.
The fully accessible park also features 8-foot-wide asphalt paths that are ideal for walking or jogging with your pets. And if you both work up a thirst, there are chilled-water fountains for humans in two of its three shelters and dogs-only fountains at other designated areas. There's also an area for washing dogs of all sizes.
Passes are required, and fees are $25 per household for an annual pass and $5 for a daily pass, plus sales tax. Proof of current vaccinations must be provided for each dog. Register at the park office. For more information, call the park at
954-357-8868 or visit www.broward.org/parks
Favorite Animal Hospital
Banfield Pet Hospital
When it comes to finding the purr-fect vet for your pet, it's not hard to go barking up the wrong tree. Banfield Animal Hospital makes the task easier — by virtue of its size and accessibility. Since opening for business over 60 years ago, the Vancouver, Washington-based company is the country's largest privately owned veterinary practice, operating many of its 900-plus clinics inside PetSmart stores and at over a dozen Broward County locations.
Banfield's image reflects a caliber of professionalism and service approaching that of a medical facility, such as an emphasis on preventive care with twice yearly exams and its BARK program. The Banfield Applied Research and Knowledge team studies data gleaned from the millions of pets treated annually by Banfield vets, incorporates the findings into its practice and shares them through events, reports and, for customers, its patented PetWare® medical records software.
The hospitals offer free introductory exams and flexible Optimum Wellness Plan packages of discounted and included services that provide a convenient alternative to pet insurance. www.banfield.com
Favorite Boarding Facility
Country Inn Pet Resort
Pooches get top-dog treatment at this 8-acre pet paradise with such amenities as private suites, two salt-chlorinated pools and even "a pawcuzzi."
Designed in a country-style theme, suites provide a cozy, home-away-from-home atmosphere with natural light, soothing music and access to a private, adjacent outdoor area. Pets are taken out four times daily to exercise, play or just sniff around three acres of the great outdoors in 22 turf play areas and four large turf and natural-grass parks —plus an indoor turf area with skylight for rainy days. There's even a Country Cottage with a custom bed, two large windows and a TV, which is located in a high-traffic area for dogs who prefer being close to the action.
Country Inn is also well-known for its collaboration with Cesar Millan, TV's "Dog Whisperer" whose Training Cesar's Way Courses are taught on-site by his team of handpicked professional trainers.
A state-of-the-art AAHA-accredited Animal Hospital can handle emergencies or routine medical services while pets are boarding or attending doggy daycare, grooming or training.
And for pet-owners with hurricane-season concerns, the resort bills itself as South Florida's only hurricane-proof pet boarding facility, equipped with two permanent generators for its hospital-grade air conditioning units. 2100 S. Flamingo Rd., Davie, 954-424-6000 www.countryinnpetresort.com
Favorite Groomer
Yuppy Puppy
Promising to treat every four-legged customer like their own pet, Yuppy Puppy groomers devote their award-winning attention to its coat, nails, ears and more as part of their full-grooming packages. If you're short on time, they offer touch-up mini-grooms that feature baths, ear cleanings, nail trimming, bang trimming and more.
Using all-natural products, their services also include teeth-brushing, nail-polishing and medicated baths and shampoos, plus a select inventory of pet and grooming products. And don't let the name fool you, Yuppy Puppy loves cats, too, and is skilled at giving them the exact look you have in mind, whatever the breed or temperament. 10416 W. Atlantic Blvd., Coral Springs, 954-753-7647 www.petgroomercoralsprings.com