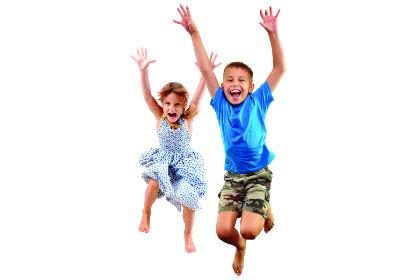 Savings on summer fun, and cool museum escapes
Published: May 25, 2018
Summer is here, school is out and … now what?
There are a zillion things to do in South Florida — that's one of its biggest perks — and summer is prime time for families to get out of the house and into the action.
Here's one more perk: Several discount programs make it easy to have fun and save money at the same time.
SEASONAL WATER PARK PASS: Kids and adults alike can splash away the summer with a seasonal pass to one of Broward's four county-run water parks, which kick into high season this month: C.B. Smith's Paradise Cove, Central Broward Regional Park & Stadium Tropical Splash, Quiet Waters' Splash Adventure and T.Y. Park's Castaway Island & Swim Lagoon.
Depending on the park and the size of your family, seasonal passes cost from $40 to $342 — which can add up to significant savings over daily entry fees that run as high as $10 per person. Passes are valid only from the date they are bought through Sept. 30 (Oct. 31 at Paradise Cove). Children under 1 are admitted free.
SUMMER SAVINGS PASS: For the eighth year, four of South Florida's premier attractions are offering unlimited admission for four months at one discounted price.
Passes to Lion Country Safari, Miami Seaquarium, Museum of Discovery and Science and Zoo Miami cost $58/adult and $48/child (ages 3-12) and are valid for admission through Sept. 30. The passes, which are less expensive for annual pass-holders, are for sale at the attractions or on their websites: www.LionCountrySafari.com, www.miamiseaquarium.com, www.mods.org and www.zoomiami.org.
For more information, visit www.summersavingspass.com
SOUTH FLORIDA ADVENTURE PASS: If you like to mix your fun time with a little South Florida culture, this may be the one for you.
Pass-holders receive unlimited visits through Sept. 30 to Bonnet House, Flamingo Gardens, Young at Art, Extreme Action Park and Sawgrass Recreation Park. Passes, which are available at the attractions, cost $45/adults and $35/child (ages 3-12), and are $15 cheaper for members.
SUMMER SAVINGS CARD: From catching a wave at Margaritaville Resort's FlowRider to chilling with nature at Butterfly World, you don't have to be a tourist to take advantage of 2-for-1 discounts offered by the Greater Fort Lauderdale Convention and Visitors Bureau.
Through Sept. 30, dozens of deals are available with the Summer Savings Card, and there are three ways to get yours at www.sunny.org/ways-to-play/summer.
Cool Museum Escapes
Looking for a little fun NOT in the sun this summer?
Family-friendly exhibits opening this month invite you in from the heat to venture into three decidedly diverse worlds: The Wizard of Oz, cartoon animation and the dual roles of artist parents.
• THE WIZARD OF OZ
June 7-Aug. 18, The Frank at Charles F. Dodge City Center, Pembroke Pines
This Oz-fest invites visitors of all ages to follow the Yellow Brick Road on a multi-sensory journey into the classic movie's iconic land.
Presented in partnership with the Miami Children's Museum, the exhibition features contemporary artwork related to the film that addresses and reinterprets its themes, such as courage, heart and mind, fantasy and unity. The only licensed educational exhibit from Warner Bros., it's a fun-filled discovery of personal strengths by using literacy, visual and performing arts, and the investigation of light and science. Literacy, arts and science! Oh, my!
• DUAL ROLES
June 8-Aug. 19, The Art and Culture Center of Hollywood
Focusing on artists who are also organizers and parents, the exhibit aims to illuminate how American culture perceives parenting in relationship to artistic careers.
"Dual Roles" is set against the backdrop of surveys conducted by leading artist organizations into how artists raise their kids while pursuing creative practices. The model for the exhibit is a series of curated components from artist-run initiatives and a panel discussion celebrating the successes and challenges of artist parents.
• SATURDAY MORNING CARTOONS, THE STORY OF KING KAPOW
June 9-Sept. 16, Young At Art, Davie
This interactive animation exhibit transforms the museum's largest gallery space into a land of fantasy and imagination.
Guests are invited to enter a portal into a cartoon world created by Christopher Ian Macfarlane and ruled by a candy-crazed-king in which everything is made of the four ingredients in his famous "King Kapow" cereal: marshmallows, sugar, chocolate and, of course, candy! Featuring activities galore for young kids to teenagers, the Young At Art original exhibit can be appreciated by art and cartoon enthusiasts of any age.
It's Turtle Time!
Ah, June — the season when thin-blooded South Floridians reclaim their beaches from winter's snowbirds and tourists. They're not alone.
Summer months are also when sea turtles mount their annual beach invasions and lay their eggs. But only about 1 in 1,000 hatchlings make it to adulthood, the remainder becoming casualties of predators, pollution and humans. With Florida accounting for about 70% of the country's sea turtle nesting, there are plenty of opportunities to observe a little part of the creatures' plight — both via walks to check out turtle nesting, and releases to take in the hatchlings' trek to the sea. All programs require reservations.
TURTLE WALKS (June and July)
• Dr. Von D. Mizell – Eula Johnson State Park,
6503 N. Ocean Dr., Dania Beach, 954-924-3859,
www.floridastateparks.org/park/Mizell-Johnson. 9pm Wednesdays and Fridays. Regular park admission fees apply.
• Museum of Discovery and Science, 401 SW Second St., Fort Lauderdale, 954-713-0929, www.mods.org. 9pm-1am Tuesday-Thursday.
• Gumbo Limbo Nature Center, Boca Raton, 1801 N. Ocean Blvd., Boca Raton, 800-838-3006, www.gumbolimbo.org. 8:30pm-midnight Tuesday-Thursday.
HATCHLING RELEASES (July and August)
• Broward County Sea Turtle Conservation Program at Nova Southeastern University, 8000 N. Ocean Dr., Dania Beach, 954-262-3672. 8-10pm, various dates. Ticket purchase required. Visit BCSTCP on Facebook for ticket link.
• Anne Kolb Nature Center at West Lake Park, 751 Sheridan St., Hollywood, 954-357-5161, www.broward.org/parks. 8-10pm Wednesdays and Fridays.
• Gumbo Limbo Nature Center, 1801 N. Ocean Blvd., Boca Raton, 800-838-3006, www.gumbolimbo.org. Mondays-Thursdays from 8-9:30pm mid-July to mid-August; and 7:30-9pm late-August to mid-September.