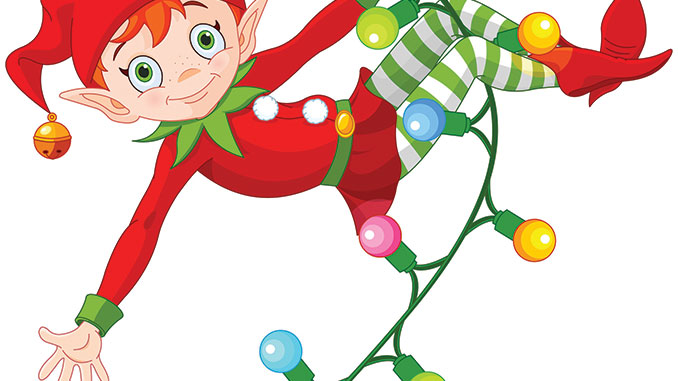 She may not be as well-accessorized as her Elfie, but this mom will miss her magical friend when he's gone.
Published: November 24, 2020
By: Cheryl Maguire
"When is the elf coming to our house?" asked my 2-year-old daughter. 
At the time, I had no idea what she was referring to.
"Elves don't come to our house, sweetie. They make toys at Santa's workshop," I explained.
"Ella said her elf came to her house yesterday and then goes back to Santa at night."
I responded with a platitude like "that's nice" and redirected her attention elsewhere. I thought, or rather hoped, that was the end of the conversation, but I soon learned it was merely the beginning.
This was in 2007, when Elf on the Shelf was making his grand debut. I was a naïve parent who thought that the elf was just a cute stuffed toy in a colorful see-through box. But looks can be deceiving. The package should contain a large warning label stating: I may look cute, but I require an immense amount of care that will last for the next 10 years or so. I also come with a lot of specific rules that must be followed. If you are not up for the challenge, take your hands off the box and go buy a stuffed animal that only requires some occasional washing. Trust me, I'm not joking.
Although, even if that warning was listed, let's be honest, I would have bought it anyway, because who would believe that a stuffed elf would require more care than a hermit crab or a newborn baby?
When my kids first met their elf, like any pet requiring oodles of time and money (yes money — I'll get to that later), you have to choose a name.
I rattled off some suggestions of boy names that my husband had negated when we were pondering baby names. I was excited that I might finally have the chance to have my choice selected.
"How about Gavin, Reese or Aiden?"
They responded the same as their dad did.
"No way!"
After much deliberation, they settled on an extremely creative one – Elfie. Yeah, I wasn't too impressed either. I'm guessing that probably ranks in the top five for elf names.
After the naming ceremony, I was about to remove Elfie from the box only to hear my daughter scream in terror.
"NNNNOOOO, you can't touch him mom or he will lose his magic."
I wondered how I could create the same rule for my phone.
So Elfie sat in the box, untouched, waiting to fly back to Santa to report on my children's behaviors.
Now that is something that sounded good to me. A tattle-tale elf who held a lot of power in the gift-giving department. What's not so great is that Elfie works 24-7. By day he's an observer, keeping tabs on who is being naughty and nice, and by night he takes a round-trip flight to report his findings to Santa. Every morning before the break of dawn, Elfie is back at the house to observe some more. But he doesn't just plop down on the dining room table or hide away in a toy box. He is far too playful and mischievous for that. Nope, each morning Elfie — without fail — must be found posed in some funny or interesting manner, like zip-lining across the living room on a candy cane or making snow angels in a pile of sprinkles on the kitchen counter.
And then my kids wanted to buy Elfie accessories like clothes, sleeping bags and cooking utensils. This year you can even buy your elf a mask, hand sanitizer and toilet paper. By the time we were done, Elfie had nicer PJs than I did.
Just like our pet hermit crab, Elfie grew on me over the years, despite the commitment. Last year, my older kids barely uttered hello to Elfie, and they didn't dare search for him. It was then that I realized how much I'm going to miss the guy when my youngest outgrows him.
I still think Elf on the Shelf should come with a warning label about the huge time commitment, but I would be willing to add a disclaimer saying, "Okay, I'll admit it — it's totally worth it."
Cheryl Maguire is the mother of twins and a daughter and host to an unforgettable elf.