Region: Broward County Category: Day Camps Camp Activities: Science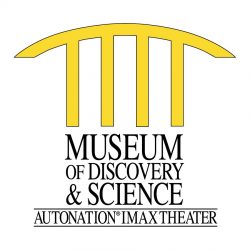 Camp Discovery is a day camp from 9 a.m. to 5 p.m. filled with exploration of Museum exhibits and hands-on activities. Summer camps offer a different science theme each week. Campers will see an IMAX film. Lunch and before care and after care are offered.
Address: 401 SW Second Street, Fort Lauderdale, FL 33312
Phone: 954-713-0930
Phone 2: 954-467-6637
Gender: Coed
Minimum Age: 6
Maximum Age: 12
Year Established: 1977
Capacity: 120
Lodging Available: N/A
Average Cost Per Week:
Five day: $200 members, $225 non-members
A daily fee of $5 is charged per child for before (8:00 a.m. to 9:00 a.m.) and after care (5:00 p.m. to 6:00 p.m.). An additional fee of $10 per child for each additional 5 minutes of care after 6:00 p.m.
Average Cost Per Day:
$45
Camp Length: 9 a.m. to 5 p.m.
Camp Days: M-F
Season Starts: June 5, 2019
Season Ends: August 14, 2019
Financial Aid: No
Location:
---