Region: Broward County Category: Day Camps Camp Activities: Science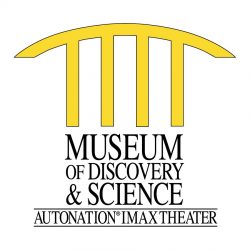 Give your child an unforgettable STEM experience at MODS. Camp Discovery presented by Joe DiMaggio Children's Hospital provides campers with interactive exploration, healthy choices/healthy lifestyle education, endless learning opportunities, including a weekly IMAX immersion for on-site five-day camps.
Let the summer of science begin!
Camp Discovery is from 9 a.m. to 5 p.m. with a different science theme each week such as Game On, Chillin' Like a Villian, Hogwarts Summer School, Kitchen Chemistry and more! Lunch is available for purchase, and before care and aftercare are offered. The dates and format may change based on the Museum's reopening schedule.
Address: 401 SW Second Street, Fort Lauderdale, FL 33312
Phone: 954-713-0930
Phone 2: 954-467-6637
Gender: Coed
Minimum Age: 6
Maximum Age: 12
Year Established: 1977
Capacity: 120
Lodging Available: N/A
Average Cost Per Week:
Five-day camp: $200 members, $225 non-members
Multi-child discounts are available!
A daily fee of $5 is charged per child for before (8:00 a.m. to 9:00 a.m.) and after care (5:00 p.m. to 6:00 p.m.)
Average Cost Per Day:
$45
Camp Length: 9 a.m. to 5 p.m.
Camp Days: M-F
Season Starts: June 3, 2020
Season Ends: August 18, 2020
Financial Aid: No
Location:
---