Category: Art, Crafts & Culinary, Entertainment for Hire, Interactive Shows & Themed Entertainment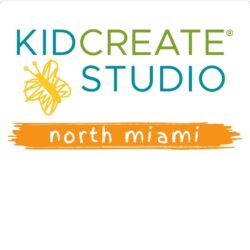 Kidcreate Studio North Miami is a mobile art studio just for kids! We specialize in children's art classes, camps, art-themed workshops, and birthday parties. While with Kidcreate, children create fridge-worthy masterpieces, learn creative concepts and experiment with many different art materials. We focus on art education and art creation. We have projects using clay, canvas, drawing techniques, slime, and more. Our classes are age-specific and tailored to provide each student with the curriculum that suits them best. Our curriculum is geared toward kids ages 18 months-15 years old. Our On-The-Go Mobile Studio allows us to expand the reach of our award-winning art curriculums.
Address:
1175 NE 125th Street Suite 410
Phone:
(305) 402-4267
Email:
Click to email us.
Web:
Click to visit us online.
Venue Type:
Mobile Only- In-home, backyard, parks, schools or indoor facilities.
In Business Since:
2021
Insured Venue:
Yes
Services Provided:
Here is the rundown on how we make the magic happen:
Our teachers pack up and head out to meet the kiddos at your facility. Our multilingual teachers are vetted through a thorough background screening and prepared for class with aprons on, the materials needed for the lesson, and the curriculum in hand.
We arrive at least 30 minutes before class to set up the room/area. Our classes begin with circle time, then we review class rules, and introduce our KidBit. KidBit is an educational component included in every Kidcreate course. The project time is a very hands-on and guided portion of the class. Although we are aiding the children, we allow plenty of opportunities to self-guide their creations to provide opportunities for children to explore their interests and abilities. From there, we reconvene for our very special Ta-da time, where we review what we've learned and celebrate our creations.
Once the class is over, our teachers clean up our area. The kiddos take home their projects that day!
TA-DA!
Price Range for Services:
$360
Packages Available:
Yes
Min or Maximum Number of Guests Allowed:
50
Cost for Additional Guests:
20
Refreshments Served:
N/A