Category: Games and Arcades, Indoor Fun, Party Places and Venues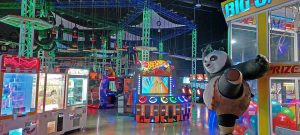 Xtreme Action Park has something fun for everyone with over 200,000 square feet of exciting attractions and event spaces including Go Kart Racing, Bowling Lanes, Arcade Games, a Ropes Course Adventure, Roller Skating Rink, Escape Rooms, Laser Tag, Virtual Reality Games, VR Escape Rooms, Mini Golf, RC Racing and MORE! Plus you can refuel at their All American Pit Stop Kitchen and the Pit Bar, a full Liquor Sports Bar.
Address:
5300 Powerline Road Fort Lauderdale Fl 33309
Phone:
(954) 491-6265
Email:
Click to email us.
Web:
Click to visit us online.
Venue Type:
Birthday Parties, Corporate Events, Holiday Parties, ect.
Hours of Operation:
MONDAY: 11AM-10PM
TUESDAY: 11AM-10PM
WEDNESDAY: 11AM-10PM
THURSDAY: 11AM-10PM
FRIDAY: 11AM-Midnight
SATURDAY: 11AM-Midnight
*See website for current hours of operation*
SUNDAY: 11AM-10PM
Insured Venue:
Yes
Services Provided:
The Fastest Indoor Asphalt Race Track with a layout for Gas-Powered Race Karts that reach speeds up to 45MPH and a kids track for electric Karts!
Four unique racing fleets featuring Junior(electric), Cadet, Pro and Super Go Karts.
6 Full Size Bowling Lanes for All Age Recreational Bowling.
Over 150 Interactive Arcade Games in over 15,000 sq foot open Game Room.
All American Pit Stop Kitchen featuring Burgers, Quesadillas, Wings and more!
The Pit Bar - Full Liquor Sports Bar featuring several Premium and Craft Beer options with over 60 LED TV's and Projector Screens for Public viewing.
High Indoor Ropes Course Adventure with Advanced and Beginner Levels where climbers conquer several unique obstacles above the Arcade Game room.
The Arena Roller Rink – a 16,000 sq. ft. Performance Venue and Event Space that offers a 12,000 sq. ft. maple wood Roller Skating Rink with built in DJ Booth, mirror balls and moving lights. Available for Large Events and Private Functions plus equipped for live performances and unique sporting events.
XD Dark Ride Theater – An amazing 7D Experience where guests engage in rich, multi-sensory adventures with cutting edge graphics and visual FX.
Evolution Escape Rooms offering physical & Virtual Reality adventure games in which players are locked in a room and must use elements of the room to solve a series of puzzles and escape within a set time limit.
State-of-the-Art Virtual Reality Gaming offering multi player and self-guided experiences including VR Escape Rooms for unique group play.
Omni Arena - the first omni-directional treadmill that lets players walk and run in 360 degrees inside video games and other virtual worlds.
Laser Tag featuring a glow in the dark course with projection targets and powerups.
Private Rooms and Meeting Space featuring Spectacular Views of our Track.
Price Range for Services:
$11 - $250
Packages Available:
Yes, please see our website for all packages & specials
Min or Maximum Number of Guests Allowed:
Minimum of 10
Refreshments Served:
Yes! Enjoy popular local fare including burgers, wings and pizza, but we also offer a variety of unique items such as wraps, quesadillas and much more at the Pit Stop Kitchen!
Catering is available and we can accommodate small groups with a variety of Appetizer, Fruit or Vegetable platters along with Wing Platters, Hot Dog & Burger Sliders and Sandwich or Wrap Platters. All served fresh from our kitchen! Plus, on the weekends, lane service is available for Bowling Groups.