Category: Games and Arcades, Indoor Fun, Party Places and Venues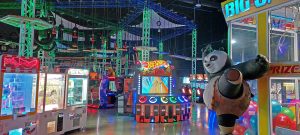 Xtreme Action Park has something fun for everyone with over 200,000 square feet of exciting attractions and event spaces including Go Kart Racing, Bowling Lanes, Arcade Games, a Ropes Course Adventure, Roller Skating Rink, Escape Rooms, Laser Tag, Virtual Reality Games, VR Escape Rooms, Mini Golf, RC Racing and MORE! Plus you can refuel at their All American Pit Stop Kitchen and the Pit Bar, a full Liquor Sports Bar.
Address:
5300 Powerline Road Fort Lauderdale Fl 33309
Phone:
(954) 491-6265
Email:
Click to email us.
Web:
Click to visit us online.
Venue Type:
Birthdays, Corporate parties, Holiday parties, and more!
Hours of Operation:
Go to Xtremeactionpark.com for current business hours.
In Business Since:
2015
Insured Venue:
Yes
Services Provided:
Go Kart Racing
Bowling Lanes
Arcade Game Room
Ropes Course Adventure
Trampoline Park
Roller Skating Rink
Escape Rooms
Laser Tag
Virtual Reality Games
VR Escape Rooms
Price Range for Services:
$$$
Packages Available:
Yes
Min or Maximum Number of Guests Allowed:
Not Applicable
Cost for Additional Guests:
Not Applicable
Refreshments Served:
Our most popular local fare includes Burgers, Wings and Pizza, but we also offer a variety of unique items such as wraps, quesadillas and more!