Region: Broward County School Type: Private School, Religious School Activities & Classes: Activities & Enrichment Classes, Childcare - Afterschool Care, Education Resources, Music Classes, STEM, Sports Classes, Tutoring & Testing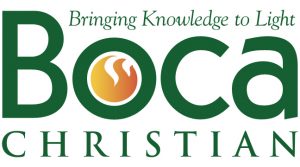 Boca Christian gives students the highest caliber of college-preparatory education in a Christian environment; located on a spacious 21-acre campus in the heart of Boca Raton, Boca Christian is an independent PreK3-12th grade school established in 1973 as a ministry of Boca Raton Community Church. The school's vision is to develop Christian leaders of influence for today and tomorrow by nurturing academic excellence and inspiring Christian character. Boca Christian is known for a family-oriented environment, outstanding records in college placement, athletics, and the arts, as well as a commitment to service by our students and faculty.
Address: 470 NW 4th street
Phone: (561) 391-2727
Open House: Yes, please join us!
Open House Start Date: February 17, 2021
Open House End Date:
February 17, 2021
Open House Details:
We invite you to come to visit Boca Raton Christian School! Hear from Administration, students, and parents about what makes Boca Christian unique.
The vision of Boca Raton Christian School is to develop Christian leaders of influence for tomorrow. Boca Raton Christian School seeks to encourage children to know, love, and serve Jesus Christ in a nurturing atmosphere of academic excellence. We have on-campus and virtual live stream options available. Go to Bocachristian.org and click on request information to reserve your spot.
Year Established: 1973
Beginning Grade Taught: PreK
Ending Grade Taught: 12th Grade
School Uniforms Required: Yes
Annual Tuition Range: 8,525-13,860
Day Care Service Offered: Yes
Offers Financial Aid: Yes
Location:
---