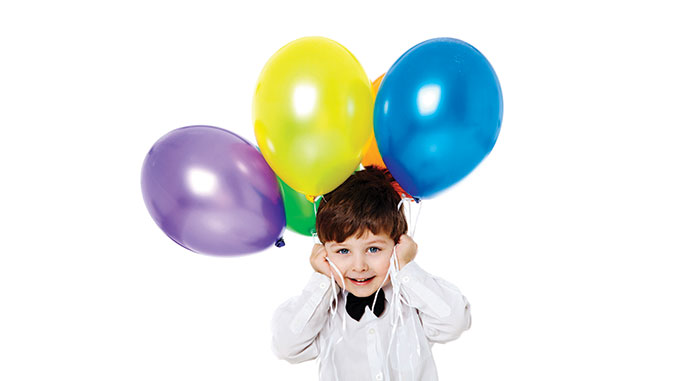 Avoid these planning pitfalls for a zero-drama bash
Published: October 30, 2019
By: Malia Jacobson
It happens all too fast: One minute, you're wiping up the crumbs from the first-birthday cake smash. A few whirlwind years later, your precocious preschooler brings home a stack of birthday party invitations penned by parents you've never met. Party evites invade your inbox and group texts detailing last-minute party plans zip back and forth with the urgency of national security missives. Your child has hit the birthday party scene, and it's hoppin'.   
Kid birthday parties are big business — the International Association of Amusement Parks and Attractions reports kids' party venues charge an average of $370 per party.
Add in decorations, food and favors, and costs can easily top $500, so it's understandable that parents want to get it right. 
Easier said than done, though. Parents bring different expectations, cultural norms, communication styles and budgets into the party-planning process, and etiquette can fall through the cracks, says Jacqueline Whitmore, an internationally recognized etiquette expert, author and founder of The Protocol School of Palm Beach. And with 73 percent of parents preferring to send online invitations, according to online stationer Punchbowl, the increasingly paperless world of party communications leaves room for etiquette missteps. 
 While there's no formula for the "perfect" party, avoiding these party-planning pitfalls keeps the focus where it belongs — celebrating your not-so-little-one's big day.  
RSVP Reframe
In today's uber-connected world, responding to party invites has never been easier; email, texting, or simply checking a box on a web-based evite takes all of 30 seconds. But these days, many guests mistakenly consider RSVPs optional, says Whitmore. This leaves the party-planning parents to guesstimate the guest list, or track down and re-contact all invited guests' parents about whether they'll attend. And nobody has time for that. 
"It gets frustrating when people don't reply at all, or respond 'maybe' but don't update as to whether they'll come or not," says Raina Johnson, a mom of three boys.
"If you're fortunate enough to be invited to a party, respond as quickly as possible," Whitmore says. Whether you can or can't attend, respond to invites — including evites and text invites — within a week at the most. And if plans change and your child can't attend, contact the host ASAP so the food, activities and party favors earmarked for your child can be re-purposed.
Tiny Glitterati
A top parental pet peeve: Supersized (or super-spendy) soirees that make your casual neighborhood cupcake-and-juice fete look ho-hum by comparison. 
"I'm tired of over-the-top parties that make my kiddos wonder why we don't spend five grand on their birthday," says mom of three Lynne Williams. "We went to one a few years ago that had two bouncy houses, hired entertainment, catered food, full bar, craft projects — all for a 3-year-old."
While budget size and guest list are personal preferences, you can skip some stress (and save some green) by focusing on party details your child will notice and remember. And consider this: It will be hard to impress a teenager who's received mega-parties since babyhood. 
One way to dial down the crazy is to only include activities and entertainment that can reasonably fit into a 90-minute party — roughly the party attention span of a kindergartener — with enough schedule space for cake and relaxed socializing. That means you don't need the bounce house, band, slip n' slide, pizza-making station and petting zoo. One to two "main event" activities, with a quieter option like crafting or coloring for overstimulated kiddos, is festive without feeling forced.
Scale back on decorations, too, says mom of two Yin Chang, co-owner of a learning center that hosts STEM birthday parties. "Kids either completely ignore decorations, or they look at them for five seconds."
Skip the Sibs
As soon as invitations go out, the "siblings welcome?" queries come in. And some parents will show up with their entire brood in tow. This stressful scenario stretches party budgets and hosts' patience, because some parties are simply more enjoyable on a smaller scale. 
"We do small birthday parties at our house, and if a child comes with a sibling or two and both parents, the party triples in size for food, gift bags and activities," says Gretchen Coulson Smith, mom of two.  
Party activities aren't always well-suited to younger sibs, says Chang. Her parties can involve experiments with chemicals; though not toxic or dangerous, they're not designed for toddlers. "We put a minimum age on those party invitations, for safety reasons," she says.
Avoid this sticky subject by clearly addressing paper invitations to the invited child, says Whitmore. This gets trickier for evites, which may not allow senders to specify which child the invite is for. In those cases, a quick email or text with "We hope Amelia can attend Jake's party!" can spare an awkward back-and-forth later on. 
On the other hand, "the more the merrier" parents can let guests know that sibs can attend with a simple "siblings welcome!" note on the invitation. When you're not sure — because of limited space at your venue, for example — write "please inquire about siblings" to head off surprises. And if siblings aren't on the guest list, consider making the party a "drop-off" celebration (also, of course, indicated on the invitation); parents with young kids may not be able to stay for the party if they need to keep their other children at home. 
Goody Bags Gone Bad
Goody bags filled with dollar-store junk irk Amy Hussey, a mom of two, who says, "Keep it consumable so it doesn't add to the clutter!" Or skip goody bags entirely — most families won't miss them. 
If you just can't abandon giveaways, consider a copy of the birthday child's favorite book, a packet of seeds or a bulb to plant, a single can of Play-Doh, crayons and small notepad, or a take-home craft like a hair barrette or a bookmark. A party favor that fosters family time or quiet play after the excitement of a party will be welcomed by guests' parents — who may be inspired to reciprocate when their child's party rolls around. 
Special occasions: Festive fetes for every guest
If your child has special needs or special dietary restrictions, let the party host know when you RSVP. When you're the host, ask parents of children with special needs how you can make their child more comfortable; if you're not sure which children may need accommodations or special foods, check with your child's teacher.
Parents of children with restricted diets often assume that party food will be off-limits to their child, and may bring their own; if party fare will be allergen-free, let parents know on the invitation.
Party locales that tend to be accessible for guests with mobility limitations include children's museums, bookstores (some have party or meeting rooms), libraries, craft stores, and accessible parks and playgrounds. A simple park outing, arts-and-crafts party, or storytime celebration makes for a manageable soiree that's enjoyable for all.