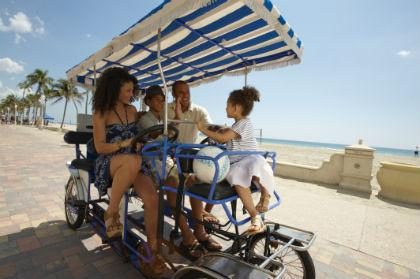 We asked the readers of Broward Family Life to vote for their favorite places to have fun in Broward County. Here are the results.
Published: April 25, 2018
Favorite Place to Swim & Splash


Paradise Cove at CB Smith
Round and round you go — H2OOOOh! — skimming five stories down the corkscrew water slides that are only part of the fun at the biggest of Broward County's four water parks.
"The kids have a fun time going on the slides and in the lazy river," says Cheree Liebowitz of Hollywood. "The lines aren't long and the big slides are fun," adds Ryan Myles of Cooper City. "The little ones have fun in the kiddie area."
The four Paradise Pipeline slides, each dropping about 400 feet into a 4-foot-deep plunge pool, have height and weight restrictions, but there's plenty of splashing to go around at the park's other attractions. The all-ages Sharky's Lagoon is an 18-inch-deep water playground with three smaller slides and interactive play elements. Parrot's Point is the water playground for ages 5 and under, featuring a 12-inch-deep pool with two small waterslides and many interactive play elements. And for those with meandering on their mind, Crazy Creek is the 410-foot-long tube ride that features interactive elements along the way.
The park is open weekends until June 1; from 10am to 5:20pm daily during summer.
900 N. Flamingo Rd., Pembroke Pines, 954-357-5170
Rapids Water Park
(worth the trip)
Big Thunder … Brain Drain … Pirates Plunge … Black Thunder … Body Blasters … Tubin Tornadoes — these are some of the shriek-inducing rides that make this Riviera Beach destination worth the drive.
But "Thrill Rides" like Big Thunder, which features a 45-degree drop and a momentary zero-G experience, are only part of the attraction at South Florida's largest water park. There are also "Family Rides," like Riptide Raftin, billed as the No. 1 family raft ride in the world, and "Kid Rides," like the Big Surf pool with waves that swell as high as 6 feet. And two snack bars and a grill are open to serve hard-earned appetites and thirsts. 6566 N. Military Trail, Riviera Beach, 561-848-6272 www.rapidswaterpark.com
Favorite Beach
Hollywood Beach
Sunset casts an amber glow on your view of the ocean from your al fresco table at a Broadwalk restaurant — is it Turkish, Argentinian or simply pizza and burgers? From your laid-back perch, you watch your kids frolic in the sand just a few steps across the brick-paved promenade.
It's the sunny-salty blend of kiddie and grown-up pastimes happening directly on the sand, or just on either side of it, that make this unique beach so family-friendly.
"Love the kitsch, love the vibe," says Judith Rose of Hollywood. "The city takes pride in keeping it very clean and it has lots of restaurants and stores to visit," adds Marcela Murad of Hollywood. "I also like the bicycle rentals."
Kimberly Campbell makes the trek from Pembroke Pines because "it is always clean and our kids love to skate on the Broadwalk."
There's also the 56-acre North Beach Park, with fishing piers and a tower, and Charnow Park, with a climbing wall and splash fountain. And it's just steps from the sand to the outdoor stage of Hollywood Beach Theater, which hosts live music five nights a week. 954-921-3500 www.floridashollywood.org
Favorite Free Fun
Broward County Libraries
You're probably aware that you can borrow library books online, but do you know you can also stream and download music and movies? Thanks to that little library card stuck inside your wallet, that's just a sample of the digital perks you can enjoy free of charge without ever leaving your seat.
Of course, for those who prefer the in-person experience, the Main Library in Fort Lauderdale and 38 branches offer a dizzying spectrum of services and programs. One that catches our readers' fancy is NSU Alvin Sherman Library in Davie, the largest public library building in the state.
"This library offers a multitude of free quality programs for families that encourage literacy and reading in our community," says Fallan Patterson of Plantation. "From weekly story time to special events like SeussFest, this library really is a family favorite."
There are plenty of other reasons to visit a library — 3 million of them in the county library's catalog — and technological innovations like Creation Stations, Teen Studio and Veterans Connect Hotspots. And now even binge-watchers can benefit by borrowing a GoChip, which beams an entire season of a television series to personal devices without an Internet connection. BCL is the first library in the southeast to offer it. www.broward.org/library
Hollywood ArtsPark
(worth the trip)
Rising from the debris of 2006's Hurricane Wilma, this reborn oasis colors the downtown mosaic with a spacious full circle of greenery, culture and community.
The Amphitheater's main stage and lawn host free-for-all fun each week with Movie Nights, Food Truck Nights and Funtastic Fridays, featuring a DJ, bounce houses, face painting, games and more. Plus there are special events like concerts and last month's Dream Car Classic Car Show and Fifth Annual Salsa Fest. And full-moon aficionados howl at the monthly Full Moon Drum Circle.
Within its 10 acres, ArtsPark at Young Circle ecompasses rare baobab trees; the misty "Millennium Springs" fountain designed by a celebrated Japanese artist; an innovative playground and a splash fountain for kids; and a Visual Arts Pavilion featuring gallery exhibits, glass-blowing demonstrations, a jewelry-making studio and classes in dance and martial arts.
And the fanciful finishing touch? Romero Britto's prismatic sculpture, "Garden Butterfly." Young Circle, Hollywood Boulevard and Federal Highway, 954-921-3500 www.hollywoodfl.org
Favorite South Florida Attraction
Zoo Miami
It may be the most distant of our family favorites, but once you arrive you know you've entered a very special ecosystem — Zoo Miami is the only subtropical zoo in the continental United States.
The local climate makes the zoo hospitable to a wide variety of species from Asia, Australia and Africa, a mix not found in any other zoo in the country. Grouped geographically, animals that get along together in the wild are placed in the zoo's open-air exhibits, which conform to their natural habitats and allow visitors a safe up-close experience.
Descended from the 48-acre Crandon Park Zoo and Miami MetroZoo, Zoo Miami now ecompasses almost 750 acres and more than 3,000 animals from over 500 species, 40 of whom are endangered.
Along the three miles of paths are creatures great and small — from African elephants to Komodo Dragons to Poison Dart Frogs — and special exhibits like Wings of Asia Aviary and Amazon & Beyond. All that walking is sure to work up a hunger, and that's where two cafes and a grill come in. 12400 SW 152 St., Miami, www.zoomiami.org
Favorite Family Event
Las Olas Art Festival
A typical weekend stroll down Broward's signature boulevard is among the most pleasant of aerobic pursuits, but during festival weekends it becomes a kaleidoscopic adventure in a wonderland of art.
Dazzling pictures in paint and mixed media; images, digital or photographic; artworks of metal, glass and wood; life-size sculptures and pieces of pottery; one-of-a-kind jewelry and even art you can wear — these are the sights that surround you, along with the sounds of live music and aromas of edible treats.
Approximately 200 artists from 30 states mingle within the double rows of exhibits, ready to say hello, answer questions about techniques and inspirations and, of course, sell you a fine work of art at prices ranging from $25 to $40,000.
Want to commission a specific piece? They're happy to oblige.
Considered one of the country's top art events and the county's longest-running affairs, the festival celebrates two anniversaries this year — its 31st season kicking off Oct. 20-21 following Parts I and II of its 30th season, which were held in January and March.
Oh, if four-legged art-lovers are part of your family, they're welcome, too. Along Las Olas Boulevard, Fort Lauderdale, www.artfestival.com
&pagebreaking&
Favorite Park
CB Smith
It could have been a landfill, a Miami Dolphins stadium or a Broward Community College outpost — all uses for which its 299 acres were once considered — but the site named for former county commissioner and parks champion Charlie Barney Smith has instead become Broward County's most popular park.
It's also one of its most diverse, providing more activities that you could probably handle in a weekend — including a huge water park (see page 18), a tennis complex, and a golfing center with covered driving range and miniature golf course. That's not all — there are also batting cages; three piers for fishing; a large, lakeside campground with 83 RV sites; geocaching, the worldwide GPS treasure hunt; and a child-sized Safety Town. The park is also home to alligators, snakes and other wildlife.
Then, of course, there's the 5-acre island whose open-air amphitheater and special event field have hosted the 99.9 KISS Country Chili Cookoff for decades.
And as Kimberly Campbell of Pembroke Pines says, even the most basic of park amenities reflect the park's diversity: "There are so many options regarding playground equipment for our children to choose from." 900 N. Flamingo Rd., Pembroke Pines, 954-357-5170 www.broward.org/parks
Sugar Sand Park
(worth the trip)
Just a few minutes north of the Broward County line, this distinctive park is as much of an excursion into the great indoors as it is the great outdoors. Beyond nature trails, pavilions, athletic fields, hockey rink — and carousel! — a bunch of the park's 132 acres are devoted to the interior pursuits of the Children's Science Explorium and the Willow Theatre, both located in the
Community Center, and the Field House, a 14,000-square-foot gymnasium.
A hands-on science center targeted for kids 5-12 years old, the Explorium brings the physical sciences to life with exhibits, camps and programs like the Explorium Science Squad and Friday Night at the Museum.
For more active discoveries, step just outside into the tri-level Science Playground.
The 155-seat theatre stages a variety of productions such as the family-friendly Summer Children Series and, from May 4-13, "Short Cuts 8," a popular program of plays lasting 10 minutes or less.
The Community Center offers a busy slate of classes, programs and events like the one on May 19, Especially for Kids, which opens the park after-hours exclusively for youngsters with special needs and abilities and their families. 300 S. Military Trail, Boca Raton, 561-347-3900 www.sugarsandpark.org
Favorite Outdoor Adventure
Flamingo Gardens
Founded as Flamingo Groves, a citrus orchard surrounded by reclaimed Everglades land, it became one of the region's first tourist attractions. You won't find any thrill rides or animatronics, but there are wildlife encounter shows, narrated tram tours and a whole lot of what you'd be hard-pressed to find anyplace else.
For instance, on its 60 acres is one of the last natural jungle growths in South Florida, with over 3,000 species of native and exotic plants and trees — including the largest tree in Florida, one of 18 "Champion" trees that are the largest of their species, plus a natural hammock of 200-year-old Live Oaks.
There's also the largest collection of Florida native wildlife — 90 species of birds and animals — including alligators, bobcats, and, naturally, flamingos. "We go very often just to interact with the many peacocks on display," says Kimberly Campbell of Pembroke Pines.
Flamingo Gardens is home to the oldest residence west of University Drive in Broward — the restored Wray Home Museum, built in 1933 by original landowners Floyd L. and Jane Wray. 3750 S. Flamingo Rd., Davie, 954-473-2955 www.flamingogardens.org
Wakodahatchee Wetlands
(worth the trip)
If warbles, chirps and the flapping of wings is what fluffs your feathers, this man-made preserve west of Delray Beach is the landing spot for you.
You couldn't ask for a better perch to observe birds in their natural habitat than this section of the Great Florida Birding Trail. Over 170 species have been identified in a bird-watching environment made intimately accessible by a three-quarter-mile boardwalk that crosses between pond areas and islands with shrubs and snags, which foster nesting and roosting. A bonus is that many birds and wildlife are so accustomed to onlookers that they often cluster close to the boardwalk, providing close-up viewing.
The first wetlands park in the region, the 50-acre site opened in 1996 as nearly 100 varieties of native trees and plants were planted and natural habitats restored, designed to naturally filter highly treated water from a county treatment plant.
If birding's not your thing, the park's also ideal for a morning stroll or nature photography. It's free, and there's interpretive signage on the boardwalk as well as gazebos with benches. 13026 Jog Rd., Delray Beach, www.pbcgov.org
Favorite South Florida Family Resort
Margaritaville Hollywood Beach Resort
Jimmy Buffett may have set sail for other latitudes following his South Florida concert just last month, but the singer songwriter's sea-swept spirit always has a foot in the sand at the big Broadwalk getaway inspired by his lyrics and laid-back lifestyle.
With 349 rooms, the 17-story vacation and entertainment complex pumps a touch of class into the beach's revitalization while at the same time harmonizing with the beachfront's casual, vintage-Florida vibe.
"Great atmosphere, music entertainment — and right on my favorite beach, Hollywood," says Joan Gdasi of Pembroke Pines. "All our visitors from out of town enjoy staying here," adds Cheree Liebowitz of Hollywood.
The first Margaritaville resort to achieve the AAA Four Diamond ranking, the $175 million destination also features amenities that range from an indulgent spa to a FlowRider® for surfing, paddle boarding or simply body surfing without having to step off the premises.
With eight casual and upscale dining and entertainment venues, Margaritaville's the kind of place where you can enjoy a deluxe meal or just kick back, sip that frozen concoction and take a bite of that cheeseburger in chill-pill paradise.
1111 N. Ocean Dr., Hollywood, 954-874-4444 www.margaritavillehollywoodbeachresort.com
Favorite Museum
Museum of Discovery & Science
For more than a quarter century, MODS has been a building-sized menagerie of interactive experiences that make learning fun and put kids and their families right inside the action. And now the action continues just outside in its just-opened Science Park, a playful zone for scientific experimentation.
The museum is a perennial favorite of our readers, like Julie Simons of Hollywood, who says, "We are so lucky to have this incredible resource in our backyard!" Or Karen Drumheller of Weston, who adds, "Grandchildren can spend hours enjoying all the exhibits and [MODS] has truly inspired our 5-year-old grandson to learn more about science." Regine Carisma, who comes all the way up from Miami, says, "Hands-on fun, lots of exhibits and activities for families."
In the EcoDiscovery Center, visitors can go back to the past by digging for fossils or blast forward to the future on a simulated trip to Mars — or make lots of explorations in-between. Opening May 19, the Rescue exhibition lets visitors discover what it's like to be involved in land, sea and air rescues.
And if the young ones tire of playing in The Discovery Center, designed for the under-7 set, South Florida's biggest movie screen awaits at AutoNation IMAX 3D Theater. 401 SW Second St., Fort Lauderdale, www.mods.org