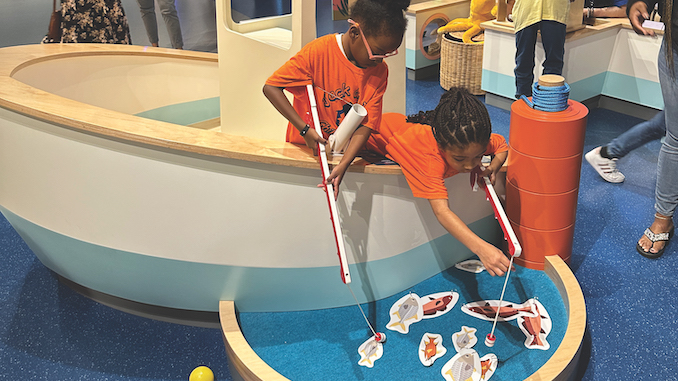 Published: August 26, 2023
By: Danielle Charbonneau
In January, Joseph P. Cox, president and CEO of the Fort Lauderdale Museum of Discovery and Science (MODS) was giving a tour of the museum to a local supporter. When they wandered through the beloved early childhood area called The Discovery Center, which opened in 1992 at the museum's Las Olas location but dated back to 1976, Cox began to unveil the museum's unfolding plans for a brand new, permanent exhibit to replace the Center called The Discovery Spot. Suddenly, Cox was interrupted by the father of a 6-year-old playing in the Center nearby.
"Wait. No!" the patron exclaimed with grave disappointment. "Are you going to
be getting rid of the oranges?"
For 30 years, the orange grove had been one of the museum's most iconic, beloved experiences in the Discovery Center. Visiting children could visit a simulated citrus grove, pretend to pick oranges, carry them in a cart, load them into a conveyor belt and imagine themselves harvesting fruit.
"Sometimes the oddest things become iconic," Cox said. "Literally 12 million children over the course of 30 years played with those oranges — loved these oranges."
The father then told Cox a wonderful story about how his parents had taken him to the opening week of the Las Olas museum when he was a child, and now he was bringing his 6-year-old to experience the magic of play in MODS's citrus grove.
"I had to explain, no, the oranges were going to be coming back, but in a new and exciting way," Cox said. "It was a daunting responsibility to keep nostalgia alive."
The oranges have indeed been reimagined at the new Discovery Spot exhibit, which held its grand opening for the public on Aug. 4. Key players in the creation of the new exhibit gave inspirational remarks at a ribbon-cutting ceremony before letting a crowd of summer school children sprint into the exhibit to play.
In the new "Citrus Grove" experience, children up to age 6 can still play with oranges, inserting them into an even flashier machine with color-changing, illuminated bubble tubes and a moving conveyor belt.
"There's a giant orange tree that children can climb up inside, there are vacuum tubes that suck up oranges inches from the ground up into the tree. And when they've loaded 150, the tree explodes and showers, oranges, lemons and limes all over the children," Cox said. "They go bouncing everywhere. You will hear the delighted shrieks."
Additionally, children can explore the "Ocean to Air" installations and the "Everglades" area. These playful ecosystems introduce environmental science concepts through hands-on interactives and role-playing opportunities while allowing children to splash, climb and tinker.
In the 4,000 square-foot space, presented by JM Family Enterprises, children can role-play as airplane pilots, scientists on a research vessel, veterinarians in the field hospital, citrus processors in the juicing factory, animal trackers in the Everglades and more. A digital painting station allows children to choose a Florida native fish or shark species and then release it into a digital ocean, watching as their chosen species swims by on the Sketch and Release simulated ocean screen.
A lily pad hop invites children to bounce while contributing to a digital projection mapping experience. The entire exhibit is designed to stimulate STEAM exploration – science, technology, engineering, art and math.
"We're pretty confident that we've created something pretty special that will last for the next generation," Cox said "This is evidenced by the absolute squeals of delight of the groups of children we've been testing it with."
MODS sees more than 450,000 visitors annually, among them many tourists. In the past year, MODS was named "Broward's Hub for Resilience Education" by the Board of the Community Foundation of Broward, selected by the LEGO Foundation as one of only 12 museums nationwide to join the "Playful Learning Museum Network" and was selected as one of the winners of the prestigious "2023 IMLS National Medal for Museum Service."
The Museum hours are Monday through Saturday 10 a.m. to 5 p.m. and Sunday noon to 5 p.m. MODS is located at 401 SW Second St., Fort Lauderdale. For more information,  visit http://www.mods.org or call 954-467-MODS (6637).