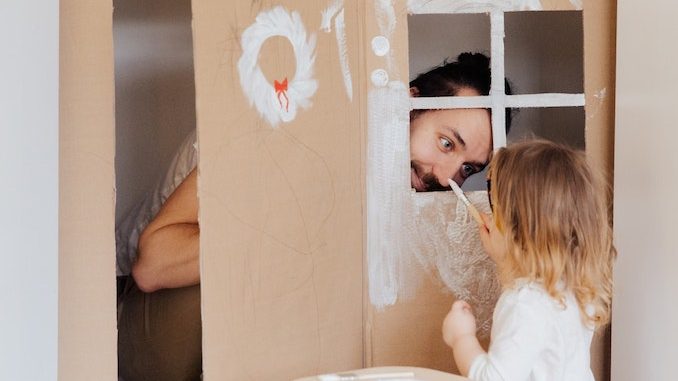 Are you a Cyber Artist, a 24/7 Chef or a Virtual Daytripper? Take our Quarantine Parent quiz to find out.
Published: May 4, 2020
By: Greg Carannante
The coronavirus is no laughing matter. But quarantining — that's another thing altogether. Some can find more than a few laughable moments in being forced to shelter-in-place all day every day with a husband who showers every three days, three kids who want to eat 10 times a day and a pooch who wonders what all these people are doing here all day long.
With that in mind, here's a quiz to determine the type of pandemic parent you have become. To learn your parental quarantine quotient, see how many of the hunkered-down characters below remind you of you, and give yourself a point for each:
The Distance Teacher: They call it "distance learning," but with your younger ones, it's really "distance teaching" — and you're the teacher. But you have learned some things, too. For instance, whoever this Kahn is, you've learned to love him and his entire lovely Academy. You whisper your affection to him every time your little "distance learner" hits you with something like, "Mom, is this how you divide this fraction?"
The Cyber Artist: You take the life-imitates-art quarantine challenge. Your tween takes a picture of you and your husband recreating the classic American Gothic — standing side-by-side in front of your house wearing surgical masks and holding a spray bottle of disinfectant.
The 24/7 Chef:

"Mom, make me Mickey Mouse waffles."
"Mom, make me mac 'n cheese."
"Mom, make me hot dogs."
"Mom, I'm hungry."
"You just ate two hot dogs."
"I'm still hungry."
"Here, have a box of Thin Mints."

The Rewatcher: You've seen Frozen 2 so many times that you know if you hear Into the Unknown again, that's just where you're gonna go. Of course, when the kids are finally tucked in for the night, you transform into ….
The Binger: Ozark, Tiger King, a Friends rerun … doesn't matter, just as long as it's a show that affirms that, yes, you ARE an adult. You know, the type of show with adult themes, adult language and … adults. And not one song about Trolls just wanting to have fun.
The Escapee: You've taken so many walks around the neighborhood that you could deliver the mail with your eyes closed. You say it's for the exercise, but you know it's really for your sanity. You try to keep up with your kids as they play the social-distance scavenger hunt, running past neighbors' houses and scanning windows and porches for teddy bears. Sometimes, though, you've just got to sneak off to your car and drive. You've got nowhere to go. You just need to get a glimpse of the real world again — even if it's only through the windshield. You pass your Publix … and start to tear up. 
The Deliveree: Groceries, pizzas, car batteries … there's almost nothing you won't have delivered — virtually. "No, no," you text back to your online shopper, "baking soda is not an acceptable replacement for soda."
The Interruptee: You could star in a reboot of the movie Life Interrupted. Not only has everything you used to do been interrupted, so is everything you try to do now. Whether you're Zooming, attempting to get some work done from home or taking an online painting class with Guy Harvey, the interference is non-stop. "Mom, we're bored." "Mom, can we make s'mores?" "Mom, we're bored." "Mom, I can't find my iPad." "Mom, we're bored." "Mom, Jason got marshmallow all over the iPad." "Mom, we're bored." "Mom, we're out of toilet paper." "Mom…"
The Virtual Daytripper: You and your brood have been to Storytime with Miss Ruthie at the Alvin Sherman Library. You've dived into the world of Miko the loggerhead turtle at the Phillip and Patricia Frost Museum of Science. You've followed a National Park ranger on a trek to hidden wild places. You've even toured a 5,000-year-old Egyptian tomb. One day you'll actually be able to go somewhere.
The Hunker Gamer: You've impressed your son by helping him get wins in Fortnite, and your daughter with your skill at finding diamonds in Minecraft. However, you squander all your new-found cred when you drag out your jigsaw puzzle of The Garden of Earthly Delights by Heironymus Bosch, scatter all 1,000 pieces across the dining room table and shout, "Dig in, everybody!"
The Winer: Whenever you feel the hunkering hate coming on and your imposed new normalcy makes you want to whine, you remember, wait — you still have wine! And after a glass of white, red or rosé (hopefully late in the evening), you find it impossible to recall whatever it was you were fixing to whine about.
The Online Olympian: You bounce, stretch and jab your way through cyber Zumba, yoga and kickboxing classes. You squirt liquid soap on the floor and power walk on your DIY kitchen treadmill. But nothing gets you pumped like going for the gold in the Quarantine Olympics and hitting your hubby in the butt with a roll of toilet paper.
The Napper: Need we say anything more?
The Crafty Crafter: You occupy your little ones for whole minutes at a time by showing them how to turn egg cartons into colorful flowers, coffee filters into beautiful butterflies and TP rolls into funny puppets. Whole minutes at a time.
The Zoomer: As much as possible, you Zoom or FaceTime instead of texting family and friends. You're so starved for outside human contact, you don't even complain about having to put on makeup and fix your hair.
The Homemaker: Your house has never been so clean. #LetMeOut.
The Organizer: Or, the well-organized. Really well-organized. #LetMeOut.
The Heroic Hairdresser: You dig deep and take it upon yourself to cut your family's hair. You believe you've discovered a hidden talent, despite each haircut ending something like this: "There, that's not so bad. … No, really, it looks good. … Aw, c'mon, don't cry. … Hey, nobody's gonna see you anyway!"
The Social Media Monger: You used to feel guilty about how much time you'd spend scrolling, swiping and tapping on Instagram, Tumblr, WhatsApp, Pinterest, Nextdoor and, of course, Facebook. OK … and a few others. Now, social media is your social lifeline, your Facebook friends have become more like BFFs — and waking up in the morning with the phone still in your hand doesn't make you feel guilty at all. 
The Once-Upon-A-Timer: You catch yourself drifting into daydreams of sitting at a table in an intimate restaurant, being served — yes, served! — a boat-full of the most dynamite Dynamite Rolls you've ever tasted, right before magically transporting into a front-row-center seat at a Maroon 5 concert. You snap out of it when you hear, "Mom, we're out of toilet paper!
Scoring:
Code Red: 1-7. Quarantining is kind of starting to kick your butt — you're not sure how much longer you can take it.
Code Yellow: 8-14. You're developing antibodies to social distancing — but you can tough it out for another month.
Code Green: 15-20. You've mostly turned sheltering in place into sheltering in peace — and you have won the gratitude of us all.