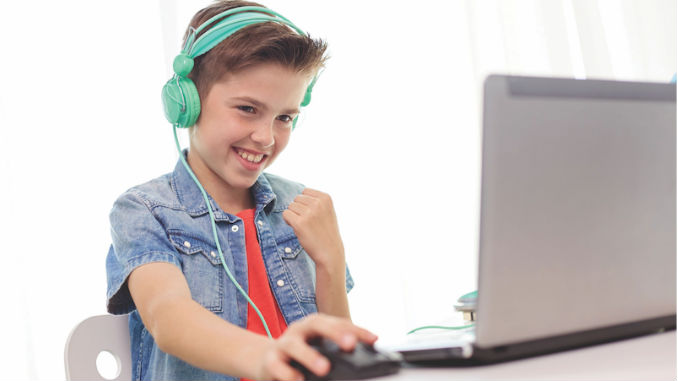 Everything you need to know about the live-streaming gaming site
Published: January 30, 2019
By: Katy M. Clark
"Can I get a Twitch account?" my 14-year-old son asked me.
I stared at him blankly. I had only just wrapped my head around Fortnite and Snapchat, and now this … Twitch?
"What is it?" I asked.
"You watch gamers play live. It'll really help me with Fortnite," he explained.
Inwardly, I rolled my eyes.
"Isn't that the same as watching all those videos on YouTube?"
Turns out the answer is sort of, but not really. Here's what I have learned about Twitch.
"Twitch is a website where you can watch live-streamers play video games," my son informed me. It was founded in 2011 and is owned by Amazon. Between 1 and 2 million visitors log in to Twitch each month, most to watch their favorite gamers, or broadcasters (as Twitch calls them), play video games.
It is the live-streaming that distinguishes Twitch from YouTube, where most gamers post prerecorded videos. As well, Twitch offers a live chat stream that allows viewers to interact in real time with each other and the broadcaster.
Twitch is available on desktops, laptops, mobile devices and consoles such as Xbox.
Does Twitch cost anything?
"You don't need to buy anything to watch it," my son reported. Getting an account to follow a broadcaster is free, but subscribing to a broadcaster, which comes with such perks as more emojis to use in chat rooms, costs $4.99 a month and up, depending on the subscription level. Showing support of your favorite gamer by subscribing is how he or she makes money, as Amazon splits each subscription with the broadcaster.
Because Amazon owns Twitch, it should come as no surprise that a free Twitch Prime account is available to everyone with an Amazon Prime account. This is how our family signed up. Twitch Prime allows ad-free viewing and one free subscription to a broadcaster every month.
There are also Bits available to purchase. Bits are emotes (usually a gem) that users buy and use in chat streams to celebrate and support a favorite broadcaster. Twitch touts that using Bits could gain the attention of the broadcaster in the live chat.
Is Twitch more than video games?
Most teens flock to Twitch to watch their favorite gamers play live, but there is also a Creative category where broadcasters stream their creative processes on everything from cooking to comedy to choreography.
For instance, I discovered that Twitch shows Bob Ross' infamous The Joy of Painting series. They allow its broadcasters to rebroadcast the shows, too, as long as they add something creative, like painting along with Ross or adding commentary. I might be tempted to watch and see a broadcaster discuss classic lines like,
"We don't make mistakes, just happy little accidents."
Should I be concerned about Twitch?
Twitch is live, so it can be hard to censor. Gamers can and do curse, even if by accident. There is also exposure to advertising on Twitch, including on-screen ads and sponsorships of gamers who guzzle certain energy drinks or wear branded clothing.
Twitch does have community policies to crack down on hate speech, harassment and sexual content in chat streams, but parents should be aware that anyone can chat. Additionally, in the past year, the service has developed more into a social network. Twitch users can follow and DM (Direct Message) each other; each stream has its own unique chatroom where users can connect; and the popular Pulse feature essentially functions as a Facebook timeline that allows for everyone on the network to post their status updates, as well as like, share and comment on what
others have written.
And did I mention it was live?
"I like that I can watch my favorite streamers and relax," commented my son. So far, the chat stream has not tempted him to buy Bits or participate because "popular gamers just get their streams flooded."
Yet, I will have regular conversations with him about what he is watching and doing in Twitch's digital world, especially as it looks like Twitch is here to stay.
Katy M. Clark is a writer who doesn't live-stream her imperfections as a mom, but does embrace them on her blog, ExperiencedBadMom.com