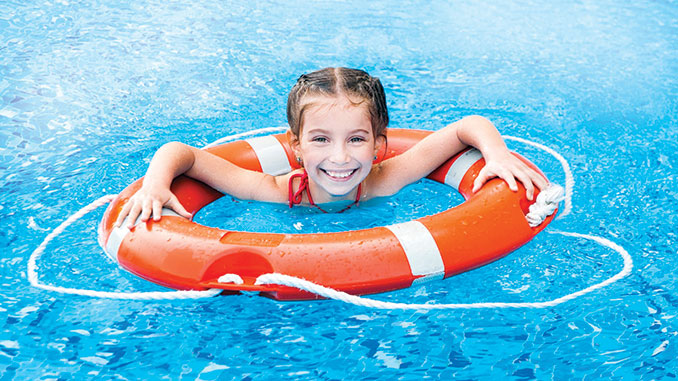 Local resources to help safeguard your family
Published: March 23, 2023
With pools, canals and beaches just about everywhere you turn in South Florida, summertime serves as an important reminder to instill water safety skills in children now, and throughout the year. According to the CDC, drowning is the leading cause of death for children 1 to 4 years old and the second leading cause of unintentional death for children ages 5 to 14. Whether it's by attending an interactive event or enrolling in swimming lessons, there are many ways to help safeguard your family. Below are some suggestions.
Dry Land Water Safety Day — From 9 a.m. to noon on Saturday, April 29, the City of Coconut Creek will hold a free event for all ages at the Coconut Creek Recreation Complex at 4455 Sol Press Blvd. Hosted by the local police and fire rescue departments, on-land activities include water and beach safety presentations, equipment and vehicle displays, CPR and AED information and family-friendly activities. The Coco Island Splash Pad will also be open for little ones to keep cool.
Water Safety Training – In Miami Springs on Saturday, May 20, families can attend a free, interactive water safety event that begins with a discussion and safety tips, followed by water activities for kids to try in the pool. The event takes place from 10 to 11 a.m. at the Miami Springs Aquatic Center at 1401 Westward Dr. For information, see http://www.miamisprings-fl.gov.
Swim Central – Working with a variety of cities and non-profit organizations throughout Broward County, this organization serves as a resource and referral service for water safety instruction and programs. Additionally, the Children's Services Council of Broward County has partnered with Swim Central to provide swim coupons to Broward County residents to offset the cost of swimming instruction for children 8 months to 6 years old at a variety of pool locations throughout Broward. To learn more, visit http://www.watersmartbroward.org.
Be Water Smart – Palm Beach County offers an illustrated ABCDs of Water Safety guide with tips that include, always having an adult water watcher during gatherings, how to escape rip currents at the beach, proper use of life jackets, tub and bathroom safety and more. To view a copy, visit http://www.pbcgov.com/dpc.
Resources To Keep Them Safe – The American Red Cross offers online lessons, resources and tips for families to peruse together at http://www.redcross.org. Age-appropriate videos or "whale tales" presented by Longfellow the Whale, provide short, engaging lessons that focus on memorable rhyming phrases to help kids retain what they've learned. Episodes are separated into age categories that are geared toward children in kindergarten through sixth grade. Activity sheets and quick quizzes allow kids to demonstrate what they've learned.