Region: Broward County Category: Cheerleading Camps, Dance Camps, Day Camps, Performing Arts Camps, Special Interest Camps Camp Activities: Arts & Crafts, Dance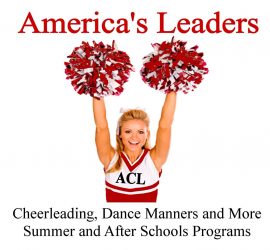 "The BEST Programs for Girls in South Florida!"
Since 1994 we have been offering our Cheerleading, Dance, Manners and More Summer Camp along with our Smart Camp in Broward County Schools as well as after school programs.
We offer a variety of FUN confidence building activities including: cheerleading, dance, manners classes, crafts, fitness, skits, modeling, community service, parties, performances, themed weeks and MORE!
We have 8 weeks to choose from June 8 - July 31, register by the week and every week is different.
DISCOUNTS: We offer
FREE pre and post care
Early registration discount
Second child discounts.
Our camps are offered at the beautiful and convenient Coral Springs Charter School in Coral Springs; Southeast corner of University and Sample.
Ages: All of our girls are ages 5 to 12 and are sorted by age.
Camp Hours:
Camp Classes: 9am to 4pm
Pre Care: 7:30 to 9am
Post Care: 4 to 6pm
For more details, please check out our website at AmericasLeaders.net or call our office at 954-748-5977.
Thank you for your time and we look forward to helping make your summer fantastic!
Address: 3205 N. University Drive, Coral Springs, Fl 33065
Phone: 954-748-5977
Gender: Coed
Minimum Age: 5
Maximum Age: 12
Year Established: 1994
Capacity: 1000
Average Cost Per Week:
Camp weekly fees are $135 per when you register before May 1, 2020 and $145 there after.
Average Cost Per Day:
No daily rates available.
Camp Length: 8 weeks June 8 - July 31, 2020
Camp Days: Monday - Friday
Season Starts: June 8, 2020
Season Ends: July 31, 2020
Financial Aid: No
Location:
---