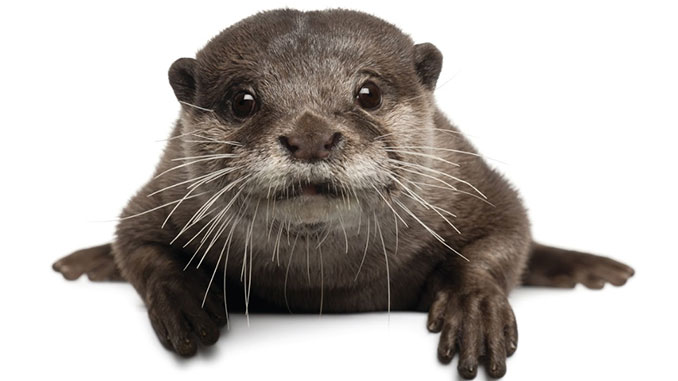 River otters can be found throughout most of North America, from the Rio Grande to Canada, even Alaska. And now they can also be found in downtown Fort Lauderdale — in their own two-story, indoor/outdoor playful world, complete with a swimming pool and waterfall — at the Museum of Discovery and Science.
From their whiskers to their webbed feet, the museum's family of river otters can be viewed underwater on the first floor or from above on the second floor. And now the museum's educational Otter Encounters are giving visitors a new, face-to-face opportunity to interact with the popular, semi-aquatic mammals. 
Every Wednesday, Saturday and Sunday through Dec. 1, guests can not only feed an otter, they can also participate in a training session with one of the animals, which have long, streamlined and muscular bodies. During the 45-minute encounters, from 1:30-2:15pm, participants also learn about the otter's diet and get an up-close look at the filtration system that keeps the otter pool clean and fresh.
The Otter Encounter costs $50 per person, which includes admission to the museum. Participants must be at least 9 years old. One-week advance reservations are required and there is a maximum of six people per group and one group per day. To schedule an encounter, please call 954-713-0930.
The museum is at 401 SW Second St., Fort Lauderdale. For more information, please visit www.mods.org