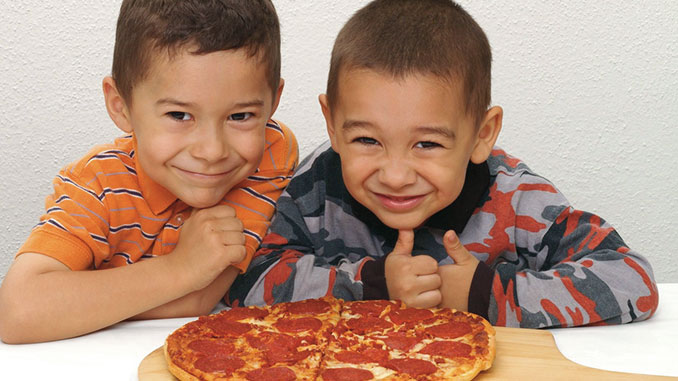 FAVORITE RESTAURANT WHERE KIDS EAT FREE  
IHOP
The place for breakfast anytime is also the place kids eat free — sometimes. Kids 12 and under get dinner on the house with the purchase of one adult entree every night of the week, from 4-10 p.m. The only catch is that the limited promotion comes and goes for a limited time at different times of the year, so you've got to stay on your toes if you want to find the participating locations. You can do that by checking the IHOP Facebook page for the latest news or by visiting the pancake palace's website to join MyHop, which not only keeps you updated on promotions but also entitles you to free flapjacks just for signing up — as well as on your birthday and every anniversary of the date you joined. Of course, the kids menu is extensive, with anything from the staple Grilled Cheese Sandwich to the whimsical Funny Face or Create-A-Face pancakes.
Multiple locations.
FAVORITE PLACE FOR FROZEN TREATS
Azucar Ice Cream Company
Located in the heart of Little Havana, Azucar Ice Cream Company is an artisanal ice cream and sorbet boutique flavored by South Florida's diverse cultures and inspired by owner Suzy Battle's Cuban grandmother. Her "abuela" was determined to make ice cream out of every tropical fruit that she found along her travels, and Battle blends those recipes with techniques learned at Penn State's Ice Cream University and the Frozen Dessert Institute of St. Louis. Azucar uses high-quality, all natural ingredients that are as local as the fruit stand down the street, as well as  seasonal fruits and vegetables from South Florida farmer's markets and Redland growers. Look for the giant ice-cream cone above the entrance for a tropical paradise of flavors like flan, plátano maduro, passionfruit and the trademarked Abuela Maria, classic vanilla ice cream with guava, chunks of cream cheese and Maria cookies.
1503 SW Eighth St., Miami
305-381-0369
FAVORITE FAMILY RESTAURANT
Benihana
It's the show that makes dining distinctive at America's first Japanese teppanyaki restaurant, where highly trained chefs chop and cook your meal with intricate knife work and theatrics on table-side teppanyaki grills (they are the flat-surface, steel grills often confused with hibachi barbecue grills). Their most famous trick — the onion volcano — is complemented by an Asian-style cuisine of steaks, seafood and sushi. And, of course, lots of rice. For the 12-and-under set, there is a Kabuki Kids program that celebrates members' birthdays with a free souvenir mug with the order of a Kabuki Kids meal. Of the 70 Benihana restaurants in the Americas and the Caribbean, there are three locations in Miami-Dade — Coral Gables, Miami and Miami Beach.
Yardbird Southern Table
We all know that the South in South Florida doesn't really translate to Southern. There's always an exception, though, and in Miami-Dade it's at this oasis of classic Southern cooking, culture, hospitality and farm-fresh, from-scratch tradition. Yardbird serves up the classics like fried chicken, short ribs and shrimp 'n' grits, but that doesn't mean there aren't some inventive takes on regional Southern fare, such as three different biscuit appetizers and Chicken 'n' Watermelon 'n' Waffles, featuring honey hot sauce and bourbon maple syrup on a chilled, spiced watermelon, cheddar cheese waffle. Open seven days, including Sunday brunch, Yardbird is found in only three other cities: Las Vegas, Los Angeles and Singapore.
1600 Lenox Ave., Miami Beach
305-538-5220
FAVORITE BURGER JOINT
Five Guys Burgers & Fries
When it comes to burgers, our readers appear to be right on the money. Five Guys was selected as burger restaurant Brand of the Year in last year's Harris Poll. And on National Burger Day this past May 28, it was named the top spot to grab a burger in a survey of 1,200 consumers by Offers.com. At 28 percent, Five Guys came close to doubling the next closest competitor's score. Thirty years after the Murrell Family opened its first carry-out burger joint in Virginia, there are now almost 1,500 locations worldwide and another 1,500 more in the works. Three reasons for the success would no doubt be: Only fresh ground beef and peanut oil are used — and freezers are not. Perhaps another reason is that though there are a few hot dog and sandwich items on its menu, Five Guys pretty much sticks to what it does best — eight burger offerings and two varieties of fries. Ten locations in Miami-Dade.
Kush
A culinary accompaniment to the creative spirit of its Wynwood neighborhood, this funky gastropub serves up a menu of quality craft beers, visionary artworks and food sourced from Florida farms. For example, the fresh gator meat in its Florida Alligator Bites starter comes from Cypress Creek Farms in Starke, and the beef for its burgers is delivered weekly from Fort McCoy Ranch in Marion County. It's ground in-house by hand, and everything else is made from scratch every day – right down to the ketchup and key lime pie. Just reading the imaginative burger menu will make a beef-lover's mouth water. For one, there's the award-winning Johnny Utah, topped with hot pastrami, among other fixings. For another, there's the Frita Burger, stuffed with potato stix, crispy bacon, guava jelly and melted Gruyere, then pressed on a flat top grill. There are six more burgers, including The Classic for less adventurous palates — as well as sandwich, salad, vegan and gluten-free options.
2003 N. Miami Ave., Miami
305-576-4500
FAVORITE BREAKFAST PLACE
IHOP
Despite the recent intrigue about its name changes, IHOP remains dedicated to a guiding philosophy: Breakfast isn't just for breakfast. The menu may feature burgers, sandwiches, salads and such dishes as Tilapia Florentine and Roast Turkey and Stuffing, but at IHOP the most important meal of the day is simply the most important meal. There are dozens of ways to go, with inventive varieties of just about any breakfast favorite. How about Stuffed French Toast or Chicken Florentine Crepes? Or a Cheeseburger Omelette or Chicken & Waffles? Or one of over a dozen signature pancake specialties that include new international offerings, like Italian Cannoli or Mexican Churro pancakes? Can't decide? Try the Have It All BreakFEAST. Many options are for a limited time, but there are always plenty of delicious decisions to be made. Multiple locations.
Berries in the Grove
In an old house at the entrance to Coconut Grove, Berries is the uncommon kind of neighborhood restaurant where you can go casual or formal, for dinner or for an event, for happy hour or for breakfast — and where breakfast service almost runs into happy hour! That's right, you can get brunch at Berries' every day until 3 pm. Both weekday and weekend brunch menus include six or seven home-style platters and omelette offerings each. Most are traditional breakfast fare, but there are such variations as the Breakfast Bruschetta, with scrambled eggs on whole wheat toast with sun-dried tomatoes, basil and pesto sauce. And Berries remains true to its roots as a juice and smoothie bar with a selection of smoothies and shakes.
2884 SW 27 Ave., Miami
305-448-2111
FAVORITE PIZZA PLACE
Casola's Pizza
Here's the kind of pizza place so secure in its pizza that it offers free, hot samples while you wait and advertises itself as "Home of the Croissant Sandwich." That's right — on homemade croissants! That's just one of the items that makes Casola's more than just a pizza joint. There is a large selection of pasta dishes, "super burgers," hot and cold subs, wings and homemade desserts. But, of course, the New York-style, thin-crust pizzas are the stars of this family enterprise, whose roots go back beyond its Boston origins to Italy and founder Ramon Casolas'  family recipes. Only want a couple of slices? Be aware that they are so big that one might do. And if you like your pie with a bit of international flair — and where better than in cosmopolitan Miami? — you can choose from the Portuguesa, Old Mexicana, Greek or Hawaiian. Casola's is open late — even till 5am on Friday and Saturday.
2437 SW 17 Ave., Miami
305-858-0090
FAVORITE FARMERS MARKET
Pinecrest Farmers Market
In the world of food, "local" is the word of the day. And this market is a veritable cornucopia of local food every week of the year. Sundays from 9am-2pm.,
rain or shine, you can find the season's best from top local, sustainable and organic farmers and food purveyors from the Miami area, Redlands, Homestead, Clewiston and Fort Pierce. Committed to the artisan food community, the marketplace is a gathering of local farmers, artisan producers and small, local food businesses and their customers. There is a large selection of fruits, vegetables, honey, flowers, meats, cheeses, specialty products and — especially at this time of the year — tropical fruits, which are in season through December. Pets are welcomed on a leash.
11000 Red Rd., Pinecrest (in the Pinecrest Gardens parking lot)
786-367-8274 or 305-546-6369
FAVORITE HEALTHY FOOD SPOT
Whole Foods
Amazon ownership has brought some changes to Whole Foods — such as its Echo smart devices for sale, recently lowered prices on produce, and special discounts and free delivery for Prime members. But what hasn't changed is it's still the world's leader in natural and organic foods, with almost 500 stores in the United States and the United Kingdom. Whole Foods Market only sells products that meet its own quality standards for being "natural," which it defines as minimally processed foods free of hydrogenated fats and artificial flavors, colors, sweeteners and preservatives. The store also does not intend to sell meat or milk from cloned animals or their offspring. And its bounty of prepared-food offerings — eclectic salad and hot bars, sandwiches, pizzas and casseroles — are a special bonus for health-conscious shoppers. If something looks good, you don't have to wait to get home to try it. Just pick it up, slide through the register and grab a seat in the front-of-the-store cafe. Coral Gables, Dadeland, North Miami, Miami, Miami Beach
Love Life Café
A literal labor of love, this plant-based eatery sprung from the actual love life of co-owners Veronica Menin and Diego Tosoni, who opened Love Life Wellness Center in Wynwood soon after they got together. The couple later narrowed their focus to the earth-conscious cafe and expanded the menu to include everything from breakfast options like gluten-free, organic pancakes to desserts like guava rose cheesecake, infused with rose water. In between are soups, salads, pizza, bowls, tacos, burritos, plant-powered arepas made of chlorophyll, spinach and chia-infused masa, and a nationally award-winning burger made of a superfood patty and plant-based cheddar. There's also a vegan coffee shop offering products from local vegan bakers.
2616 NW Fifth Ave., Miami
305-456-4148