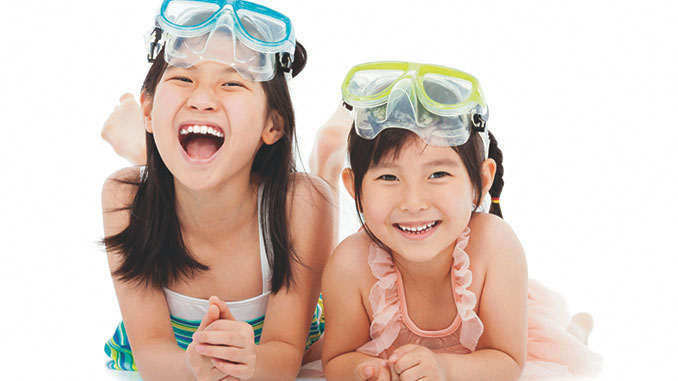 FAVORITE BEACH
Crandon Park Beach 
For locals and tourists alike, this two-mile-long strip of sand is one of Miami's most popular and breathtaking beaches. Located among Crandon Park's 800 acres on the northern tip of Key Biscayne, the sand is soft, the water is calm and the parking is plentiful, with over 3,000 spots that only cost a few bucks a vehicle. There are also beach volleyball courts, concession stands and picnic areas with public grills. Whether you want to kick-back or kick up some sand, chairs, umbrellas and even cabanas are available to rent, as well as kayaks, paddleboards and single or quad bikes for exploring the island — where you'll also find a nature center, golf course and tennis center. Spend a day here and it's a good bet you'll see why Crandon Park is consistently named among the nation's top 10 beaches. The park is open seven days a week, year-round.
6747 Crandon Blvd., Key Biscayne
305-365-2320
www.miamidade.gov/parks/crandon.asp
FAVORITE PARK OR PLAYGROUND
Tropical Park
This is absolutely not your typical park. The former site of a horse track, its 275 acres hold just about anything an urban park should, and a lot more. For example, there's the Ronald Reagan Equestrian Center, a full-service facility that hosts more than 36 shows a year, including three covered show arenas with seating for about 1,000. But that's just the beginning. Think of any park amenity or activity, and Tropical Park probably has it: ball fields, a track and stadium, a fitness court, a community center, a 2-acre dog park, four lakes for paddle-boating and fishing, and miles of paved pathways for bicycling, walking or running. There's even a boxing center and a year-round farmers market on Saturdays. And we haven't even mentioned Santa's Enchanted Forest, the annual event that transforms the park into a holiday wonderland with 6 million lights, a giant Christmas tree and carnival rides. The park is open every day from 7am-10:30pm.
7900 SW 40 St., Miami
305-553-3161
www.miamidade.gov/parks/tropical.asp
FAVORITE PLACE TO SWIM & SPLASH
Oleta River State Park
It's hard to believe this natural oasis is only 30 minutes from downtown Miami. Because it's shaped by the coast, the park is perfect for just about any beach or water activity and offers easy access to mangrove swamps, beaches and tidal marshes. Have a picnic on the beach or swim in the saltwater lagoon off Biscayne Bay, where the shallow water is just right for kids. (Lifeguards are not present on the beach, however.) With its namesake river running through it, the park is ideal for observing native vegetation and wildlife while paddling a kayak, canoe or board through lush mangrove forests or along the quiet waters of North Biscayne Bay and the Intracoastal Waterway. The Intracoastal and the pier are popular spots for fishing, too, for varieties from snook to snapper. At just over 1,000 acres, Florida's largest urban park is also a haven for hikers and mountain bikers. The park is open 8am-sundown, 365 days a year. 
3400 NE 163 St., North Miami Beach
305-919-1844
www.floridastateparks.org/OletaRiver
FAVORITE FAMILY EVENT
Miami-Dade County Fair
For 68 years, the Miami-Dade County Youth Fair & Exposition — commonly known as The Youth Fair — has been the region's annual mecca for family-friendly fun. Attracting nearly 600,000 guests of all ages over 21 days each spring, it is the largest fair in the state and one of the top fairs and expositions in North America. Visitors are not only treated to nearly 100 thrilling midway rides, fun games, concerts, shows and livestock/agricultural competitions — did we mention the outrageous carnival food? — but it is also a showcase for more than 63,000 local artistic, academic and agricultural student exhibits. Plus, the nonprofit Fair & Exposition partners with county schools and parks to provide programs that enrich the lives of kids and families throughout the year. 
The Fairgrounds at Tamiami Park, 10901 SW 24 St. (Coral Way), Miami
305-223-7060
FAVORITE LOCAL ADVENTURE
Miami Tours and Water Adventures
There's so much happening on the water off Miami and the beaches, and this is the place that makes a whole lot of it happen. You say you want to go snorkeling or parasailing? How about jet-skiing or jetpacking? Paddleboarding or kayaking? Or maybe a luxurious sunset cruise on an 80-foot Catamaran? Here, there are 10 water adventures to choose from, ranging from $30-$600. Boats and yachts for rent go from a $220 water sports boat to the 72 Mangusta yacht, at $3,299. And landlubbers even get to share the fun with the Exotic Car Adventure Tour.
For $599, drivers can take five exotic cars through the best roads of Miami and the Florida Keys for five hours. Several Miami Beach locations.
305-772-9942
www.miamitoursandwateradventures.com
FAVORITE SOUTH FLORIDA FAMILY RESORT   
Fontainebleau Miami Beach
A landmark of luxury and style for 65 years, the 22-acre oceanfront Miami Beach hotel is a playground for grownups and kids alike. Designed with young ones in mind, the Fontainebleau poolscape features a family pool and several shallow pools. Parents can set up camp at a cabana at the children's pool and keep a close eye on the kids splashing around and playing on the waterslide. Plus there are complimentary dive-in movies for the family during summer. For indoor fun, the Family Pastry Class & Tour offers hands-on dessert-making side-by-side with resort pastry chefs. For Mom and Dad chill time, there's the FB Kids program for ages 4-12, where certified Adventure Guides lead the kids in games, scavenger hunts, sport skills, art, drama and other good uses for their energy. Parents can register for full- or half-days. And on Fridays and Saturdays, Kids' Night Out invites children to watch movies and play games. Daytime babysitting services for younger children are also available. Local residents can partake of the Fountainbleu experience — and take advantage of the FB Kids program — by renting a cabana or making a spa reservation.
4441 Collins Ave., Miami Beach
866-629-2573
FAVORITE SOUTH FLORIDA ATTRACTION
Zoo Miami
A trip to Zoo Miami is in some ways like a visit to another continent. South Florida's unique climate enables the only subtropical zoo in the continental United States to keep a wide variety of animals from Asia, Australia, Africa and the Americas. Animals that live together peacefully in the wild are grouped according to their geographic homelands in lush, open-air exhibits whose trees, foliage and soil are matched as closely as possible to the native habitats. So, while the animals are made to feel at home here, zoo visitors get to see a little bit of where the animals came from, too — at a safe, yet very close range. From aardvarks to zebras, and a wide variety of amphibians, reptiles and birds, its broad mix of species is unlike any other zoo in the country — with over 3,000 animals representing more than 500 species, over 40 of which are endangered. Plus for the kids there are rides and special activities like the Animal Fun Factory, a one-of-a-kind interactive play exhibit. You can even get ZooDoo for composting!
12400 SW 152 St., Miami
305-251-0400
Fairchild Tropical Botanical Garden
Besides being a gorgeous 83-acre showcase for the natural wonders of plants and flowers, it's a museum, laboratory, learning center and conservation research facility with 45,000 members and more than 1,200 volunteers. It's also the home of the American Orchid Society. And it's a place where nature appreciation and family fun go together, such as at its Wings of the Tropics exhibit, where about 40 different species of exotic butterflies at a time will flitter about (and light upon) you as you meander along the paths of its Clinton Family Conservatory.
10901 Old Cutler Rd., Coral Gables
305-667-1651
FAVORITE SOUTH FLORIDA MUSEUM
Vizcaya Museum and Gardens
Having been built almost 100 years ago, Vizcaya is almost ancient for South Florida. Still, a visit there is a lot like time-traveling back four centuries further and landing in the Old Country. Conceived as a modern, subtropical interpretation of an 18th century Italian villa by magnate James Deering, this living museum on Biscayne Bay features 34 decorated rooms of European antiquities and American art on 10 acres of Italian Renaissance gardens. Last year, Vizcaya introduced touch-screen interactive experiences that enable visitors to explore such normally inaccessible areas as the Barge, a partly submerged breakwater decorated with mythical sculptures, and the Pool Grotto, with its elaborate ceiling mural.
3251 S. Miami Ave., Miami
305-250-9133 
Phillip and Patricia Frost Museum of Science
Frost's four buildings in Downtown Miami's waterfront Museum Park let you explore the world of science from outer space to ocean depths. In the cutting-edge, 250-seat Frost Planetarium with its 360-degree view, you can take immersive, visual joyrides through to the stars, of course, but also into a coral reef or a strand of DNA. And on Laser Fridays, the planetarium fuses pop music with laser light visuals under its 67-foot dome. The tri-level Aquarium lets you travel from surface habitats of the Gulf Stream and the Everglades down deeper to stunning underwater views and interactive learning stations. There is a spectrum of other programs, events, camps and exhibits, including: Feathers to the Stars, the story of flight from feathered dinosaurs to future space travel; The River of Grass, designed specifically to introduce young children to our precious 'Glades ecosystem; and the recently opened Secret World Inside You, which explores the vast community of bacteria, viruses and other microbes that call our bodies home.
1101 Biscayne Blvd., Miami
305-434-9600
FAVORITE FREE FUN 
Art Wynwood
It wasn't so long ago that Wynwood was merely a downtown Miami warehouse district. Now it's the arts hub of South Florida, an outdoor art exhibit at city-scale and one of the largest open-air street art installations in the world. Starting with murals, street art and graffiti that were embraced early on by developers, the neighborhood now has more than 70 galleries and museums featuring well-known artists and up-and-comers. Its Second Saturday Art Walks gave birth to a street life that has become lively all week long, with dozens of new dining and entertainment spots and hundreds of businesses enhancing the district's innovative, evolving vibrancy. There's still no better time to check out Wynwood, though, than on the second Saturday of every month
starting at 6pm as the iconic Art Walk turns the neighborhood into Miami's largest block party. Wynwood is located roughly between N. 36 and 20 Streets, and I-95 and NE First Avenue,