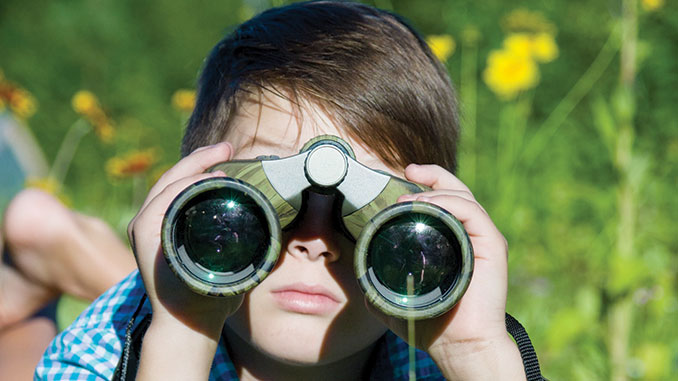 Explore a variety of options to keep kids happy all summer long
Published: February 25, 2023
Summer is right around the corner and our guide offers a variety of ways to keep
your children happy campers all season long. Here's a look at some programs in South Florida and beyond that encourage kids to forge new friendships, tap into their talents, gain independence and make lasting memories. 
General Day Camps
America's Leaders 
North Broward
954-748-5977 
All girls cheerleading program with dance, leadership and more. Ages 5-12. 
Boys and Girls Clubs 
Various locations in the tri-county area
Broward http://www.bgcbc.org
Miami-Dade http://www.bgcmia.org
Palm Beach http://www.bgcpbc.org
Children participate in summer enrichment programs that focus on social and cultural experiences, recreation, team building and educational activities.
Broward Christian Academy
9191 Orange Dr., Davie
954-667-0852
Through a wide range of activities and experiences, the summer camp program at Broward Christian Academy teaches children in grades K-5 how to be team players, build resiliency and confidence
and develop social skills.
Broward County Parks & Recreation
954-357-8100
Broward County Parks hosts various summer camp options at a number of county park locations. Check the website for 2023 updates.
Camp Chameleon
Markham Park, 16001 State Rd. 84, Sunrise
954-815-9054
Kids can enjoy playful summer days participating in activities that include  non-competitive sports, art, aquatics and more. 
Camp Colossal
746 NE Third Ave., Fort Lauderdale
754-444-9929
http://www.colossal-academy.com
This unforgettable camp experience includes crafts, STEM activities, gardening and a chance to create lifelong memories.
Camp Embark
Miramar Country Club Ranches,
4700 Indian Trail, Miramar
954-654-4091
Children ages 5-14 can have fun while embarking on a journey to discover nature, science, leadership and self-empowering life skills.
Camp Kadima at the David Posnack JCC
5850 S. Pine Island Rd., Davie
954-434-0499 
Camp Kadima offers a camp experience for interests including sports, theater, adventure, travel, tech and more. Programming is also offered at the Baer Family Early Childhood Center in Fort Lauderdale. Open to all. No membership required.
Camp Live Oak
Hugh Taylor Birch State Park, A1A & Sunrise Boulevard, Fort Lauderdale
ACA accredited day camp includes a variety of activities and specialty camps, such as Environmental & Marine, Salty Anglers, Teen Eco Experience and Lil' Sprouts.
Camp Sagemont
1570 Sagemont Way, Weston
954-799-6107
Camp Sagemont provides the opportunity for lifelong friendships and valuable, unforgettable experiences. Campers build new skills through day camp, specialty camps, a Conservatory for the Arts program and more. 
Camp Summit-Questa  
5451 SW 64 Ave., Davie 
954-584-3466
Summit-Questa offers an Early Childhood Camp for ages 3-5 and an Elementary Camp for ages 6-10 with a variety of activities.
Carrollton Summer Programs
3747 Main Highway, Miami
305-446-5673
Camp sessions include a variety of activities that engage campers in imaginative play, critical thinking, creative expression, outdoor exploring and more.
Chesterbrook Academy
5520 Alexandria Blvd., Coconut Creek
877-959-3740
http://www.chesterbrookacademy.com/camp
School-Age Summer Camp features sports, games, STEM activities, art, music, dance and more.
Children's Services Council (CSC) 
Various locations throughout Broward County 
CSC funded summer programs provide a safe, positive environment for elementary school children.
City of Dania Beach
Kids can make new friends while participating in camp activities and lots of summertime fun.
City of Hollywood
Kids can participate in specialty camps or in traditional summer camp activities throughout the city of Hollywood.
Miami Children's Museum
980 MacArthur Causeway, Miami
305-373-5437
http://www.miamichildrensmuseum.org
Explorers Summer Camp, for ages 4-10, allows children to explore art, hands-on making, innovating and recreation and more. 
Miami-Dade County Parks & Recreation
305-755-7800
http://www.miamidade.gov/parks
The county park system offers a variety of fun-filled summer camp choices including sports, nature, performing and fine arts and more. Visit website for details. 
Sunshine Child Programs
954-236-8850
Offers a variety of camp options and activities at convenient locations throughout Broward and Miami-Dade counties. 
YMCA of South Florida 
954-334-9622
305-357-4000 
http://www.ymcasouthflorida.org
Broward County locations: Greater Hollywood YMCA Family Center, Hallandale Beach YMCA Family Center, LA Lee YMCA Family Center, Pembroke Pines YMCA Family Center and Weston YMCA Family Center
Miami-Dade location: South Dade YMCA Family Center
Kids can make new friends and have summertime fun while participating in sports, aquatics, arts, science, cooking, fitness, performances, leadership training and more.
Specialty Camps
Barb Koster's Riding Academy 
Southwest Ranches
754-234-5981 
http://www.barbkostersridingacademy.com
Campers participate in horseback riding as well as lessons about safety, grooming, tacking and horsemanship.
Bright & Smart, Engineering Skills for Kids
Various locations
954-816-3346
A fun, weekly camp for boys and girls ages 5-12. Campers are immersed in a unique, fun-filled experience that fosters teamwork, builds problem solving skills, and nurtures critical and creative thinking.
Cox Science Center and Aquarium
4801 Dreher Trail N., West Palm Beach
561-832-1988
http://www.coxsciencecenter.org
Campers have fun learning about a range of scientific topics through themed, hands-on activities.
Educando a América
954-261-2432
http://www.educandoamerica.com
Dive into the Spanish language with a Spanish Immersion Camp.
Fairchild Tropical Botanical Gardens
10901 Old Cutler Rd., Miami
305-667-1651
Camp Discovery at Fairchild is a nature- based, fun-filled educational adventure for kids ages 7-12.
German Summer Camp 
4200 N. 65 Ave., Davie 
954-288-7599 
Full immersion German summer camp for children ages 1-9.
I Am Ok Me
Coconut Creek and Boca Raton
561-450-9346
Campers with an interest in fashion, creative writing, illustration and more can experience experiential learning, teamwork, marketing, product development and more.
Museum of Discovery and Science 
401 SW Second St., Fort Lauderdale 
954-713-0930 
Weeklong camps are designed to give children ages 6-12 entire days filled with exploration and hands-on learning. 
Phillip and Patricia Frost Museum of Science
1101 Biscayne Blvd., Miami
305-434-9560
Children ages 5-11 can explore the wonders of science through hands-on activities during week-long themed camps. 
Creative Arts
Coral Springs Museum of Art
2855 Coral Springs Dr., Coral Springs
954-340-5000
http://www.coralspringsmuseum.org
Kids ages 5-6, 6.5-12 and 13-17 can explore art and have some fun through a range of camp activities.
Young At Art Summer Art Camp
Located inside the Westfield Mall,
8000 W. Broward Blvd., Plantation
954-314-7077
http://www.youngatartmuseum.org
Kids can explore their creative side through painting, drawing, visual arts and more.
Performing Arts
Broadway Kids Studio
9042 W. State Road 84, Davie
954-693-7500
Broadwaykidsstudio.com
Dancers and performers can learn skills, increase techniques and participate in a full production. 
Broward Center for the Performing Arts
• Broward Center for the Performing Arts, 201 SW Fifth Ave., Fort Lauderdale
• Nova Southeastern University/Miniaci Performing Arts Center, 3100 Ray Ferrero, Jr. Blvd., Fort Lauderdale
• Aventura Arts & Cultural Center, 3385 NE 188 St., Aventura
Visit http://www.browardcenter.org to reserve space in any of the camps. Sessions are offered for different age groups at each of the three locations. The camp provides both an onstage and behind the scenes theater experience. The program culminates with campers performing live on stage. 
Fantasy Theater Factory
At Sandrell Rivers Theater
6103 NW Seventh Ave., Miami
305-284-8872
Campers ages 7-16 learn performance exercises, dancing techniques, music genres and diverse cultures from top-notch artists and instructors.
Florida Children's Theatre
Camps are held at Broward College Central Campus in Davie with additional sessions
at The Galleria Mall 
954-763-6882 
Summer Stage Show Camp offers sessions for those in grades 2-10. Campers learn the art of acting, music, and dance to mount a full-scale production at the end of each four-week session. A Circus Camp is also offered.
Miramar Cultural Center
2300 Civic Center Place
954-602-4534
http://www.miramarculturalcenter.org
Children ages 7-10 and 11-14 can learn the fundamentals of performing arts during this camp that culminates with a public performance.
School of Rock
Locations throughout Broward County
Kids can pursue their passion for music and performing with week-long themed camps including, Stranger Things, Best of the '80s, AC/DC, '80s Rock and Hair Metal. 
Special Needs Camps
Broward Children's Center
200 SE 19 Ave., Pompano Beach
954-943-7638
BCC Kids Summer Camp for ages 3-11 includes music, arts and crafts, outdoor play, cooking activities, interactive play and more.
Camp Coral Kids 
954-344-3344 
http://www.browardhealth.org/camp
Organized by Broward Health Coral Springs, this is South Florida's only day camp for children with Type 1 diabetes. Call for details. 
Diverse Abilities
11850 W. State Rd. 84, Davie
954-401-2024
http://www.teachdiverseabilities.com
A recreational and social Intensive Summer Program is offered to children with autism and related disabilities.
Easterseals South Florida
305-325-0470
http://www.easterseals.com/southflorida
Offers a variety of free summer camp programs for children and adolescents with autism and other related disabilities.
Miami-Dade County Parks & Recreation Disability Services Camps
305-755-7848
http://www.miamidade.gov/parks
Children and young adults with disabilities are offered enriching camp experiences in sports, swimming and arts and crafts at a variety of Miami-Dade County Parks & Recreation locations. 
The Children's Trust
305-571-5700
http://www.thechildrenstrust.org
This organization offers a wide range of services, programs and camps for children with special needs.
The Vanguard School
22000 Highway 27, Lake Wales
863-676-6091
Diverse learners participate in a variety of fun indoor and outdoor activities while learning problem-solving, culinary and communication skills, money concepts and more. For grades 6-12. Weekly sessions July 2-29. 
Sleep Away Camp
Valley View Ranch Equestrian Camp 
606 Valley View Ranch Rd., 
Cloudland, Georgia  
706-862-2231
http://www.valleyviewranch.com
A horse lovers' paradise since 1954 on 600 acres. A'top Lookout Mountain, for 50 girls ages 8-17, includes English, Western, Barrels, Vaulting, and Trails.