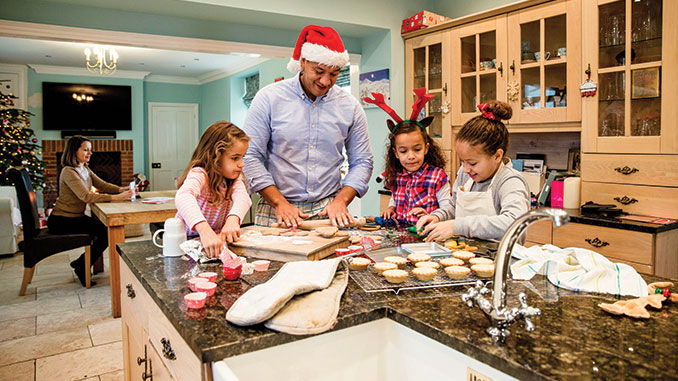 Whether creating or maintaining holiday traditions, it's important to keep it simple.
Published: November 27, 2019
By: Perry P. Perkins
I grew up with a mom who was really, really into Christmas — not like normal people are into Christmas, but more like from Thanksgiving to New Year's our home looked like the Mall of America Christmas Town stuffed into a two-bedroom apartment. 
Think: crazy cat lady, but with carols instead of calicos, and twinkle lights instead of tabbies. (There were cats, too… don't even get me started.) 
Traditions were a big deal to Mom.
From setting up the all-important lazy Susan with nuts and hard candies (the good stuff didn't come out until Christmas Eve… it's like she didn't trust me or something) to hanging everyone's stocking in front of the (sometimes faux) fireplace. There was the same stack of records, the Christmas village on the coffee table and, of course, the tree with the old-fashioned fat lights and thick drape of "icicles" that we'd still be pulling out of the vacuum cleaner until the next July.
Once everything was in place, the garlands hung and the living room bathed in the soft red and green glow of the tree, then it was Christmas. 
Whether it's reading "The Night Before Christmas" in front of the fire on Christmas Eve, lighting the Hanukkah menorah, or leaving out cookies and milk for Santa, traditions have been a part of the holidays since, well, since there have been the holidays — and for good reason. 
Throughout history, traditions have built a sense of stability and safety. Regardless of whatever else is happening, we look forward to coming together in these familiar rituals. It tells us that our traditions, our families, are stronger and more important than the events of the outside world, that they will live on, regardless of what changes life brings. This understanding builds trust and security.
Children especially feel accepted within their "tribe" when they're welcomed to take part in traditions. Ritual helps them to bond with one another and with the rest of the family. Kids who feel connected with their family are less likely to seek out that connection, and the acceptance they desperately need, in other places. In our increasingly digital world of "Facebook friendships," this human connection is more important than ever.
Equally important, our traditions connect us to our past. Whether it's Great-Great-Grandma's gravy boat brought from the "old country" and saved for Christmas dinner, or retelling the story of Grandpa going out in a blizzard to get a tree, traditions are a physical and spiritual link to our heritage — a way to pass along the oral traditions of us, who we are and where we came from, as families have been doing for thousands of years.
Whether creating or maintaining holiday traditions, it's important to keep it simple. Having every member of the family over for a feast was a lot easier back when it was two families who lived on the same street or in the same building. Give that family three or four generations to grow and you'll find yourself with a logistical nightmare of flight schedules, hotel reservations, and conflicting ideologies. 
If planning the "perfect holiday" ruins our holiday, we're missing the point. It's the little things:  Hanging ornaments together and remembering the special meaning or memory of each. Trudging out, Griswold-style, to find the family tree. Gathering in the kitchen to create that special stuffing or mashed potatoes that Grandma used to make. 
And don't forget to bring in the little ones and teach them, too — that's how traditions get passed on! 
Still looking for ideas? How about:
Find a local light show you can visit each year. 
Pick your "Family Christmas Movie" and snuggle up with a big bowl of popcorn. We like White Christmas, It's a Wonderful Life and A Muppet Christmas Carol.
Call a local homeless shelter and find out what it's running low on, then go shopping as a family and deliver your gift together. FYI: Going out for pie or ice cream afterward will make this a more appealing tradition to the youngest members of the family. 
Let each child pick out a new tree ornament or decoration that has special meaning to that year in their lives.
(This is a favorite of ours.)
At my house, growing up, it was cookies — specifically, Sugar Cookies on page 232 of The Betty Crocker Cookbook. 
I know this because I still have the cookbook, and while the rest of the book is "like new" (Mom didn't do a lot of cooking), that page is folded, wrinkled and spotted with 40-year-old cookie-dough smudges. 
Every year, a week or so before Christmas, Mom and I would turn the kitchen into a bomb-zone of flour, eggshells and candy sprinkles. We'd dig out Grandma's old tin cookie cutters and cut out the same bells, trees, and stars that Mom grew up making. A simple powder-sugar frosting and some red and green food coloring, and we'd bake up enough cookies to feed a small army (a.k.a. me) while Bing crooned on the record player (yes, I'm that old) and the house would fill with the lovely smell of… Christmas.
Mom's been gone for three decades, but she's still right there in the kitchen, every year, as we've helped our baby girl roll dough, press out shapes and spread frosting on the cookies… and the walls, and sometimes the dog.
We hum along to the same old songs, tell the same old funny stories as we hang the old ornaments, and reconnect with our generations, with our tribe.
Merry Christmas, Mamma… we won't forget the lazy Susan.