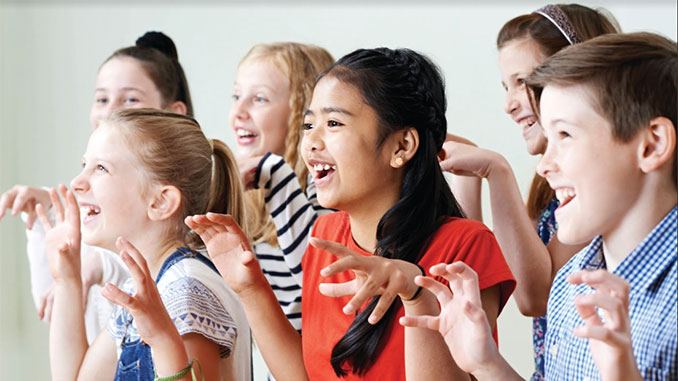 The brain-boosting power of creative experiences
Published: August 27, 2019
By: Shannon Dean
In a highly competitive world that places a huge premium on easily measured achievements, creative arts are sometimes considered an extra for which there is not enough time or money. However, experts believe that this thinking is dated, because research indicates that the arts are every bit as beneficial to brain development and learning as traditional academics. 
Benefits of Childhood Exposure 
Enhanced Development, Academic Performance and Self-Confidence: Teachers have always known intuitively that the arts improve academic performance, behavior and attendance. And recent brain research confirms that the arts boost memory, intellectual curiosity and self-esteem. 
"When well-taught, the arts provide young people with authentic learning experiences that engage their minds, hearts and bodies and nurture the development of cognitive, social and personal competencies," according to Arts Education Partnership's published study, Champions of Change: The Impact of the Arts on Learning.
Diverse, Highly Valued Skills That Contribute to Future Success: There's often an assumption that a significant investment in the arts is a financial loss. Sure, it's nice to have an artistic child, but having a successful, employable child has to be the real goal. Fortunately, it is possible to have all three, because exposure to the arts develops the skills that will be highly valued in the future. The evolving workplace rewards creative thinkers who can generate innovative and original ideas in a variety of media. 
"If young Americans are to succeed, they will need an education that develops imaginative and tough-minded thinking," former U.S. Department of Education Secretary Richard Riley has said. "The arts powerfully nurture this ability over other areas of learning."
Better still, in a global world that is becoming more diverse, exposure to the arts helps children appreciate different points of view. As famed Broadway composer Stephan Schwartz puts it, "The arts are about increasing sympathy, increasing in people the ability to see things from other people's point of view, and understanding that the world is not just from your own narrow perspectives, but from the perspective of people from other cultures." 
Yet, while the arts opens a world of possibilities to a child, they also give him a greater sense of himself. While enjoying artistic experiences, children are stripped of pretenses and self-consciousness. As a result, they develop an awareness of, and appreciation for, their unique individuality.
Creative Arts Opportunities
Exposing a child to the arts need not be time-consuming, difficult or expensive. Most communities offer enhancement programs at recreation centers, libraries, museums or performing art centers at little or no cost. It is also very easy to reinforce concepts at home. Here are different types of creative arts that children enjoy, the benefits that each provides, and suggestions for how to incorporate them at home:
Music: Listening to, singing and playing music has an undeniable effect on reasoning, language, math and social behavior. Exposure to music can actually form new, permanent connections in a child's brain. Aimee Carter, who teaches music to children with developmental delay, says that all of her music students experience substantial developmental, emotional and social gains. Music director Tom Tietjen says that his music students enjoy greater self-awareness, cooperation skills and an appreciation of different cultures.
Parents can easily play or make music at home, but they shouldn't be afraid to take their children to the symphony. Many offer child-friendly matinees and instrument "petting zoos" that expose a child to different instruments and sounds. It's fun to watch a child's reaction when he instinctively gravitates toward an instrument. 
Creative Drama: This can include dramatic role-play, story enactment or viewing live theater. Such exposure enhances a child's imagination, builds his self-confidence and improves memory and reading skills. Drama students also learn to comfortably express their emotions in a group setting, a skill that becomes important as they approach adulthood.
At home, encourage pretend play. Many kids instinctively act out their favorite stories. Consider a family talent show to allow even shy children to shine in the safety of their own home. Check out local theater offerings specifically for kids. 
The Visual Arts: Exposure to painting, drawing, sculpture, photography and architecture help develop a child's fine motor and critical-thinking skills. Artist and teacher
Virginia Larrea sees improvements in her students' self-discipline, organizational skills and self-esteem. She says that art can make academic subjects (particularly geometry) more accessible.
"Children learn that art is connected with all learning, so even boring subjects can be fun," she says.
It's easy to encourage the visual arts at home because kids love to draw, sculpt and build. Allow kids to use an old phone to take photographs and then choose one for framing. Look for family nights at your local museum and ask your child to describe what he likes about his favorite pieces.  
Literary Arts: Exposure to or creating written works, whether poetry or prose, encourages self-exploration and intellectual curiosity. Despite geographic or socioeconomic barriers, literature can teach kids to appreciate the opinions and differences of others while also recognizing and honoring their own abilities and backgrounds.
Literary reading is in a steep decline, with the most dramatic drop-off happening in the youngest age groups. Consider reading the classics as a family. Swiss Family Robinson, Through the Looking Glass, Treasure Island and Little Women are popular choices. Know that many publishers offer classic stories with age-appropriate text. Another option
is poetry written specifically for children. Encourage your kids to write their own stories and poems. 
With all of the offerings and choices available, consider incorporating the arts into your family's daily routine. Even if your child does not become the next Shakespeare, Mozart or Picasso, these small and easy efforts could help them to become smarter, well-rounded students and adults.