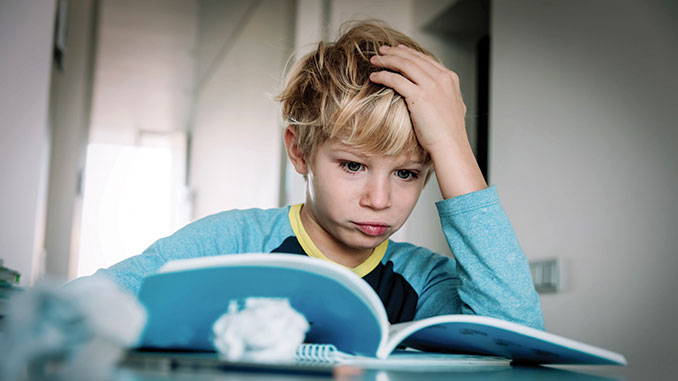 Great stress-reducing apps for kids.
Published: February 26, 2020
By: Tanni Haas
Are your kids stressed? Do you want them to learn how to better cope with life's big and small stressors in ways that are both helpful and fun? Then encourage them to download an app – or three. Below are seven of the most kid-friendly, stress-reducing apps available, and the best part is that they're all free. 
BREATHE, THINK, DO WITH SESAME STREET (Available at: Amazon Appstore, Apple App Store, Google Play; Age range: 5-8)
This colorful app teaches kids how to relax themselves so that they can better cope with common, everyday stressful situations. Divided into five interactive scenarios, kids help Cookie Monster take deep breaths, come up with plans for addressing these stressful situations, and then try out those plans. It includes a useful section with additional strategies and resources for parents to teach kids how to solve everyday challenges.
DREAMYKID (Available at: Google Play; Age range: 9-18)
This app teaches kids how to relax their minds with guided meditations, visualizations, and affirmations through calming, positive messages. There are some issue-specific meditations that some kids might find particularly useful, including meditations aimed at building confidence before sports matches and focusing on their schoolwork.   
EMOTIONARY (Available at: Apple App Store, Google Play; Age range: 5-12)
This app enhances kids' emotional intelligence by offering more than 100 short, simple, dictionary-style definitions of common emotions, each accompanied by a unique emoticon. It helps kids to develop a richer, more expansive vocabulary of emotions, and it teaches them how to deal with those emotions so that they don't become overwhelmed by their feelings. Kids can create and add their own emoticons for feelings that aren't included in the app.  
NATURE MELODY (Available at: Apple App Store, Google Play; Age range: 5-18)
This app is designed to help kids get a good, relaxing start to their day. It functions like an alarm clock and has more than 30 soothing, nature-inspired sounds to wake your kids up slowly and gently in the morning. The app can be used in the afternoon and evening, too, using the nap and a sleep timer function, for a stress-free end to their day.
SUPER STRETCH YOGA (Available at: Apple App Store; Age range: 9-18)
Created by a well-known yoga instructor, Jessica Rosenberg, this interactive app teaches kids yoga through video demonstrations by other kids, with a focus on breathing and movement. It's narrated by a character named Super Stretch and features 12 different poses with different skill levels. Kids can use the built-in camera to take pictures of themselves doing the various poses.  
THREE GOOD THINGS: A HAPPINESS JOURNAL (Available at: Apple App Store; Age range: 5-18)
This app helps kids think more positively by writing daily about three good experiences they've had. The app has a feature that lets kids upload and share their writings on social media.   
WELLBEYOND MEDITATION FOR KIDS (Available at: Apple App Store; Age range: 5-8)
Like DreamyKid, this is a meditation app, but one geared toward younger kids. It has several guided meditations to help kids center themselves, focus on their breath, be in tune with their feelings, and experience empathy for others. Each meditation is narrated by a female voice that uses simple instructions to guide kids through various breathing and visualization exercises.