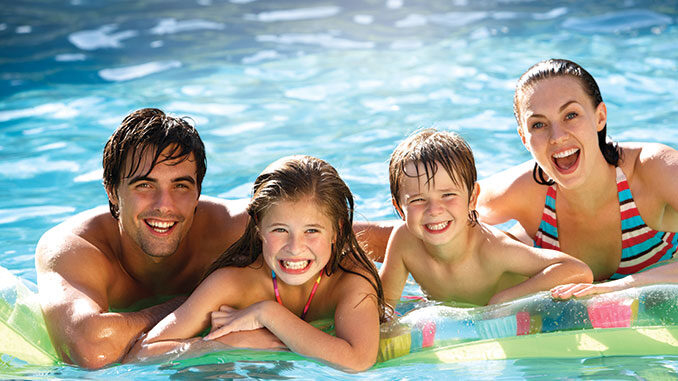 From beaches to museums, great ways to spend the day
Published: June 30, 2021
Favorite Place To Swim & Splash
Broward/Palm Beach:
Rapids Water Park
South Florida's best-known water park, Rapids, is a great way to chill and thrill at the same time. Rapids has more than 40 water slides and experiences, including high-speed water racers, giant drop slides, a lazy river, a FlowRider, and a wave pool, plus a splash lagoon and slides for smaller ones. Located just north of West Palm Beach, this park can keep kids busy all day long with group and individual slides as well as a water obstacle course that tests their balance and coordination. Plenty of food and drink options are sold throughout the park, including full meals, on-the-go snacks, fun desserts, refillable souvenir mugs and adult beverages for those 21 and older. Lockers are available for rent, or families can opt for a full-service poolside cabana for the day.
6566 N. Military Trail, Riviera Beach
Miami-Dade:
Venetian Pool
Want to swim like a movie star? The Venetian Pool in Coral Gables, carved from a coral rock quarry, has an 820,000-gallon pool that is refilled daily with spring water from an underground aquifer. The pool features waterfalls and grottos, and it provides a beautiful view of the city from two historic towers. Palm trees, porticos and its signature bridge add to the Venetian Pool's beauty. Reservations to visit the pool must be made in advance at www.playgables.com, and keep in mind that this is a place for older children: Guests must be a minimum of 3 years of age and 38 inches tall to enter the facility.
2701 de Soto Blvd., Coral Gables
305-460-5600

www.coralgables.com/departments/CommunityRecreation/venetianpool
Tidal Cove at JW Marriott Miami Turnberry Resort
South Florida's newest water park, Tidal Cove, is an upscale addition to the water scene that is tucked away at the JW Marriott Miami Turnberry Resort & Spa in Aventura. With seven water slides (including the Aqua Drop), a triple FlowRider, a lazy river, a Kids Cove and more, Tidal Cove has more than enough to entertain the whole family. It is also home to the Master Blaster (an uphill waterslide similar to the aqua roller coaster at Universal's Volcano Bay in Orlando) that powers you through dips, drops and gravity-defying watercoaster climbs. Tidal Cove also features two leisure pools for those seeking a more quiet poolside experience.
19999 W. Country Club Drive, Aventura
Favorite Park or Playground
Broward/Palm Beach:
C.B. Smith Park
One of Broward County's most diverse parks, C.B. Smith Park in Pembroke Pines features 299 acres of activities for South Florida families. The park's Paradise Cove water park is one of the county's largest, with four 50-foot-tall waterslides, two water playgrounds and a lazy river. C.B. Smith also has a lakeside campground with 83 full-hookup sites and a family golfing center with a lighted driving range, miniature golf, batting cages and sales of soft drinks, ice cream and beer. There are also plenty of picnic areas, a 10-court tennis complex, and a concert area with a capacity of up to 22,500 that plays host to the annual KISS County Chili Cook-off.
900 N. Flamingo Rd., Pembroke Pines
Miami-Dade:
Oleta River State Park
Just 30 minutes north of downtown Miami, this gorgeous thousand-acre park is a natural oasis that offers paddling on the Oleta River as it winds through mangrove forests, fishing, and swimming and snorkeling off the beach on Biscayne Bay. The park also has a dozen miles of off-road bicycling trails for cycle enthusiasts, and bikes are available for rent (along with kayaks and other equipment) at the Oleta River Outdoor Center. For overnight stays, the park has rustic, air-conditioned cabins for rent and a primitive campground for organized youth groups. The park also has a butterfly garden, a Fish House restaurant, and picnic and playground facilities for families to enjoy.
3400 NE 163 St., North Miami Beach
Favorite Beach
Broward:

Hollywood Beach
Want to experience an iconic slice of South Florida life? Hollywood Beach is the perfect mix, with a bustling broadwalk, a range of restaurants, a bandshell for concerts and performances, parks and playgrounds, a splash pad for kids, and miles of resorts, all within steps of the sand. You can rent family-sized cruiser cycles to take in the sights, grab a drink or a bite to eat, or find the perfect place to spend the day lying in the sun. Hollywood Beach is home to the famous cheeseburgers of the waterfront saloon Le Tub, the table dancing and Greek food of Taverna Opa, and the numerous bars and pools of the Margaritaville Beach Resort, as well as many more attractions.
Pompano Beach
A major beachfront renovation in Pompano Beach has taken its shoreline experience to a new level. The Fisher Family Pier and Pompano Beach Fishing Village offer sightseeing, fishing, shopping, dining and recreation right on the ocean. Plus, a shaded playground and interactive water fountain keep kids comfortable and entertained. A new parking garage provides plenty of parking right by the beach, and Pompano Beach even has a free, on-demand shuttle service called the Pompano Circuit to get beachgoers from the pier and the parking garage to hotels and restaurants in the area. Pier passes are $2 per person daily for sightseeing and $6 for fishing, with resident family passes for $20 a year. Access to the Fishing Village and playgrounds is free.
Miami-Dade:
Key Biscayne
Need to escape the Miami heat? Take a drive across the Rickenbacker Causeway to the beautiful beaches of Key Biscayne, home to two major beachside parks and the only federally recognized underwater archaeological trail in the United States. Key Biscayne encompasses the beaches of Crandon Park to the north and Bill Baggs Cape Florida State Park (and its lighthouse) to the south, with public beach access and numerous beach resorts along its east coast. The parks offer plenty of parking as well as hiking trails, recreation, and dining options, and the Cape Florida Lighthouse on the southern tip of the island offers guided tours up the structure's 109 steps for a bird's eye view of Biscayne Bay.
Haulover Park
Known for its annual Kite Festival, Haulover Park is also famous for its fishing pier, its dog-friendly Bark Park, and its clothing-optional section of the beach. If you'd rather NOT answer uncomfortable questions from your kids, Haulover also features a 7,500-square-foot Skate Park & Pump Track that includes a street course for skaters of most skill levels and a track of berms for BMX and mountain bikers, so your more-adventurous members of the household can play while you soak in the sun or splash in the ocean. The park offers food trucks on Tuesdays, bike rentals, kite sales and other recreation options.
Favorite Local Adventure
Broward/Palm Beach:
Lion Country Safari
Want an up-close encounter with an ostrich? How about the chance to see zebras, rhinos and water bucks standing just feet away while you enjoy the comfort and safety of your car? Lion Country Safari offers these experiences and many more in its 2-park experience. The first park is a safari drive-through, where you can see over 1,000 animals, including the park's namesake lions, elephants, wildebeest, giraffes, chimpanzees, impalas and more. The second park is a walk-through safari with additional animal displays, a petting zoo, giraffe and bird feeding, mini golf, paddleboats, kiddie rides, a giant slide, a water playground, dining, shopping and Safari Queen boat rides.
2003 Lion Country Safari Rd., Loxahatchee

Tigertail Lake Recreational Center Aqua Challenge and Ropes Course
Ready for a challenge? The Tigertail Lake Recreational Center offers an exceptional Aqua Challenge and a high-flying ropes course to get your feet off the ground and your head into the clouds. Test your team on one of eight high-ropes initiatives between four interconnected towers, or cool off on the Aqua Challenge, a combined water obstacle course and playground on Tigertail Lake. The Aqua Challenge has 8 elements and welcomes kids and adults to climb, slide, swing and jump during its hour-long sessions.
580 Gulf Stream Way, Dania Beach
Miami-Dade:
Miami Seaquarium
Have you always wanted to swim with dolphins? Suit up and dive in! Miami Seaquarium has you covered. With several different dolphin encounters, as well as a seal swim, penguin encounter, shark and stingray interaction, reef encounter and more, Miami Seaquarium offers plenty of ways to get up close and personal with their water-dwelling denizens. You can also stay dry and learn more about the creatures that call the Seaquarium home with animal shows, displays, touch pools, exhibits and more. Guests can see manatees, birds, sea lions, sea turtles and other animals while exploring the park, and kids can cool off in the Pirate Playground water area. There is also dining and shopping throughout the park.
4400 Rickenbacker Causeway, Miami
Feed the Tarpon at Robbie's of Islamorada
Robbie's of Islamorada is perched on the edge of paradise at Mile Marker 77.5 in the Keys, and it offers water sports, souvenirs, seafood and signature cocktails. But the biggest draw of Robbie's dwells inches beneath the surface of the water, waiting for a bite to eat. Massive tarpon, sometimes in a school of more than 100, linger for hours under the docks at Robbie's in hopes of a hand-fed meal. Robbie's lets guests deliver that meal by offering buckets of bait fish that guests can dangle above the water to lure the "Silver Kings" below into a jump above the surface. Just be sure to count your fingers and toes when you are done!
77522 Overseas Highway, Islamorada
Favorite South Florida Attraction
Zoo Miami
With its mix of water play and incredible animal encounters, it's no wonder Zoo Miami is a favorite attraction. At 750 acres, Zoo Miami is the largest zoo in Florida and the fifth-largest in the United States, and its tropical, open-air exhibits replicate the animals' natural habitats and allow species that naturally live side-by-side to be grouped together. Not only is Zoo Miami home to more than 3,000 animals, but it lets families get closer with a tortoise experience and feeding experiences for giraffes, parrots and more. It also has splash pads throughout the park to keep visitors cool, and rents family-sized Safari Cycles at the entrance to help guests get around.
12400 SW 152 St., Miami
Favorite South Florida Resort for Families
Margaritaville Hollywood Beach Resort
Perfect for a either a daycation or a staycation, the 349-room, 17-story Margaritaville Hollywood Beach Resort offers an upscale steakhouse, multiple bars, a coffee shop, three pools (one with a water slide), a FlowRider and the St. Somewhere Spa right in the heart of the reader-favorite Hollywood Beach broadwalk. With eight restaurants and bars (including those giving you a License to Chill because it is 5 O'Clock Somewhere), plus a Parakeets Kid's Club where hotel guests can drop the kids, it is easy for parents to enjoy some adult time while the kids play. The sandy shore of the Atlantic Ocean is only steps away, and the Parrot Head décor and song lyrics help you get in the Margaritaville state of mind during your stay.
1111 N. Ocean Dr., Hollywood
Favorite Local Museum
Broward/Palm Beach:
Museum of Discovery and Science 
Otters, airplanes and hurricane-force winds are among the top attractions at this incredible museum, which has developed into a premier kid-friendly science destination. With its outdoor Science Park, six-story-high IMAX 3D theater, high-tech makerspace, paper airplane launcher and award-winning exhibits, the Museum of Discovery and Science inspires learning through experience and makes education fun. The museum is known for its giant yellow Gravity Clock outside and its enormous megaladon inside. It also has a Discovery Center for ages 6 and younger, an Everglades Airboat Adventure, a KEVA design exhibit, a dinosaur bone yard, a storm center, an Early Childhood Learning Lab and much, much more.
401 SW Second St., Fort Lauderdale
Miami-Dade:
Phillip and Patricia Frost Museum of Science 
With its stingray and Dive Bar touch tanks, 500,000-gallon Gulf Stream aquarium, interactive videos, immersive exhibits and cutting-edge Planetarium, the Frost Museum of Science allows families to dive deep into the world and ecosystems around them. The Frost is designed for hands-on learning, with permanent and traveling exhibits that allow kids to build, move and play their way to understanding. Families can test the principles of aerodynamics and space flight in the Feathers to the Stars exhibit, make nutrition choices in the MeLab, discover the Power of Science, chill with jellies, and relax under the oculus lens that gives guests a glimpse of hammerhead sharks, spotted eagle rays, a sea turtle and other ocean dwellers.
1101 Biscayne Blvd., Miami
Broward:
Fort LauderdaleAir Show
Once a year at Fort Lauderdale Beach, the focus turns from the sand and waves to the skies above as the Fort Lauderdale Air Show flies into town. Demonstration teams show off the might of the nation's military jets, helicopters and paratroopers, and seaplanes and stunt aircraft join the fun. The free, two-day event, which is usually held in early May, draws thousands of spectators to the sand and sea to watch the high-flying action. Drop Zone and VIP tickets can be purchased for admission to prime beach viewing areas, or families can opt for the cheap (i.e. free) seats on the beach outside the prime zones.
Family Hayride and Campfire Series at Broward County Parks
Fall brings all sorts of fun to South Florida, including the Family Hayride and Campfire Series at Broward County Parks. The events invite families to come in for a ride in a hay-filled wagon through the park, then a gathering around the campfire. The $3.50 hayride tickets include pre-packed s'mores, so eventgoers can roast their marshmallows and then smash them between the graham crackers and chocolate that come in the s'mores bags. The hayrides are usually offered for several hours on Friday and Saturday nights at various parks, and reservations must be made in advance at the park or online.
Miami-Dade:
Zoo Lights Miami 
Every winter holiday season, Zoo Lights Miami brings 1 million bright, animal-shaped lights, dazzling tree lights and an LED tree to Zoo Miami after dark. Santa Claus also makes special appearances on the Zoo Lights nights, when the zoo closes at 4 p.m. so it can reopen 6:30 to 10 p.m. for Zoo Lights guests. During Zoo Lights hours, guests are invited to enjoy special animal encounters, Snowman's River boat rides, hot chocolate and cookies, letters to Santa, and holiday shopping. The zoo makes the event even more memorable with themed weekends, such as PJ nights and Ugly Sweater nights, as well as free entertainment for Zoo Lights guests, music, arts and crafts, and more.
12400 SW 152 St., Miami
Deering Estate Ghost Tours
Get spooky and step into the past with an evening Ghost Tour at the Deering Estate. On select nights in October and November (the season of spooky), Deering Estate guides share stories of historic events, the estate's previous inhabitants and the paranormal activity experienced by visitors and staff. With your guide, you can walk along the same paths that Native Americans, Miami's early pioneers, and even Charles Deering walked. But this nighttime excursion isn't for younger kids. The estate recommends that program participants be age 9 and older.
16701 SW 72nd Ave., Miami
---
View All 2021 South Florida Family Life Family Favorites
No items found