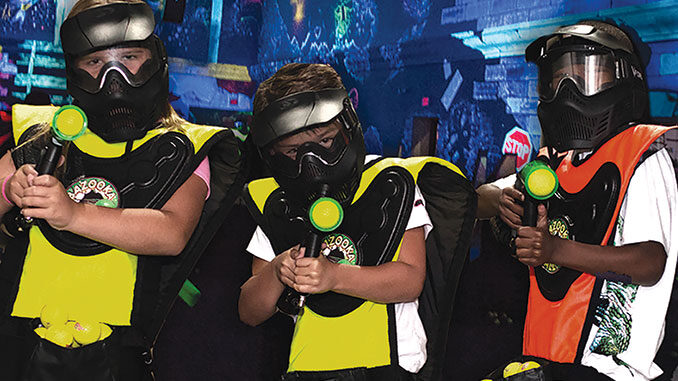 Fun times and educational options for the kids
Published: June 28, 2022
Kids love to be on the move and parents know just how to keep them busy. From indoor playgrounds and camp programs to party venues, arts classes and more, here's the places South Florida Family Life readers chose as their favorites.
Favorite Party Place
Broward: Xtreme Action Park
Imagine the hit your party will be as your guests tear around a half-mile asphalt track in go-karts at speeds of up to 45 mph. But driving South Florida's only indoor, gas-powered track is only one of the many activities that can turn a birthday party into an action adventure at Florida's largest indoor entertainment venue. Customize your party package from such other attractions as a ropes course, trampoline park, roller skating rink, escape room, laser tag, bowling lanes and arcade game room.
5300 Powerline Rd., Fort Lauderdale
954-751-7487
http://www.xtremeactionpark.com 
Miami-Dade: K-1 Speed
Whether teenagers or preteens, party guests get an adrenaline-pumping experience at K-1 Speed. Here, go-karting becomes go-kart racing in a controlled, indoor environment where the karts are electric and the glass-smooth tracks are professionally designed. For a minimum of eight people, party packages include a 12-lap qualifying race and a 14-lap final event race, plus a one-hour, race-themed room rental with pizza and soft drinks, medals and a podium ceremony with photos.
8600 NW South River Dr., Medley
786-578-0396
Palm Beach: Boomers
From bumper cars to bumper boats, go-karts to batting cages and rock walls to laser tag, Boomers is a party paradise. There's a huge arcade of video and skills games, and even a Lil' Thunder Rookie Go Kart experience for drivers 34-54 inches. Three party packages range from three attractions to unlimited attractions all day for nine guests. Each includes a party host and a table for an hour and a half, pizza and unlimited drinks. And the guest of honor is free.
3100 Airport Rd., Boca Raton
561-347-1888
http://www.boomersparks.com/boca
Favorite Local Camp Program
Broward: David Posnack JCC
For 40 years now, summertime, fun and kids have gone together — swimmingly, you might say — at the JCC's Camp Kadima. Beyond the huge swimming pool, splash pads and water slides, activities range from, well, just about any camp activity you can think of, inside or out. Plus several you might not, like Xzone Fitness or Karaoke Wednesdays. Themes include tech, theater, sports and adventure with camps specifically for girls, teens and kids with developmental disabilities. New this year for K-Grade 1 are Kindergarten Boot Camp and Sports Academy Jr.
5850 S. Pine Island Rd., Davie
954-434-0499
Miami-Dade: Michael-Ann Russell JCC
This JCC seemingly has a camp for everyone. There are more than 25 for children ages 2–15 at its Camp Sol Taplin, one of South Florida's largest and most established Jewish summer camps. In the two younger groups (age 4 and under and K-Grade 5), options include sports and swim academies; dance, art and theater camps; and Tiny Tumblers Gymnastics. Campers in Grade 6 and up have an even wider choice of engaging ways to spend their summer — such as in Extreme Adventure Camp on the Road, which travels to destinations in Southern California.
18900 NE 25th Ave., Miami
305-932-4200
Palm Beach: American Heritage School Summer Camp
American Heritage's reputation as one of the top private schools in Florida, if not the nation, is reflected in its summer camp programs. Operating for 40-plus years, the school's 32 camps are designed for children ages 3-14. In addition to Day Camp, specialty camps include Robotics, Art, Science, Musical Theatre, Video Production and Sports.
6200 Linton Blvd., Delray Beach
888-490-7467
http://www.online.ahschool.com
Favorite After School Program or Activity
Broward: David Posnack JCC
For kindergarten through eighth-grade, "The J" is the place to be after school. Its Adventure Program offers options like arts and crafts, a computer lab, a playground, a supervised homework room and Judaic activities. For a separate fee, extracurriculars range from "Get in Motion" activities like basketball and karate to "Expand Your Mind" pursuits like cooking and robotics. The Teen JCrew program engages middle-schoolers with a fitness center, a free Leadership-in-Training program and more. JCC membership is not required and school-pickup is available.
5850 S. Pine Island Rd., Davie
954-434-0499
Miami-Dade: Miami Beach JCC
A haven for family health and fitness, the JCC features a state-of-the-art Technogym with cardio equipment, treadmills, bikes, elliptical machines and a climber. Also, the sports schedule is packed with team and competitive leagues for kids and adults alike. Athletics include flag football, basketball, soccer, baseball, volleyball, racquetball, gymnastics and more. There's also an exclusive schedule of Parent Place classes and activities designed specifically for toddlers and younger tots.
4221 Pine Tree Dr., Miami Beach
305-534-3206
Palm Beach: Adolph & Rose Levis JCC
With soccer, basketball, swimming and a state-of-the-art fitness center, the JCC is a hub of activity for the family. The same holds true for its after-school activities for kids of all abilities, with programs in SuperSports, soccer, yoga, karate, tennis and fitness. And younger children are the center of attention at the Betty & Marvin Zale Early Childhood Learning Center, where classes cover three developmental stages: Baby & Me (birth-24 months), Separation (18-20 months), and Preschool (2 years to Pre-K).
9801 Donna Klein Blvd., Boca Raton
561-852-3200
Favorite Indoor Playground 
Broward: Off the Wall
When your kids are bouncing off the walls, where better to have them do it than at the place named for it? There's a day's worth of trampoline activities that'll get their hearts pumping — dodgeball, slam dunk, joust and trapeze, among them. Other activities include laser tag, virtual reality, ax-throwing, rock wall, ropes course, karaoke studio, crazy cars, putting lounges, pool tables, ping pong, arcade games and a full menu restaurant. There are two locations:
9130 W. State Road 84, Davie
954-476-3000
4939 Coconut Creek Pkwy., Coconut Creek
954-973-3031
Miami-Dade: Sky Zone
This trampoline park has all the attractions you'd expect — and some you might not. For instance, Sunday mornings are set aside for Little Leapers sessions, high-energy play adventures for kids ages 5 and under and their parents. And after dark, lasers, music and blacklights turn the park into a jumping dance club called Glow. Other out-of-the-ordinary activities include a Ninja Warrior Course, a Zip Line, a Foam Zone with an Air Tower, an Air Court for basketball games and Bounce Boards rentals. There are two locations:
5450 NW 82nd Ave., Doral
305-640-5424
10200 SW 186th St., Cutler Bay
305-640-5424
Palm Beach: Little Town Play
Kids love to play grownup, and they have their own little town to do it at this indoor play center. With dress-up costumes, kids from 6 months to 6 years can explore a fresh market, gas pump, firehouse, diner, hair salon and more. A Tot-Spot gives crawlers and early walkers a perfect place to try out those legs. Open play goes on all day. Several birthday party packages are available.
15200 Jog Rd., Delray Beach
561-562-5661
http://www.littletownplaycenter.com
Favorite Arts Program
Broward: Broward Center for the Performing Arts
Whether your child is an aspiring performer, or just someone who loves to act, dance or sing, there are several opportunities to learn how to do it better at one of the country's top performing arts centers. For pre-K through adult, all-encompassing classes teach performance arts fundamentals, as well as more technical pursuits like costumes and staging — all culminating with a stage performance. Also, Broward Center Spotlights is an audition-based vocal ensemble in which students perform with choreography for various Broward Center and community events.
201 SW Fifth Ave., Fort Lauderdale
954-462-0222
Miami-Dade: Adrienne Arsht Center
The possibilities for student engagement are kaleidoscopic here. They range from Learning Through the Arts, which turns live theatrical performances into teachable moments, to Jazz Roots: Sound Check, a behind-the-scenes look at a jazz concert for 1,000 aspiring jazz musicians. Also, throughout the school year, Arsht Center presents in-school performances, lecture/demonstrations and master classes for all grades. Also, each year, Family Fest engages the community at-large with performances open to the public.
1300 Biscayne Blvd., Miami
786-468-2000
Palm Beach: Kravis Center for the Performing Arts
With 15 different offerings in its Student Arts Enrichment program alone, Kravis is obviously committed to arts outreach. But beyond the workshops, master classes and summer programs, Kravis also has a vibrant online educational presence. Bring Down the House engages 9- to 18-year-old students where they are via Zoom with private performing arts instruction and coaching with professional teaching artists. Also, Kravis Classroom Connection is an innovative virtual series that presents pre-recorded presentations for teachers and students.
701 Okeechobee Blvd., West Palm Beach
561-832-7469
Favorite Academic Enrichment/Tutoring Program
Broward: Code Ninjas
Here's one tutoring program you probably won't hear your kids complain about. At Code Ninjas, they can learn to build their own video games like Roblox and Minecraft while they learn about coding. For children ages 5-7, Code Ninjas Jr. provides a foundation through visual curriculum. Code Ninjas Create advances to building video games and learning coding skills for ages 7-14. A variety of camps are also available, as well as an At-Home Coding program.
There are locations in Cooper City, Coral Springs, Oakland Park, Plantation, Weston and Aventura.
Miami-Dade: Kumon
Kumon turns tutoring into self-learning. Created by a Japanese father who wanted his young son to develop a love for learning, the program provides tools that foster independent thinking, focus and motivation to help students fulfill their academic potential. Whether the goal is catching up or building a foundation for the future, the Kumon Math and Reading Center has programs for ages 3-5, 6-12 and 13 and older. A placement test helps get students onto an individualized lesson plan guided by trained and certified instructors.
From Miami Lakes to Pinecrest, there are nine locations in Miami-Dade.
Palm Beach: International College Counselors
With competition for college acceptance at an all-time high, International College Counselors' personal, one-on-one approach offers prospective post-secondary students a leg up. In its Comprehensive College Admission Plan, students in grades 9-12 receive a personal advisor who, beginning with a holistic evaluation, is able to match them with the best possible schools and take them through the entire admission process.
1200 N. Federal Highway, Suite 200, Boca Raton
800-452-9090
http://www.internationalcollegecounselors.com
Favorite Infant/Toddler Enrichment Program
Broward: NSU University School Preschool
Children from 18 months through 4 years get off to a good start in NSU preschool classrooms, where personalized instruction, active learning and exceptional resources are the rule. Located on the Nova Southeastern University campus, the preschool provides both students and teachers with a wide range of resources and opportunities. For example, its staff works closely with the NSU School of Psychology, which is on hand for occupational, physical, and speech therapy. Several three- or five-day-a-week options are available.
3375 SW 75 Ave., Fort Lauderdale
954-262-4506
Miami-Dade: Mini-Me Science at Phillip and Patricia Frost Museum of Science
This monthly program at Frost Science is a shared experience for children ages 2-5 and their parents. Hands-on activities specifically designed for early learners engage the senses as they promote exploration and discovery. Held at 10:30 a.m. on the second Sunday of the month, sessions are facilitated by science educators and usually include all materials and supplies. Thirty minutes of hands-on activity is followed by a guided museum exploration in one of the museum's exhibitions.
1101 Biscayne Blvd., Miami
305-434-9600
Palm Beach: YMCA of the Palm Beaches
The Y's Early Learning Center helps youngsters start kindergarten ready to succeed. Its curriculum supports social-emotional skills and open-ended opportunities to explore individual interests. Children learn about literacy, math, art, science and more in a positive educational environment designed to help them reach their developmental milestones and discover
their own unique gifts. There are programs for 2-year-olds, VPK, preschool and after-school, including gym activities, onsite swim lessons and daily workshops.
2085 S. Congress Ave., Palm Springs
561-968-9622
http://www.ymcapalmbeaches.org