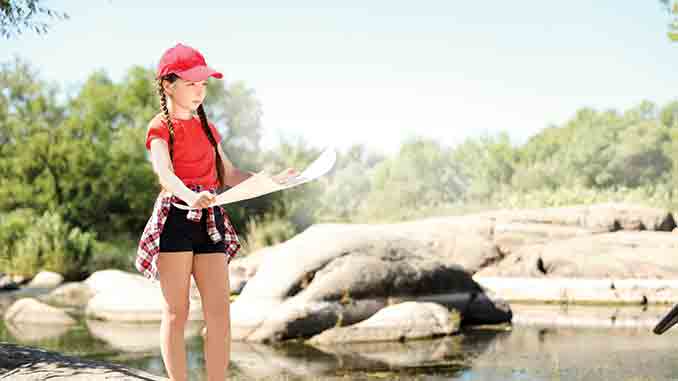 Many camps are getting ready for summer — with a few changes.
Published: May 19, 2020
By: Greg Carannante
For certain parents — we won't say which ones, but you know who you are — the idea of sending the kids to camp this summer has taken on the hedonistic allure of an all-expenses-paid European getaway for two.
So the question "Will there be a camp to send the kids to this summer?" is a big one. And the answer appears to be a qualified "yes."
Many South Florida camps are set to welcome children in the coming months — or are at least making contingency plans to open according to government guidelines and timetables.
All camps will be affected by social-distance restrictions in one way or another. Many will temper their normal programs with ounces of prevention, such as admitting fewer campers, requiring workers to wear masks and encouraging campers to scrub their hands frequently. (Imagine all the new hand-washing songs the little campers will bring home.)
Some are converting to virtual camps, while others are still watching and waiting.
Full Steam Ahead
"As of right now, we are set to have Camp Kadima on-site and in-person," said Rebeka Luttinger, communications coordinator of the David Posnack JCC in Davie. "Our pool will be open, and we will have plenty of water play. Plus, we will have activities and games on our turf fields and tennis courts." There will be indoor activities and on-site special events, too.
To accommodate social distancing, groups will be smaller, including for lunch, which will include individually wrapped meals, Luttinger said. The temperatures of staff and campers will be taken daily, and staff will wear masks. Two infirmaries will be used to separate the sick from the injured.
The Deering Estate in Miami is also planning big changes to its summer programs, which offer campers the chance to hike, play and discover how they can help protect natural areas.
"With social distancing restrictions, we will be reducing our number of campers," said Christopher Bumpus, Learning Programs manager. "Also, our campers will be remaining at the Estate instead of going on field trips, though we will be bringing in virtual experiences."
But there is plenty to learn on-site, as Deering Estate shows with its free collection of online video lessons. The lessons — usually offered to visiting field trip groups — include dissections, engineering challenges and more. Deering is also currently offering fee-based Virtual Science classes through Zoom.
At Exploration Camp, Mailman Segal Center for Human Development's program exclusively for children ages 2-5, little campers will be able to get creative this summer in an outdoor art studio and cavort in the water-play fountain.
"We are planning for an on-site camp option," said Debbie Gold, assistant director of marketing for the Nova Southeastern University center in Davie.  "We will be following CDC, state, and Broward County Public Schools and Department of Children and Families guidelines. … Additionally, we are considering a number of protocols that we feel are important for our staff, children and families to follow."
Registration is open, she said, but limited availability is a possibility because of potential social-distancing restrictions.
Frost Young Musicians' Camp for students entering grades 2-12 will be making music this summer, just not in person at the University of Miami campus in Coral Gables.
"We are currently transforming our programs into an online format,"said director Sarah Salz. "Registrations are under way, and we expect them to increase once we announce our new online programs" in the areas of classical music, jazz, rock, vocal performance, composition and songwriting.
Proceeding With Caution
Dezerland Park in North Miami has postponed summer sessions until July or early August, pending government regulations. When the indoor entertainment and attractions complex reopens, the fun will involve some modifications.
"We always have our instructors here to monitor the children," said Jennifer Pizzi, marketing and events sales manager. "For each attraction, it would be different. If it was karting or bumper cars, social distancing wouldn't be an issue. For other attractions, there would be signs on the floor or colored tape showing where each person should stand, similar to what other businesses are doing."
Online registration will be available when reopening dates have been determined, Pizzi said. In the interim, online classes and afterschool programs are being launched on the website to help during the lockdown.
The temporarily closed Museum of Discovery and Science in Fort Lauderdale is currently reviewing all camp programs, policies and procedures to determine what shape reopening will take, said Nicole Lewis, public relations representative.
"With regard to specific policies, procedures, etc., we are unable to provide them at this time," she said. However, as well as following all governmental and CDC guidelines, the museum is conferring with other science centers and children's museums. It's also studying museum reopenings in Asia and Germany.
"Right now, we must have modeled 26 different scenarios for the next six months," said Joseph P. Cox, president and CEO of MODS. "There is a lot of hope, and I think parents are certainly thinking about (on-site) camp vs. running camp from home."
Within the museum and science park, there is plenty of room to space people out, he said. "We're looking at ticketing options, limiting the number of people in classrooms. So we'll be prepared if we're able to do camp on-site. We're also gearing up to be able to deliver a virtual camp at home."
In the meantime, the museum has taken its experience online with free Virtual Camp Discovery videos, posted every weekday, and a MODS Challenge program that invites students in PreK to grade 12 to solve real-world problems through STEM and project-based learning.
Zoo Miami is temporarily closed and in a holding pattern, awaiting state and city guidelines for a phased reopening plan.
"If we cannot have an on-site camp, we are exploring the possibility of a virtual camp," said Jessica Parks, director of Learning Experiences for the Zoo Miami Foundation. "If we are able to have camp with social distancing in place, our capacity will be significantly lower."
That plan would reduce camper numbers from the normal 20 to eight, and eliminate the five teen volunteers who normally assist two counselors. Other changes involve health screening, communication with parents and activities that can be done with social distancing.
"We also need to design a camp that allows socialization without breaking social-distancing rules, as this is a critical part of the camp experience as well," Parks said. "Masks may be a requirement, too."
The zoo is also posting videos every week, with new Zoocademy lessons every Monday, Wednesday and Friday about the animals and their care, as well as crafts projects and yoga lessons.
Indoor Soccer Pro in Miami features two different camp programs on air-conditioned turf fields. "The challenges we expect are having kids keep their distance and not touching each other when playing soccer," said Jessica Rio, marketing manager.
Although registration is now open online, "we do not have any registrations yet. People are holding off to see when things reopen," Rio said.
On Hold
The Boca Raton Museum Art School has already made a decision about its camp.
"We have decided to cancel all summer camp-related activities this year," school Director Tom Joule states on the museum website. "It is not a decision we have come to easily, but given the number of people in close quarters at our school and the nature of the hands-on activities, we do not believe it is prudent to encourage such an environment in this challenging time for all of us."