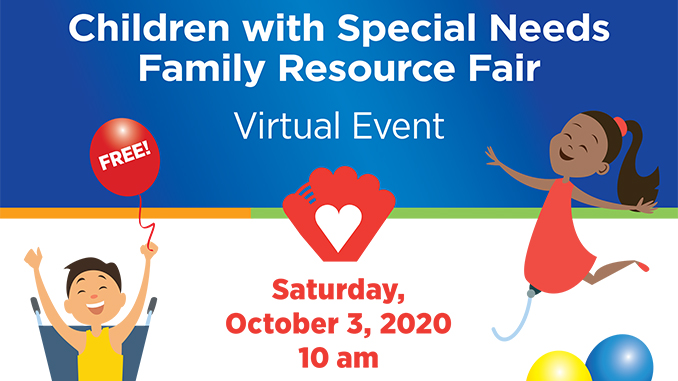 A Virtual Event - Saturday, October 3, 2020 at 10 a.m.
Live at www.facebook.com/events/2702777849964414
Published: September 22, 2020
Meet the organizations participating in the 2020 Children with Special Needs Family Resource Fair – A Virtual Event, presented by Joe DiMaggio Children's Hospital, on Saturday, October 3, 2020, at 10 a.m.
The Resource Fair was to be held at the Signature Grand in Davie, but was moved to a virtual event due to the COVID-19 pandemic and the need to keep the children and families safe. This event will continue to provide valuable community resources, entertainment and encouragement for children with special needs and their siblings, parents, caregivers and health professionals.  This year, the virtual program will be an educational and fun event from Joe DiMaggio Children's Hospital with Lotsy Dotsy as the master of ceremonies.   
Join the event on Facebook Live at www.facebook.com/events/2702777849964414
Click on the button to open the dropdown menu.
---
Joe DiMaggio Children's Hospital
Joe DiMaggio Children's Hospital (JDCH) Patient Family Advisory Council (PFAC)
Elisa Jones
954-265-0196
1005 Joe DiMaggio Dr, Hollywood, FL 33021
Families are part of every patient's care at Joe DiMaggio Children's Hospital, and the Planetree designation is a strong signal that we partner with you to ensure that the comfort, dignity, empowerment and well-being of your child and your family are just as important as top-quality medical care. Parents are encouraged to be with their children every step of the way.
www.jdch.com/about/why-choose/patient-family-centered
Joe DiMaggio Children's Hospital (JDCH) Outpatient Rehab Therapy Services – Hollywood Location
Michele Lederhandler
954-265-5453
300 Hollywood Way, Hollywood, FL  33021
JDCH provides physical therapy, occupational therapy, speech, feeding therapy services and auditory processing disorders and developmental delays.  We treat all diagnoses and conditions including but not limited to neurologic, sensory, orthopedic, sport related injuries and medical for all age groups.
Joe DiMaggio Children's Hospital (JDCH) Outpatient Rehab Therapy Services – Coral Springs Location
Michele Lederhandler
954-575-8962
5830 Coral Ridge Dr Suite 120/Suite 207, Coral Springs, FL
JDCH provides physical therapy, occupational therapy, speech, feeding therapy services and auditory processing disorders and developmental delays.  We treat all diagnoses and conditions including but not limited to neurologic, sensory, orthopedic, sport related injuries and medical for all age groups.
Joe DiMaggio Children's Health Specialty Center – Wellington Location
Dawn Quaranta
561-341-7000
3377 S State Road 7, Wellington, FL  33449
Staffed with highly-trained pediatric specialists and support personnel, our brand-new facility is designed to provide uncompromising outpatient care in a compassionate and child-friendly setting. Services include Audiology, Cardiology, Craniofacial, Endocrinology, General Surgery, Neurology, Orthopedics, Head & Neck Surgery/ENT, Imaging Services, Rehabilitation Services and more.  
www.jdch.com/locations/jdch-wellington
Memorial Hospital West Rehab Therapy Services
Debbie Lessard
954-844-7180
703 N Flamingo Rd, Pembroke Pines, FL  33028  
JDCH provides physical therapy, occupational therapy, speech, feeding therapy services and auditory processing disorders and developmental delays.  We treat all diagnoses and conditions including but not limited to neurologic, sensory, orthopedic, sport related injuries and medical for all age groups.
Memorial Hospital Miramar Rehab Therapy Services
Josette Mullins
954-538-4760
1951 SW 172nd Ave Suite 109, Miramar, FL  33029
We provide Inpatient and Outpatient Services for patients requiring Physical  Therapy, Occupational Therapy and Speech Language Pathology. We treat all diagnoses and conditions including but not limited to: Orthopedic, Neurological, Oncologic, Medical, Surgical, Pelvic Dysfunctions for all age groups.
Joe DiMaggio Children's Hospital Pediatric Genetics
Sandra Cherisol                                    
954-265-6315
1131 N 35th Ave 2nd Floor, Hollywood, FL  33021
The Division of Clinical Genetics at Joe DiMaggio Children's Hospital evaluates and diagnoses genetic conditions in both children and adults, and provides appropriate treatment or referrals based on each patient's needs.  We have three board certified Clinical Geneticists.
www.jdch.com/services/genetics
Memorial Healthcare System Community Services
Alina Shaw
954-276-0921
7031 Taft St, Hollywood FL 33024
Memorial Community Services (Community Youth Services) work to strengthen families and the community through prevention and promotion of public health concerns. Among other programs, they offer Family TIES in-home counseling on substance abuse, Healthy Families home visitations, Healthy Start and MOMS (Mothers Overcoming Maternal Stress).
211
First Call for Help Broward 2-1-1
Gail Moore
954-390-0493
2-1-1 Broward can help you find food, housing, health care, senior services, child care, special needs, legal aid and much more.  2-1-1 serves as the gateway to over 800 of Broward County's nonprofits, connecting residents to the most appropriate programs. Care Coordinators assist families of children ages 0-22.  For Special Needs information and referrals simply Dial 2-1-1.  
Agencies
Agency for Persons with Disabilities
Milory Senat                          
561-398-2240
111 S Sapodilla Ave Suite 207, West Palm Beach, FL  33401
The Agency supports persons with developmental disabilities in living, learning and working in their communities.
Children's Diagnostic & Treatment Center (CDTC)
Audrey Evans
954-728-1029
1401 S Federal Highway, Ft Lauderdale, FL  33316
CDTC promotes the optimal health and well-being of children and youth with special health care needs by providing family centered, comprehensive prevention, intervention and treatment services within a medical home environment.
Children's Services Council of Broward County
Danielle Bachelder
954-357-1000
The CSC funds close to a hundred programs that serve children and families, advocates for policies that protect the interests of future generations and provides leadership that brings the child-serving community together. The CSC works on issues like Maternal and Child Health, Family Strengthening, After-School and Out-of-School Time, Kinship Care, and more.
Family Care Council
Marty Norris
954-328-9489 or 800-470-8101
Agency for Persons with Disabilities                              
201 W Broward Blvd Suite 305, Ft Lauderdale, FL  
The mission of the Family Care Council Florida is to educate and empower individuals with developmental disabilities and their families partnering with the Agency of Person with Disabilities, to bring quality services to individuals with dignity and choice.
Family Network on Disabilities
Lisa Math
1-800-825-5736
Family Network on Disabilities is a nonprofit that is family driven and provides assistance and support to parents, educators, community organizations, and providers. Our goal is to increase parental involvement in the school system and medical and mental healthcare systems. All our services are free, and include information, training, resources and support.
Family Network on Disabilities of Broward County
Wendy Bellack
954-444-6550  
P.O. Box 260909, Pembroke Pines, FL 33026
Family Network on Disabilities of Broward is a non-profit organization founded by parents for parents who have children with special needs.  Our mission is to provide support though education, information and technical assistance.  We believe that informed parents are a child's best advocate.  It is our goal to help you become the best advocate possible.
Florida Department of Health Florida KidCare
Rebecca Miele
954-467-8734  
780 SE 24th St (2nd Floor), Ft Lauderdale, FL  33315
KidCare is free or low cost health insurance for children from birth through age 18 offered through the state of Florida. The KidCare outreach program provides assistance with applications, community education through health fairs, community events, and special outreach as part of a rapid response team to employees affected by a workforce reduction.
broward.floridahealth.gov/programs-and-services/wellness-programs/kid-care/index.html
Arts
Artists with Autism, Inc
Cynthia Drucker
954-895-2786
Artists with Autism, Festival Flea Market, 2900 West Sample Rd Booth #4433, Pompano Beach,  FL 33073
We help individuals with autism have meaningful lives with purpose, by focusing on their talents and abilities and helping them build a business around those talents. We offer opportunities for aspiring artists with autism to be recognized for their talent and not defined by their circumstances.
Assistive Technology
FAAST at Mailman Center for Child Development
Ana Nevares
305-243-5706
1601 NW 12 Ave Suite 2018, Miami, FL  33136
The Florida Alliance for Assistive Service and Technology (FAAST) is the state of Florida's number one resource for Assistive Technology (AT), providing free AT services that include information and assistance, AT demonstrations, training and device loans.
Behavioral & Mental Health
Behavioral Management Consultants
Jeanne Brower, MS, BCBA
954-804-5950
3959 NW 19th Ave, Oakland Park, FL
Applied behavior analysis for all ages
Cadenza Center for Psychotherapy & the Arts
Michelle Hintz, Psy.D
954-925-3191
450 N Park Rd Suite 400, Hollywood, FL  33021
Serving children, adolescents, and adults with developmental, emotional, cognitive, physical, and behavioral needs using active, creative, and enriching treatment interventions, including Psycho-Educational testing, ABA therapy, Psychotherapy, Social Skills Groups, and Music Therapy.
Mental Health America of Southeast Florida
Marcia Pinck
954-746-2055  X125
7145 W Oakland Park Blvd, Lauderhill, FL 33313
Mental Health America is dedicated to promoting mental health and victory over mental illness and related challenges through resources, education, prevention, advocacy, research and empowerment.  
Cooking
Chef Maritza, LLC
Maritza Douglas
954-874-5060
2645 Executive Park Suite 158, Weston, FL  33331
We teach Culinary skills to individuals with special needs. We offer Life Skills Cooking, Advanced Cooking, Cooking for the Holidays, Baking and Nutritious Meals, and more in person and online.
Recipes can be adapted to special dietary needs, allergies and traditions.
County Sports & Recreation
Broward County Special Populations, Parks and Recreation Division
Mary Palacios, CTRS, CPRP
954-357-8170  
950 NW 38 St, Oakland Park, FL  33309
Broward County Parks Special Populations plans, develops, implements, and evaluates a variety of year-round recreation and leisure programs, special events, and services to meet the interests and needs of children, teens, adults, and seniors with disabilities.
www.Broward.org/Parks www.facebook/com/browardcountyparks
YMCA of South Florida
Teresa Spitler
954-655-9623
Multiple Locations
The YMCA's Special Needs Team of Professionals are carefully assembled to oversee world-class programming for individuals with special needs, bringing over 100 years of experience specializing in Childcare Management, Education, Special Education, Social Work, Behavior Management, and now Adaptive Sports.
Disability Specific
Best Buddies
Peggy Bueres
305-979-9125
3450 Lakeside Dr Suite 304, Miarmar, FL  33027
Best Buddies International is a nonprofit dedicated to establishing a volunteer movement that creates opportunities for one-to-one friendships, integrated employment, leadership development, and inclusive living for individuals with intellectual and developmental disabilities.
Broward Gold Coast Down Syndrome Organization
Bach Todaro
954-825-0400
9900 W Sample Rd Suite 339, Coral Springs, FL  33065
Family support and resource organization dedicated to serving families who have an individual with Down syndrome. Our mission is to improve the lives of people with Down syndrome and their families by providing support, information, education, and advocacy, thus enabling individuals to reach their full potential.
Danielle DeMarzo Foundation, Inc
Jeanne DeMarzo
1-866-295-KIDS
P.O. Box 771675, Coral Springs, FL  33077
Dedicated to supporting and providing resources and activities for children with special needs and individuals with growth-related disorders. Goals include maintaining an Educational Scholarship Program, Financial Assistance Program, support resources and activities, and more.
www.DanielleDeMarzoFoundation.org
Lighthouse of Broward
Fabienne Brutus
954-463-4217 ext 140
650 N Andrews Ave, Ft Lauderdale, FL  33311
Lighthouse of Broward provides specialized rehabilitation, life skills training, and employment opportunities that enhance the independence, productivity, and dignity of children and adults who are blind or visually impaired.
Little People of America South Florida Chapter
Jennifer Freesland
954-649-3005
617 Broadway #518, Sonoma, CA 95476
Little People of America (LPA) is a nonprofit organization that provides support and information for people with dwarfism and their families.
UM-NSU CARD  (Center for Autism and Related Disabilities)
Luis M. Grana, M.S.
954-262-7177
6100 Griffin Road, Davie, FL  33313
UM-NSU CARD provides support and resources to individuals with autism and related disabilities and their families who live in Broward, Miami Dade, and Monroe Counties. The services are provided free of charge. We are currently providing services, trainings, support groups, and more virtually.
www.umcard.org linktr.ee/umnsucard
United Community Options
Cathea Comiskey
954-315-4053
3117 SW 13th Ct, Ft Lauderdale, FL 33312
Provides services to children and adults with intellectual and developmental disabilities and provides a wide array of services. We offer the following services for children in Broward County: Afterschool, STEP, Advocacy, EBA Preschool, Respite.
www.unitedcommunityoptionssfl.org
Disability Supports
Ann Storck Center
Dorian Lange
954-584-8000
1790 SW 43rd Way, Ft Lauderdale, FL  33317
Ann Storck Center is more than a place to care for and assist individuals of all ages with developmental disabilities in the discovery of ability and building independence. Programs encompass a broad spectrum of residential, educational, nutritional, recreational, therapeutic, artistic, transportation and critical care services.
ARC Broward
Tonya Ricker, MS, BCBA
tricker@arcbroward.org
954-577-4107
10250 NW 53 St, Sunrise, FL 33351
A nationally accredited, private, nonprofit organization providing services to children and adults with autism, Down syndrome, and other developmental disabilities. Services include a Developmental Preschool; OT, PT, Speech Therapies; Afterschool and Summer Camp for children with Autism; In-home Parent Education; Respite Care; and more.
Broward Children's Center
Denise Rusnak
954-448-9024        
Multiple locations
Provides services to children and young adults with disabilities through a comprehensive system of care which includes OT, PT, speech and music therapy, ADA  advocacy, family strengthening, Respite care, Home Health, Pediatric Prescribed Extensive Care (PPEC), Group Homes, K-5 Private School (McKay and Gardiner accepted).
David Posnack JCC Giborim U
Debbie Lombard
954-434-0499 Ext 208
5850 S Pine Island Rd, Davie, Florida 33328
Giborim U is a program for children, teens and adults with special needs with courses in fitness, the arts, sports, recreation, life skills and health and wellness. Participants will enrich their lives socially and behaviorally while gaining independence and communication skills.
www.dpjcc.org/giborim-u/giborim-u/
Family Life Care Services (FLCS)
Derick Toro
derick@familylifecareservices.com
17680 NW 78th Ave Suite 105, Hialeah, FL  33015
A home care agency that assists the recipient under the iBUDGET waiver, the Medicaid State, and the Children Medical Services plans under 21 years.  FLCS provides person care, respite care, personal supports, life skills development Level 1 & 2 and support living coaching.  
Website Under Construction
JAFCO Children's Ability Center
Linda Sachs, LCSW
954-315-7033
5100 N University Dr, Sunrise, FL  33351
A nonprofit, one-stop shop providing a continuum of services to families raising children who have a developmental disability from birth through 22 years with hourly and overnight respite, social and life skills, clubs and classes after school and weekends, case management and parent support. 
Education
Broward County Public Schools/ FDLRS/Child Find
Kimberly Diluzio
kimberly.diluzio@browardschools.com
754-321-7206
Wingate Oaks Center, 1211 NW 33rd Terr, Ft Lauderdale, FL  33311
Assists school districts by providing services for individuals working with students with disability, their families, and support agencies; Human Resource Development (professional development); Parent Services (parent Learning opportunities); and Technology (assistive and instructional technology).  
Disability Program & Training
Yessesnia Leyva
954-529-4586
5606 Branch St, Hollywood, FL  33021
Disability Program and Training is an advocate on behalf of all people, to ensure they are included in the community and receive the services they need to reach their goal of independence and self awareness.
Goodman JFS of Broward   Joshua's Path/BOOST Program
Samantha Sehter, Program Dir  
954-909-0815
5890 S Pine Island Rd Suite 201, Davie, FL  33328
The Joshua's Path program at Goodman Jewish Family Services (JFS) supports, educates and empowers adults with developmental disabilities and their families, by providing individual consultations, information, resources and referrals, and social skills and work training.
Little Flowers of Hope, Center for Children with Special Needs,LLC
Amy Simcox
305-298-9787
2645 Executive Dr Suite 158, Weston, FL  33331
A K-12 private school recognized by the Florida Dept of Education. We have recently expanded our program to offer after school enrichment and a 22 & up program.  The 22 & Up program offers continuing education, tutoring and career training.
My Educational Solutions
Krista Barth  
krista@myeducationalsolutions.com
954-751-2300
3475 Sheridan St Suite 215B, Hollywood, FL  33021
Guides children with learning disabilities with individualized education plans from preK-12th grade. We help children with special needs achieve their full potential, both academically and behaviorally, by empowering parents with information and testing.
www.myeducationalsolutions.com
Financial
Eppy Group
Craig Eppy
561-504-1442
501 E Las Olas Blvd Ste 200/300, Ft Lauderdale, FL  33301  
Eppy Group provides financial services and Special Needs Planning and works with you and your other advisors – your banker, accountant, lawyer, social workers and health care providers – to review your financial picture and offer options for your situation.  Seminars are also available.

Prosperity Life Planning, Inc
Karen Greenberg
561-638-6945
4673 Brady Blvd, Delray Beach, FL  33445
A nonprofit educational and advocacy service for parents of children and adults with special needs. We assist the family with selecting an experienced attorney to provide needed legal documents, instructions on how to use a special needs trust, and provide advice on tax savings.
www.prosperitylifeplanning.org
Healing Retreats
Deliver the Dream
Zach Goldberg
Zachary.Goldberg@DeliverTheDream.org
954-564-3512
3223 NW 10th Terr Suite 602, Ft Lauderdale, FL  33309
Therapeutic programs for families facing a serious illness, crisis or disability. Our programs restore hope, strengthen relationships and change perspectives to provide inspiration for the future.
Horse Therapy
Bit-By-Bit Medical Therapeutic Riding Center
Susan March
754-779-7888
3141 SW 118th Terrace, Davie, FL  33330
Hippotherapy is a physical, occupational, and speech-language therapy treatment strategy that utilizes equine movement as part of an integrated intervention program to achieve functional outcomes.
Legal
Law Office of Stephanie L. Schneider, PA
Stephanie Schneider, PA
954-382-1997
1776 N. Pine Island Rd Suite 208, Plantation, FL  33322
Dedicated to providing compassionate quality services to seniors, young adults and persons with disabilities (of all ages). Our staff takes a holistic approach to providing elder law services to ensure that the client's legal, social, psychological, medical and financial needs are coordinated and fulfilled as the client ages.
Library Services
Broward County Library Books By Mail/Talking Books
William Forbes
WFORBES@broward.org
954-357-8687
Multiple Locations
Broward County Library system offers Books By Mail, BBM, for people who are homebound and have no way to get to a library location. Call 954-357-5757. Talking Books is a free service for those who cannot use regular print because of blindness, vision impairment, physical disability, or reading disability. Call 954-357-7555 or email talkingbooks@broward.org.

Medically Complex
The PromptCare Companies, Inc
Nick Chinnici, RRT, CPFT
Nicholas.Chinnici@promptcare.net
954-923-4693  
2131 Hollywood Blvd, Hollywood, FL 33020
A leading regional provider of specialty respiratory products and infusion therapy services. PromptCare® offers the most advanced high-tech equipment to ensure better patient care and outcomes. Our respiratory therapists cover 24/7 on-call services and speak Spanish, English, French, and Creole.
Mobility
National Seating & Mobility
Carey J. Britton
954-946-5793
1406 SW 13th Court, Pompano Beach, FL  33069
Providing equipment and service to individuals with mobility impairments regain mobility and independence.  From walkers, wheelchairs, scooters, power chair to full home modifications.
Prosthetics & Orthotics
Dynamic Orthopedics, Inc
Krista Duffy  
954-424-1168  
6555 Nova Dr Suite 306, Davie, FL  33317
Prosthetics and Orthotics
Rehab
A Chance for Therapy, dba, Act4Me
Florencia Tishchler, Assist Director
786-223-9502
260 Crandon Blvd Suite 32-222, Key Biscayne, FL  33149
Act4Me's mission is to provide therapies – physical, speech and occupational – to children in Miami-Dade and Broward counties with neurological and/or genetic disorders, allowing them to reach their highest potential and have a better quality of life.
Bridge Disability Network, Inc
Nancy Adams, Exec Director
954-283-7541
500 North Park Blvd, Hollywood, FL  33021
Our mission is to serve and help those affected by disability, their families, and the community to reach their full potential by providing services in speech, occupational, physical and behavioral therapy regardless of financial status.
Play and Learn Therapy, Inc
Melixsa Acosta, Pres & SLP
610-804-6082
840 E Oakland Park Blvd  #112, Oakland Park, FL  33334
Provide (English and Spanish) speech and occupational therapy services.  Physical Therapy to be offered in the near future.
Therapies 4 Kids/Psych 4U
Cathy Schwartz
cathyschwartz@therapies4kids.com
954-356-2878  ext 209  
Multiple locations
Services for children, adolescents, and adults with special needs.  In-clinic, in-home and TeleHealth/Telemedicine services for Occupational Therapy, Physical Therapy, Speech/Language Therapy, ABA, and Psychiatric and Mental Health evaluations and services.
Transition & Work
Dan Marino Foundation
Stephanie Rivera
srivera@danmarinofoundation.org
786-817-2323 ext. 3250
400 N Andrews Ave, Ft Lauderdale, FL 33301
The Marino Campus mission is to prepare young adults (18-28) with autism and other developmental disabilities for gainful employment, social competence, and independent living by building the necessary skills through a unique postsecondary opportunity.