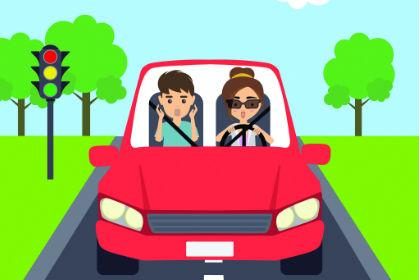 A daughter takes the wheel and gets some fatherly wisdom from the passenger side.
Published: May 25, 2018
By: Rick Epstein
My 17-year-old daughter, Sally, was driving to school with me sitting beside her. Roadside mailboxes on posts were whizzing by 10 inches from my face. Forcing my voice to sound friendly but informative, I said, "You're a little too close to the side."
"You don't want me to hit an oncoming car, do you?" she asked reasonably.
"No, but you need to find what we motorists call The Sweet Spot," I said, "that narrow place between a head-on collision and putting a dozen mailboxes in my lap."
From reading the police news, I've noticed that a lot of crashes are caused by inexperienced drivers. So, although it's a heck of a way to start the day, I'm trying to give Sally as much supervised experience as possible. And there's no better practice than taking Dad for a daily white-knuckles whirl through a maze of phone poles, bridge abutments and cars, both parked and hurtling.
Sally took driver's ed at school, but there's so much more to learn. "Don't follow so close behind that SUV," I'll tell her in my most amiable tone. "You need extra space behind the big guys because they block your view of whatever's going on in
front of them."
She replies with too much confidence, "Chill, Padre, I know that." But the more confident she sounds, the less I am able to chill.
I tell her about drivers who swerve to miss an animal and hit a tree instead. "So you have to decide way ahead of time — right now! — that you'll brake for an animal, but not swerve." I tell her when a bad driver cuts you off, fade back because you don't want to drive into whatever fiery mess he precipitates. I tell her to watch out for young drivers, old drivers, drunken drivers, aggressive drivers, drivers using phones, drivers tussling with kids, drivers in zippy cars eager to show what they can do, drivers in expensive cars who think they own the road, and drivers whose banged-up cars are evidence of bad driving. I tell her to assume that a ball bouncing into the road will be pursued by an intent sportsman, that every tot and dog wants to dash into traffic, and that any group of 10-year-old boys is about to push one of their number into the street.
"Can we hear some music?" she'll ask.
"The voice of your loving father isn't music enough for you?" I ask.
It is unpleasant to ride with someone like me. But what can I do? The stakes are life and death, and time is running out. If life goes according to her plan, between summer camp and college, pretty soon she won't be around me very much.
She might miss me a little, but she won't miss my advice. The driver-ed lecture theme is just one of several. They include: the importance of thrift, the value of showing up, what boys think about 95 percent of the time, the disadvantages of being a smart-aleck, dealing with authority figures that you think are idiots, and why you shouldn't go to school looking like you just jumped out of a cake. (Sometimes I even tire myself.)
Much of this wisdom I learned from my own father, even though, when my dad was telling it to me, I'd thought I was tuning him out. Dad was emotionally restrained, but his admonitions were unparalleled. We got very little of the lovey-dovey out of him, but now it occurs to me that his advice and warnings were his equivalent of the lullabies my mom would sing us at bedtime.