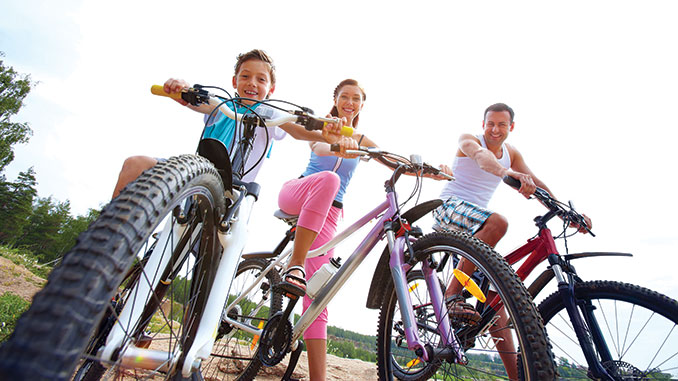 Break out your bicycles — it's Florida Bike Month!
Published: February 25, 2023
Biking is so much more than transportation. It's great exercise, provides your body with fresh air and brings the family together. If you aren't normally into biking, this month — when the state celebrates the many benefits of cycling — might be the perfect time to give it a whirl. There are a number of BYOB — Bring Your Own Bike — events planned in South Florida to recognize the occasion. Mark one or more of these outings on your calendar and don't forget to bring water and a helmet.
Broward County: The Broward County Parks Department has events scheduled which include a Bike and Hike from 4 to 5 p.m. on Friday, March 24 at Kristin Jacobs Natural Area at Hillsboro Pineland. The free excursion guides participants on a naturalist-led bike and hike to explore three different natural areas in Coconut Creek. The ride starts at 5591 NW 74 Place, Coconut Creek. For more information, call 954-357-8109. For additional events, see http://www.broward.org/parks.
Miami-Dade County: The Friends of the Underline are gathering a group to explore local sights during the Miami Music Week Bike Ride through Wynwood. The family-friendly tour takes riders through the Wynwood neighborhood, home to creative street art, galleries and art displays. The two-hour, free bike ride begins at The Underline in front of the Metrorail Station, 1001 SW First Ave., Miami, at 10 a.m. on Sunday, March 26. For information, see http://www.theunderline.org.
Palm Beach County: The Village of Royal Palm Beach will host a family Bike Rodeo from 9 a.m. to 1 p.m. on Saturday, March 25 at Royal Palm Beach Commons Park, 11600 Poinciana Blvd. The trail ride offers different courses and staggered start times for beginner, intermediate and advanced levels. All participants receive a free t-shirt, and the PBSO volunteer unit will be there to promote bike safety. Full details can be found at http://www.royalpalmbeachfl.gov.
If you want to pave your own way, there are plenty of places to take a spin. Hugh Taylor Birch State Park in Fort Lauderdale has a one-mile tree-lined loop that's popular with bike riders; Patch Reef Trail in Boca Raton offers a 3½ mile shared-use pathway for cycling, running and walking; and the Shark Valley bike trail in Miami offers visitors a self-guided Everglades eco-tour along a 15-mile path (if you wish to complete the whole thing). 
Florida State Parks offers a statewide network of trails for public use on its website, http://www.floridastateparks.org. It also highlights safety tips to help you stay safe on every excursion by remembering to wear a helmet (state law for everyone under 16), sticking to designated trails, using the buddy system, watching the weather and dressing accordingly, staying hydrated and wearing sunscreen. 
If you don't have a bicycle, consider renting one by the hour from a bike-sharing kiosk like Citi Bike in Miami, BrightBike in Palm Beach or Broward BCycle in Broward County. The process at most of these stations is very simple. Just download the app, pay a nominal fee, the bike unlocks and you are ready to roll.