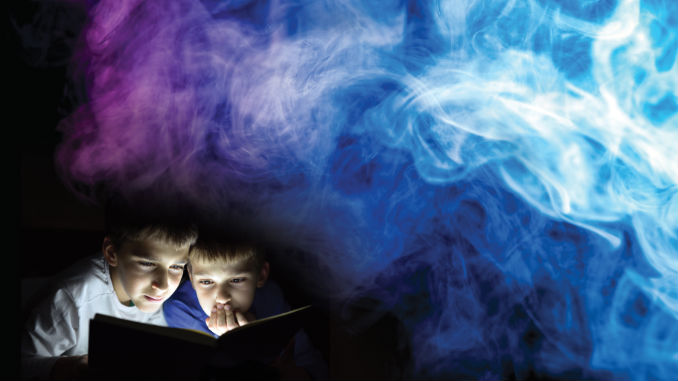 Frightful Fairy Tales — Are Scary Stories Harmful to Your Child?
Published: September 30, 2018
By: Shannon Dean
Glass slippers, fairy godmothers, magic beans and happily ever after. Evil giants, wicked stepmothers, ugly witches and the big bad wolf. 
Yesterday's fairy tales and today's scary stories are filled with conflicting, vivid imagery of both good and evil. Many parents are surprised to discover that the nuances, scary visuals and dark symbolism that they missed as a child are now extremely obvious as an adult. It's no wonder that many parents pause when the wolf is seconds away from making a meal of Little Red Riding Hood or when the witch orders the huntsman to destroy Snow White. 
Parents can't help but wonder if the scary content is harmful or if children are perceptive enough to internalize any dark meanings.
ONLY THE BROAD BRUSH
Many experts believe that children mostly take these stories at face value and nothing more. To them, a story is just a story. Children only relate to what they understand and block out what does not make sense, says family therapist Thomas Whiteman, PhD.
He believes that most children only get the "broad brush" of the story — the hero wins and the villain is defeated.
Younger children don't pick up on more ominous nuances, he says, because they usually are only capable of black-and-white thinking.
Childhood specialists say that appropriate stories can help children through developmental stages if presented at the right time, in the right way. A well-chosen tale reassures children that although struggles are part of life, virtuous behavior, perseverance and accepting help can aid them in overcoming obstacles. Many stories allow children to deal with their anxieties by projecting them onto the story's villain and even reinforce the idea that virtue is rewarded while malice is punished. 
These stories explore crucial topics (like empathy, safety, morals and problem-solving) in the way that children learn best — "with non-directive, enjoyable text and characters, which magically make the messages simple and effortless to recall," says child psychologist Barry Kardos, PhD.
BEWARE STEREOTYPES
In contrast, some scholars caution that traditional fairy tales encourage negative stereotypes. Vanita Braver, M.D., a child psychiatrist and children's author of Party Princess, says many fairy tales that reinforce harmful stereotypes imply that it pays to be physically pretty.
"From early childhood, little girls are read fairy tales about beautiful princesses who achieve vast treasures and riches simply because beauty makes them special," Braver says. This is unhealthy, she adds, because it contributes to young women feeling they are inferior if they don't meet unrealistic standards of beauty. She encourages parents to understand what messages are implied in such stories and to initiate a frank discussion about why harmful stereotypes are often both factually inaccurate and morally wrong. 
"Parents are the most influential people in a child's life," Braver explains. "They can reinforce positive messages and counter the negative ones."
WHAT'S APPROPRIATE?
With all of these tips in mind, how do parents determine which stories are appropriate for their children? Children should see the main character transcend the events that challenge him and persevere to become a stronger person in the end, says English professor Sylvia Baer, PhD, a professor of English and a specialist in children's literature. She encourages parents to carefully consider not only the subject matter of a book but also their child's social and cognitive development. 
Experts caution to never force a book on an apprehensive child and to carefully read an unfamiliar story before sharing it. If there is any doubt the child is ready, wait. For younger children, books can be preferable to movies because a book's visuals are usually less intense, and they give children a sense of control — they can simply close the book or look away if feeling scared. Remember, too, that there are many different book versions of the same story. Many editors substantially water down or even omit scary parts in collections for younger children.
Parents can also use these books as a starting point to discuss important issues. Teacher and early childhood specialist Amelia McTamaney encourages parents to ask children to make up their own endings or to ask what they would do in the same situation. This process helps your child develop good decision-making skills under your guidance. McTamaney also says parents should not hesitate to point out any parts of a book with which they disagree. It not only defines your beliefs, but it also assures kids they don't have to believe everything they read.
Finally, don't worry so much that kids blur the lines between fantasy and reality. "Children know the difference between reality and fantasy and can easily digest the enormity of a character's problem if it is presented in a fantasy-like fashion," says award-winning children's author Karen Rostoker-Gruber.