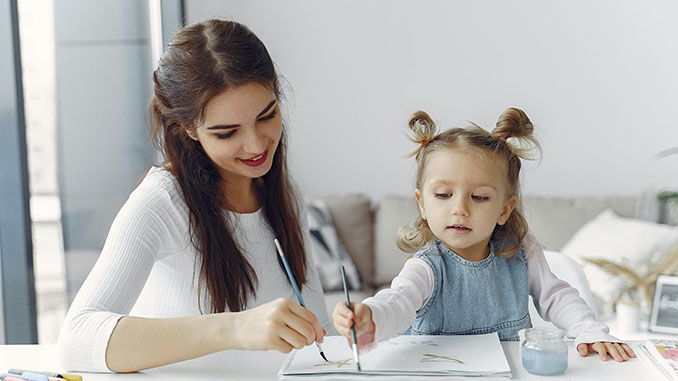 Sometimes the perfect present doesn't come in a box.
Published: November 24, 2020
By: Janeen Lewis
Parents want their children's holidays to be magical. Sometimes this means driving all over town or frantically searching online for trendy toys or gadgets only to find that children quickly grow bored and banish them to the back of the closet or toy box after the holidays. This year, why not give your child the gift of time by picking out an activity you can do together? Try one of these in-person or online-experience gift ideas and pair it with a related item to elevate the power of your present.
A Heart for the Arts
Is your child a budding van Gogh or drama queen? Here are some ideas for visual and performing arts experience gifts.
Experience gifts:
• A membership or ticket to an art museum
• A day at a paint-your-own-pottery place or a painting class
• Acting sessions
• Dance classes
• Singing lessons
Tangible gifts:
• Paint, an easel, drawing books, a Spirograph or gel crayons
• Pottery wheel for kids
• Makeup kit for actors, costume jewelry, and clothing
• Tap, jazz or ballet shoes
• Microphone
Sports Fans
Sports are not only a fun way for a child to get exercise, but they also provide an opportunity for parents to connect to kids.
Experience gifts:
• Tickets to a professional sporting event
• Visit a sporting stadium or Hall of Fame
• Membership or admission to an ice or roller skating rink
• Lessons with a private coach for a favorite sport
• Batting facility membership
Tangible gifts:
• Ticket stub diary to hold tickets, cards and other keepsakes
• Professional or college team jerseys or hats
• Ice skates or roller blades
• Fitness tracker watch
• Sports equipment
Crafty and Creative
Does your child like to create projects over time? Maybe you're a maker-minded parent who wants your child to learn practical life skills. Here are some ideas to get your hobbyist started:
Experience gifts:
• Knitting, sewing or crocheting workshops
• Woodworking classes
• Crafting lessons
• Beginning jewelry-making classes
• Lessons in glasswork
• Bath bomb, soap or lotion-making tutorials
Tangible gifts:
• A crochet kit or beginner sewing machine
• A woodworking kit
• Origami, craft paper or beads
• A jewelry-making kit
• Materials to make spa products or cosmetics
Future Foodies 
You could be raising the next Pioneer Woman or Bobby Flay. Support their love of creating dishes with these fun ideas.
Experience gifts:
• Cooking lessons
• Dinner at a fine dining, gourmet or culturally diverse restaurant to explore different foods
Tangible gifts:
• Personalized chef apron, jacket or hat
• A cooking set or kid-friendly cookbook
Nature Lovers
Get outdoors and enjoy fishing, hiking, camping, canoeing, and more with your child.
Experience gifts:
• Membership to a nature center
• Kayaking, canoeing, or paddleboarding
• Fishing trip
• Beginner scuba diving or snorkeling lessons
 Tangible gifts:
• Compass, hiking gear, tent or binoculars
• Fishing rod and gear
• Scuba or snorkeling gear
Wild About Books
Experience gifts:
• Settle in for a storytime
• Check out a book or other materials at the library
• Attend an author visit or book signing of your child's favorite author
Tangible gifts:
• E-reader
• Magnetic clip bookmarks or a book light
• Reading tent
• Cozy beanbag chair
• Magazine subscription