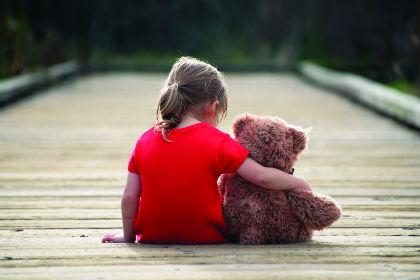 Suggestions to help your child cope in the aftermath of tragedy
Published: March 29, 2018
By: Gayla Grace
As news unfolded of the horrific scene surrounding the Parkland school shooting — the deadliest since Sandy Hook Elementary School in 2012 — I couldn't help but think about my own high school son. How would he react to the news? Would it scare him to learn the shooter was a 19-year-old student? How do you make sense of yet another senseless killing?
There are no easy answers when tragedy strikes — that's especially true when it strikes so close to home. But we can help our children cope with their feelings with a few dos and don'ts. The biggest consideration revolves around how we, as parents, react to the event. Our children watch and take cues from us. Family psychologist Shannon Bruno, Ph.D., interviewed after the Sandy Hook tragedy in Connecticut, said: "If you make it seem like it's something that needs to be discussed, the more your child will get the idea that it's something they need to be upset or distressed or fearful of."
Here are other suggestions to help your child cope in the aftermath of tragedy:
MONITOR MEDIA COVERAGE. Young children can't process media replay of tragic events and may begin to think the event is happening repeatedly. There is nothing gained from allowing children to watch such media coverage. If older children are curious and look to the TV or their phones for information, monitor how much they watch and be ready to discuss what they see.
BE HONEST AND SPECIFIC ABOUT THE EVENT. Don't try to hide what happened. Our children need to understand the world they live in, based on their developmental age. But don't over-explain, or dwell on the details of the tragedy. Answer questions honestly and give your children the freedom to ask whatever they need to defer their fears.
EMBRACE THEIR EMOTIONS. Allow your children to "feel" their feelings. It's OK to feel sad. It's natural to feel some anxiety. Acknowledge their feelings with: "I understand this event makes you feel scared. I feel sad about what happened also." Offer
words of comfort to allay their fears or sadness.
BE AVAILABLE AND OFFER REASSURANCE AS OFTEN AS NECESSARY. Let your children know they're safe. Recognize their needs and respond accordingly — some children need more reassurance than others. My oldest daughter was diagnosed with an anxiety disorder when she was 5 years old. Throughout her childhood, she responded to difficult circumstances with more anxiety than our other children. My husband and I knew to always be available for her during challenging circumstances. Children are also more vulnerable if they've recently experienced major stressors, such as a parent's divorce or remarriage or the death of a family member.
RECOGNIZE WHAT FEELINGS LOOK LIKE IN CHILDREN. Younger children may regress to behavior they've grown out of, such as sucking their thumb or wetting their pants when troubled. Older children are more likely to show their feelings through a defiant attitude or irritability. Children don't have the ability to process feelings like adults. Watch for anything unusual in your children that could indicate they are experiencing high anxiety or fear.
KEEP ROUTINES AS NORMAL AS POSSIBLE. Children thrive with routine. When tragedy strikes, it's especially important to keep a sense of normalcy with school, meals and bedtime schedules. Children may have trouble sleeping or eating, which can help alert a parent to troubled emotions.
DEPENDING ON YOUR RELIGIOUS PRACTICES, IT MAY BE HELPFUL TO PRAY WITH YOUR CHILD REGARDING THE TRAGEDY. My son and I have prayed for the victims of the Parkland shooting and their families, just as we prayed after Sandy Hook. It can be reassuring for a child to ask for God's help for a distressing situation.
SUGGEST DOING SOMETHING WITH YOUR CHILD THAT SHOWS COMPASSION OR OFFERS HELP FOR THOSE AFFECTED. Ask your children if they want to donate money from their piggy bank or offer help to the victims in Parkland. Many families sent cards to Sandy Hook to offer their thoughts and prayers for those families. Children experience a sense of well-being by showing compassion and offering help in a situation that appears hopeless.
SEEK PROFESSIONAL HELP FOR YOUR CHILD IF TROUBLED EMOTIONS DON'T SUBSIDE AFTER A PERIOD OF TIME. Mental health professionals are trained to help children of all ages cope with difficulties. Depending on the level of exposure to tragedy or other challenges, children may get stuck in their anxiety or grief. Don't hesitate to find help if this happens.
Tragedies like the Parkland shooting carry a heavy weight to bear. They're especially difficult for young children to understand. Helping our children process their emotions, while shielding them from graphic details, offers healing and the gift of hope to continue on their young journey with renewed strength to cope with life's next challenge.