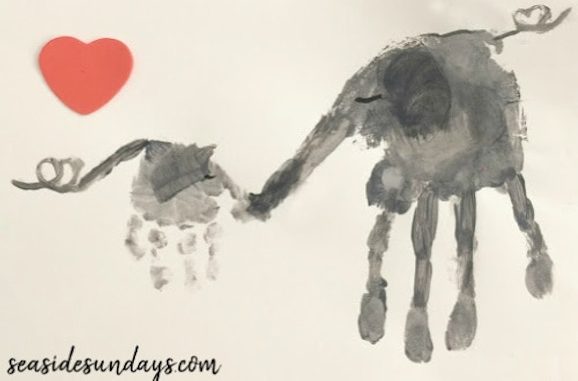 This Mother's Day, there are plenty of ways you can share the special day together with your kids.
Published: May 4, 2021
By: Shannon Pease-Severance
Handprint Art
Use paint to make an art impression of those tiny hands and fingers for a keepsake to treasure forever. You can find many variations of this project with a quick Google search, including an adorable mommy-and-baby-elephant handprint activity. Cover one of your hands and the opposite hand of your tot with gray paint and press each on a piece of cardstock with thumbs touching. Turn the impressions upside down so your fingers become the elephant's legs and the thumbs become touching trunks. Paint on tails, ears and eyes. This is one for the refrigerator! For step-by-step instructions, visit seasidesundays.com/mothers-day-elephant-hand-print-craft.
Get Cooking
If your kids are old enough to cook, don't be shy about requesting breakfast in bed. You deserve it! Even if the end result is burned toast and a messy kitchen, it's the thought that counts. If they aren't quite learning their way around a kitchen yet, make it a mommy-and-me meal. Have your little helpers crack eggs, butter the bagels or blend a smoothie. These are lifelong lessons they will be grateful for when they leave the nest one day.
Tea Party
Whether you get dressed up and decorate the table, or wear your flip-flops and head for the patio, afternoon tea can be a special treat. If you have teacups stashed away in the cupboard, now is a great time to use them. Gather an assortment of tea for the family to try, and have some water or juice on hand as a backup in case the taste of tea prompts the yuck factor. Making tea sandwiches for your soiree is simple. Make a thin sandwich using sliced bread, and then have the kids use cookie cutters to transform them into fun tea-sandwich shapes. Top off your party table with a bouquet using flowers from your yard, or cut some out of construction paper.
Spa Day
If the stress of life has left you lackluster, let the little ones give you a makeover. Break out a brush and let them coif those locks, paint your nails in a rainbow of colors or design your makeup. Roll out the red carpet to display your new look on the runway, and don't forget to take before and after photos.