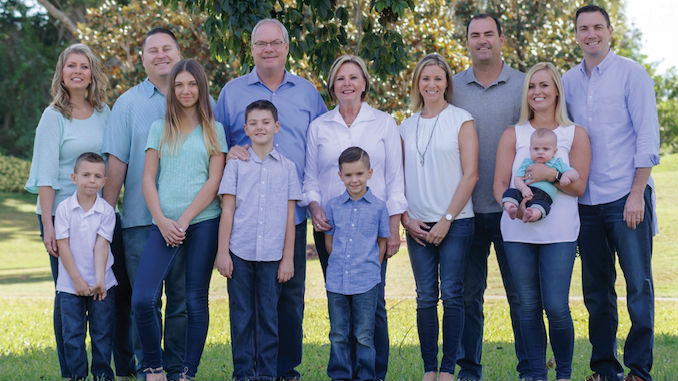 Family isn't just something you belong to. It's "the most important thing in the world."
Published: May 28, 2019
By: Greg Carannante
 "Life is short and precious, and time with our grandchildren to me is even more precious." – John Arnold
For John Arnold, being a grandparent is a passion. And family isn't just something you belong to. It's "the most important thing in the world." 
That outlook can be traced back to his father, John Starnes Arnold. 
"My father was such a role model for all of us," says Arnold, 67. "I was the oldest of eight. He died very young, at 52 years old. He set me up upon his passing to be the patriarch of the family. Everything he did inspired me."
That inspiration has carried through into Arnold's 26-year career as a professionally certified executive coach, working with over 300 leaders and dozens of companies worldwide and creating John S. Arnold & Associates about 10 years ago.
"I saw the way some leaders were behaving at organizations I was working in and they were not inspiring," Arnold says. "So when I left the corporate world, I knew what real leadership looked like. And I look for opportunities for me to coach leaders who want to be inspirational and influential inside their organizations."
Arnold makes his father's presence felt even on his company's website (http://www.johnsarnold.com). 
"He had a spirit about him that inspired everyone he touched," he writes there. "His inspiration is at the core of my work and his legacy will live in and through me forever." 
Arnold and his wife of 36 years, Kathie, have been residents of Coral Springs for 37 years. For 21 of those, he has been chairman of the Taste of Coral Springs culinary event (this year on Nov. 12), which benefits local children's charities. 
And one final, no-so-grandfatherly distinction: Arnold got his first-degree black belt in tae kwon do — at age 58. 
---
Q: How many children and grandchildren do you have?
A: We have three children, two boys and a girl, and we have five grandchildren including a granddaughter who is 11, Shea. In fact, she was named after Shea Stadium. My son's a Mets fan, so I know it's crazy, but it's true, and neat. Our 8-year-old grandson is Tyler. The 6-year-old is Mason. And the 11-month-old is Oliver, but they call him Starnes. Our 5-year-old grandson, Blake, has a genetic brain disease disorder called tuberous sclerosis. And he and I just have the most amazing relationship. It's a bond that's just inseparable. 
Q: How often do you get to see them?
A: Four of our grandchildren live in Coral Springs, so we see them all the time. And our youngest grandson, who lives in Charlotte, we see him every couple of months. We see them at barbecues, and on the weekends at baseball games, cheerleading practices, cheerleading events, school recognition events.
Q: How do you best like to spend time with your grandchildren?
A: The most fun for me is just being with all of them and laughing and teasing them and getting down on the ground and crawling with them and playing with them. And cooking with them. A couple of our grandsons love to cook. We have them sleep over at our house. We swim with them, play ball with them. We're just so active with them. The grandchildren enjoy coming over to our house because we live on a golf course and they love being in the golf cart — and driving the golf cart. The older they get, all they want to do is be able to reach the gas pedal. They couldn't care less about the brake.
Q: What is your favorite saying?
A: "I love you big much." Or, "I love you more."
Q: Where's your favorite place to go with your grandchildren? 
A: We love going to the beach and playing with them. We love going over to their houses and playing with them — anything that's an outdoor activity. They're all very active. 
Q: What is your idea of perfect happiness?
A: Perfect happiness for me is being with my family. Family to me is the most important thing in the world — in good times and in tough times.
Q: What's been your most memorable experience with your grandchildren?
A: My most memorable experience is this past Christmas when the entire family was together for the first time since the birth of our youngest grandson. It was here in Coral Springs and we had the first family picture taken with a photographer. 
Q: What is your most treasured possession?
A: I changed the answer to my most treasured person — and that would be my wife, Kathie, my best friend.
Q: What's the most important thing grandparents can bring to their relationship with their grandkids?
A: Unconditional support and love. We try to instill a real strong sense of family values, the same values that Kathie and I grew up with. But they can't be sustained without unconditional love and support. And that's what we try to do for our grandchildren.
Q: If you could change one thing about the world, what would it be?
A: It would be having more grandparents involved and active with their children and grandchildren. Grandchildren bring us so much joy and so much, I don't know… life. I'd love to see more grandparents actively involved in supporting and loving their grandchildren. To me, life is short and precious, and time with our grandchildren to me is even more precious. 
Q: What's the biggest difference between you as a grandparent and you as a parent?
A: We get to spoil our grandchildren. We don't have to discipline them. We leave that up to our children. As we got older and became grandparents, we just let go of some stereotypes and boundaries that we grew up with that don't really have any value. It's not that they're right or wrong, they just don't serve any purpose or have any value. We were a lot more disciplined with our children than we are with our grandchildren. I'll let our children worry about how many cookies and pieces of candy they can have. When they're over here, they can break the rules.I just have the absolute most fun with my grandchildren. I can be silly, I can laugh, I can be humiliated — and all of it feels genuine and wonderful.
Q: What is the most important thing life has taught you?
A: It's taught me to be so much more understanding, humble and grateful for everything I have. I'm blessed with the most incredibly loving family. I couldn't ask for a more loving family, and it just gives me such great pleasure. I get a heck of a lot of hugs and a heck of a lot of laughs and I get a heck of a lot of love.