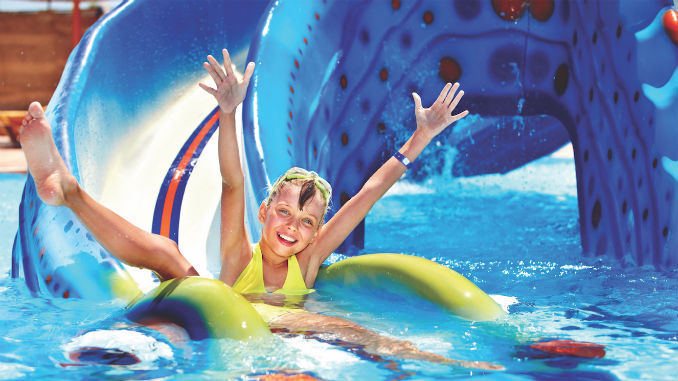 Here's a guide to the ocean alternatives that help make our home a water-lover's paradise.
Published: May 29, 2019
By: Shannon Pease-Severance
Take a deep breath, hold your nose, dive in, splash around, swim a lap, skim down the slide, dodge the water cannons, run through the fountain. However you want to soak yourself and beat the heat this summer, here's a guide to the ocean alternatives that help make our home a water-lover's paradise. (Don't forget the sunscreen!)
ARTSPARK AT YOUNG CIRCLE
Kids can twist and shout in the waterspouts at Young Circle.The splash pad is a popular spot for kids to cool down. In addition, ArtsPark features children's play equipment, entertainment such as Funtastic Fridays, movie nights, live music and more.
Hollywood Boulevard and Federal Highway, Hollywood
954-921-3404
CALYPSO COVE AT ROYAL PALM PARK
Calypso Cove features three pools including a plunge pool, which you can slide into from either an enclosed or open slide. The zero-depth pool is a beach-entry activity area with
water-spraying animals, palm trees with tipping coconuts and a play structure. The six-lane lap pool is the spot for lifeguard training as well as swimming lessons and family swimming.
6200 Royal Palm Blvd., Margate
954-974-4566
CAPORELLA AQUATIC CENTER
Conveniently located adjacent to Challenger Elementary and Millennium Middle schools, Caporella Aquatic Center features an avalanche slide, children's water sprayground, picnic tables and concession stand, plus a 25-yard by 25-meter swimming pool with zero depth entry.
9300 NW 58 St., Tamarac
954-597-3662
CASTAWAY ISLAND AT T.Y. PARK
This popular aquatics facility includes two water playgrounds— one geared toward younger children, and the other featuring waterslides and a variety of interactive water activities. There's also a separate swimming lagoon. Topeekeegee Yugnee Park
3300 N. Park Rd., Hollywood
954-357-8811
CHARNOW PARK AT HOLLYWOOD BEACH
Slipping into the surf at Hollywood Beach is a given, but some kids tire of sand, saltwater and seaweed. Playing in the seaside fountain is a refreshing option that adds to the fun. Water bursts up from the zero-depth play area, and parents can watch from nearby shaded seating areas.
Hollywood Beach Broadwalk, between Garfield and Connecticut streets, Hollywood
954-921-3404
CIVIC CENTER AQUATICS COMPLEX
This family-oriented complex features an Olympic-size competition pool as well as a children's wading pool, and a zero-depth entry family pool with a curving water slide.
Ideal for families, the facility has enabled the city to expand its instructional water safety programming.
10610 W. Oakland Park Blvd., Sunrise
954-747-4636
COCONUT COVE WATERPARK
The closest of Palm Beach County's waterparks, Coconut Cove offers an alternative with plenty of twists. There's a Lily Pad Walk, Twin Water Slides, waterfalls and a tubing river. The interactive playground includes jets, tunnel slides, water cannons and tire swings. South County Regional Park
20130 Regional Park Dr., Boca Raton
561-629-8840
COOPER CITY POOL & TENNIS CENTER
Dive on in. The pool has public hours for those looking to take a dip or splash around.
11600 Stonebridge Parkway, Cooper City
954-436-7300
CORAL SPRINGS AQUATIC COMPLEX
This premier swimming and diving complex serves the needs of the beginning swimmer to the more advanced competitor. A world-class facility, it also hosts many swim and dive events as well as traditional classes. Visitors can make a splash in the 50-meter and 25-meter competition pools, a diving well equipped for springboard and platform diving and an acclimation pool.
12441 Royal Palm Blvd., Coral Springs
954-345-2121
CYPRESS WATER PARK
One of three swimming facilities in Coral Springs, Cypress Pool features a unique clover-shape, non-competitive swimming pool and a water park featuring spouting fountains, water cannons and slides. In addition, Cypress Park offers large pavilions, grills, a nature trail, a tot lot and tennis courts, all surrounded by a beautiful Cypress Hammock.
1300 Coral Springs Dr., Coral Springs
954-345-2109
DEERFIELD BEACH AQUATIC COMPLEX
This Olympic-size pool is 25 yards by 50 meters and boasts a zero-depth beach entry teaching area. Home to the Deerfield Beach Dolphins Swim Team, it offers an array of instructional and competitive swim activities. Located in the Deerfield Beach Middle School Athletic Complex.
501 SE Sixth Ave., Deerfield Beach
954-420-2262
FLOWRIDER AT MARGARITAVILLE
Whether you are adventurous enough to try it, or there just to observe, this surfing-simulator provides perpetual entertainment for those looking to improve surfing skills or simply some fun in the sun. Located along the Hollywood Beach Broadwalk, the attraction is open to resort guests and the public alike. Height restrictions apply. Margaritaville Beach Resort, 1111 N. Ocean Dr., Hollywood, www.margaritavillehollywoodbeachresort.com
JERRY RESNICK AQUATICS CENTER
The kids will have a blast slipping and sliding down the waterslides, racing through the sprinklers in the water playground or taking a swim in the junior-Olympic size pool. The center also offers a range of programs including water aerobics, swim team and swim lessons.
701 SW 71 Ave. North Lauderdale
954-724-7063
JIM WARD COMMUNITY CENTER
Outside the center is a small zero-depth water play area perfect for the toddler set. Little ones can crawl or toddle through spouts specifically geared toward the pint-sized while caretakers catch some sun on the sidelines.
301 NW 46 Ave., Plantation
954-585-2344
LAUDERDALE LAKES SWIMMING POOL COMPLEX
This city-run facility between Oriole Elementary and Lauderdale Lakes Middle schools features a pool with six 25-yard lanes, deck space for lounging and pool rentals for special events. Classes are offered for children as young as age 3 to introduce water safety.
3077 NW 39 St., Lauderdale Lakes
954-733-6283
LIBERTY PARK
In addition to two beautiful shaded playgrounds and a large pavilion, this quaint green space park features a water play area for kids to have fun and keep cool.
9200 Ranch Rd., Parkland
954-757-4105
MIRAMAR PINELAND
You don't have to go far for kids to let off a little steam. Miramar Pineland has a water-play area in the southeastern area of the park, with a covered playground nearby. You can also explore the 157-acre preserve's natural beauty on elevated boardwalks, at picnic areas and more.
3600 S. University Dr., Miramar
954-357-8776
MIRAMAR REGIONAL PARK WATER PLAYGROUND
Bring the family for fun at this interactive water playground and pool area. The water playground includes slides and lots of places to splash and play, while the climate-controlled pool offers swimming lanes and a dive well.
16801 Miramar Parkway, Miramar
954-883-6955
MULLINS PARK POOL
This facility features a 25-yard pool, two diving boards and a beach-entry shallow water children's pool.
10180 NW 29 St., Coral Springs
954-345-2170
PARADISE COVE AT C.B. SMITH PARK
Kids will feel like they've gone to heaven when they visit Broward County Parks' largest aquatics facility featuring three large water playgrounds and a meandering tube ride. Paradise Pipeline features five-story tall corkscrew waterslides that exit into a four-foot deep plunge pool. Paradise Cove also includes an interactive water play area, Sharky's Lagoon, with three waterslides for all ages, and a Parrot's Point play space with two small waterslides and play elements for toddlers.
900 N. Flamingo Rd., Pembroke Pines
954-357-5170
PATRICK J. MELI AQUATIC COMPLEX
Fun for all ages, this aquatics center features a children's pool for family fun, plus a 25×25-yard short course competition pool with a dozen lap lanes. Lessons that emphasize water safety are offered for kids as young as 3 years old.
2901 SW 52 St., Dania Beach
954-985-4400
PINE ISLAND AQUATIC CENTER
This facility features an Olympic size pool, shaded deck with lounge chairs and a state-of-the-art lightning sensor system. The aquatics area is a popular spot for recreational swimming, pool parties, swim lessons and special events.
3800 SW 92 Ave., Davie
954-327-3927
PIRATES COVE AT PATCH REEF PARK
Little buccaneers can venture to Pirates Cove Playground for a swashbuckling good time with water elements including showering palm trees, water cannons and a cargo net.
2000 W. Yamato Rd., Boca Raton
561-367-7035
PLANTATION AQUATIC COMPLEX AT CENTRAL PARK
Here you'll find two Olympic size pools, each 50 meters by 25 yards, as well as a 500-square-foot water playground for toddlers. The water playground has a colorful combination of equipment and is situated on the pool deck within a fenced area. A zero depth and spongy surface creates a safe environment for all.
9151 NW Second St., Plantation
954-452-2525
PLANTATION WOODS SPLASH PAD
Colorful cattails, ground sprays and loops keep kids cool in a zero depth setting in the center of Plantation Woods, a 2.5-acre woods-themed park. The location also includes three playground areas with tree houses and swings, log benches and picnic pavilions.
5555 Palm Tree Rd., Plantation
954-452-2510
POMPANO BEACH AQUATICS CENTER
This facility features an Olympic size pool with two spring boards, a 25-meter pool for recreation and a number of aquatics programs including family swimming, water fitness, swim team and party rentals.
820 NE 18 Ave., Pompano Beach
954-786-4128
RAPIDS WATER PARK
A 35-acre park that boasts 42 waterslides and other watery fun. Among the crowd pleasers is Big Thunder, a four-person tube ride that accelerates on a giant funnel before dropping riders through a tunnel, and FlowRider, a simulated wave system. Milder activities include a wave pool, lazy river, and areas for younger children. The extra driving time and admission expense are the tradeoffs for a day of excitement.
6566 N. Military Trail, West Palm Beach
561-848-6272
SKI RIXEN AT QUIET WATERS PARK
Indulge in water sports without the need of a boat. Instead, a system of cables drags you through the water, allowing you to water ski, wakeboard or even surf without waves. Originated in Europe, Ski Rixen welcomes beginners and provides everything you'll need to try it out, including life jackets and unlimited use of skis, kneeboards and wakeskates.
401 S. Powerline Rd., Deerfield Beach
954-429-0215
SPLASH ADVENTURE AT QUIET WATERS PARK
Here you'll find an interactive children's water playground that allows kids to create their own fun with hand wheels and levers, water curtains, crawl tunnels and more. The depth of the pool ranges from zero at its edges to 12 inches at the center.
401 S. Powerline Rd., Deerfield Beach
954-357-5100
SUGAR SAND PARK
Already a magnet for families because of its many features, from the Science Explorium to a lovely community center, Sugar Sand Park is also a good place to burn off energy in the summer. Kids can play at the park and have a cool time skipping through the water jets and sprinklers.
300 S. Military Trail, Boca Raton
561-347-3900
TIGERTAIL AQUA CHALLENGE
Test your balance, strength and agility while taking on this water obstacle course featuring eight elements for kids and adults including a trampoline, balance beam, jungle gym, 25-foot bouncing dome and a 12-foot-tall free-fall climbing wall with a slide. Participants must be at least 7 years old and able to swim.
580 Gulf Stream Way, Dania Beach
954-201-4500
TROPICAL SPLASH AT CENTRAL BROWARD REGIONAL PARK
A 110-acre multi-use park featuring two interactive water playgrounds: one for small children with climbing features and small slides; and one for bigger kids with two spiral slides, water guns and a dumping bucket. It also has an ADA-accessible instructional pool.
3700 NW 11th Place, Lauderhill
954-357-5400