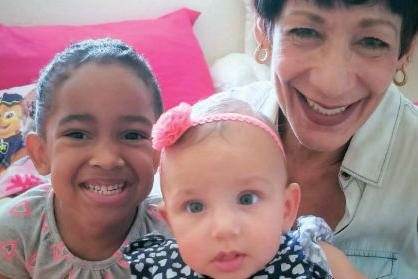 Getting to know local grandparent, Anne Goldberg.
Published: August 29, 2018
By: Greg Carannante
It was one of life's uncanny occurrences that turned Anne Goldberg into The Savvy Senior.
One day in 2013, struggling to re-establish a career in Florida after 23 years as an executive recruiter in New York and later as a full-time mom of two sons, she just let it go.
"I was out of ideas, so I surrendered," says Goldberg, 66. "It was a powerful moment in which I let go of the idea that I knew what was best for me. That information lived somewhere else. I paid attention to the signs. It took just under two weeks. Six seniors I know called and said: "I heard you teach computer. Can you please help me?" I had not advertised that. And so Savvy Senior Services was born."
Those computer classes have grown into a multi-dimensional outreach dedicated to improving and extending the lives of seniors. And Goldberg has evolved into a motivational speaker espousing The Art of Living Longer™, her "Curriculum for a Happier, Healthier Life."
"After I learned about the Blue Zones [regions of the world where people live much longer than average], my mission took on the idea of teaching seniors about nutrition, the importance of always growing and learning and how critical it is to live a life of meaning and purpose," says the Boca Raton resident who is a member of the Nova Southeastern University Lifelong Learning Institute.
Through www.savvyseniorservices.com, Goldberg also offers such services as Chaos to Calm Organizing, Kitchen/Lifestyle Coach and Tell Your Story Videos.
In her responses to the questions we ask each of the grandparents for this feature, she focuses her motivational speaking skills on life as a grandparent and golden-ager.
Q. How many children and grandchildren do you have?
A. I have two granddaughters, ages 4 years and 6 months.
Q. How often do you get to see them?
A. A few times a month, or more.
Q. What do your grandkids call you?
A. Bubbie. I want the kids to have a connection to their Jewish heritage and this is one of the ways I do that.
Q. How do you best like to spend time with your grandchildren?
A. I love to take the kids outside to play at the park or the pool, to be in the sun and the grass. The 4-year-old loves playdough, so there's a lot of that!
Q. What is your favorite saying?
A. Holding a grudge is like taking poison and hoping the other guy dies.
Q. What is your idea of perfect happiness?
A. Hiking in the mountains or high desert (in a group) and then getting a great massage followed by a delicious, organic dinner. Heaven! AND, being at the airport, ready to board an international flight. Oh, the promise of adventure pulsates.
Q. What was your most memorable experience with your grandchildren?
A. I'm new to the grandma thing as my son married a woman with a child and their natural daughter was born in March. So far, her birth is my most memorable experience with both girls.
Q. What is your most treasured possession?
A. A gold necklace my parents hid inside the cake at my Sweet 16 party!
Q. What's the most important thing grandparents can bring to their relationship with their grandkids?
A. Love, wisdom, experience and a sense of fun, with a healthy dose of culture and tradition.
Q. If you could change one thing about the world, what would it be?
A. I would make quiet time, with a focus on gratitude, mandatory in all schools and workplaces. If we all took 10 minutes twice a day to connect to the beauty of LIFE — to relax, refresh and recharge — there would be less anger towards one another.
Q. What's the biggest difference between you as a grandparent and you as a parent?
A. Patience! I am much more relaxed now than when I was a parent. That reflects in how I interact with my family and especially my granddaughters.
Q. What is the most important thing life has taught you?
A. It's so important to be present, to be in the moment and not lost in thoughts of the past or some fantasy about the future, but right here, right now. That's where the action is. That's where the connection to others is.