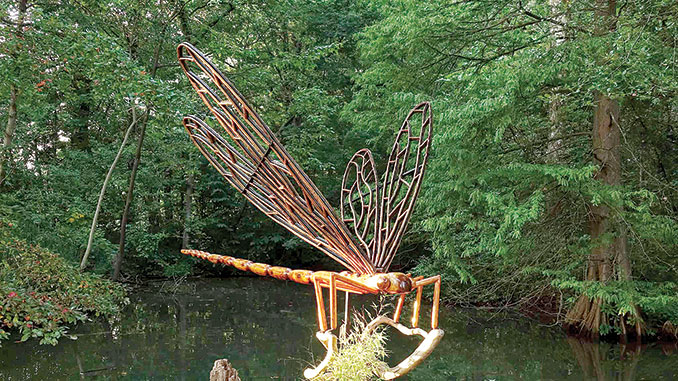 Dinosaurs and Dragons star in new exhibits for summer
Published: April 20, 2021
As summer draws near, museums in South Florida are opening new exhibits this month, and one is already open.
Dinosaur Revolution opened at the South Florida Science Center and Aquarium on April 24, giving visitors the chance to step into the skin of their favorite dinosaur with reptilian role-play activities and Mesozoic missions. They can also navigate a giant maze and dig for fossils. Learn more at www.sfsciencecenter.org/dinosaur-revolution.
Looking ahead, Pterosaurs: Flight in the Age of Dinosaurs, opens Saturday, May 15, at the Phillip and Patricia Frost Museum of Science in Miami.
Pterosaurs ruled the skies for as long as dinosaurs walked the Earth, and they were the first vertebrate animals to evolve powered flight. The Frost Science exhibit presents a variety of pterosaurs, from the colossal Quetzalcoatlus northropi, with a wingspan of 33 feet, to the sparrow-size Nemicolopterus crypticus, with a wingspan of 10 inches.
 It also includes life-size models, videos and interactive games that allow visitors to test the mechanics of pterosaur flight and use their bodies to "pilot" two species of pterosaurs through virtual landscapes. For more information, visit www.frostscience.org/pterosaurs.
At the Museum of Discovery and Science in Fort Lauderdale, eyes are also on the skies. Here Be Dragons, celebrating the mythical fire-breathing beasts from dragon lore and 10 species of their living wildlife cousins, opens May 22.
The exhibit includes three "Dragon Realms" – Medieval, Asian and Dragons in Paleontology (Dinosaurs!) – and 10 live lizards, including the albino green iguana, plumed basilisk, black throat monitor, European legless lizard, roughneck monitor, Egyptian uromastyx, Chinese water dragon, frilled dragon, bearded dragon and clubtail iguana.
Here Be Dragons opens with a special weekend of events May 22-23, including a make-and-take dragon craft, a Renaissance Festival area and more. Learn more at www.mods.org.
Closer to ground level, Big Bugs opens May 29 at Flamingo Gardens, with 10 giant insect sculptures created from willow limbs, twigs and branches by artist David Rogers.
Along the garden paths, see enormous ants marching to a picnic, a giant spider dangling from a tree and a dragonfly hovering over the water, as well as a 17-foot-long Praying Mantis. Learn more at www.flamingogardens.org/nature-connects.html.
The new exhibits are included with regular admission and most will be on display through Sept 5-6, 2021. Dinosaur Revolution closes Nov. 28, 2021.