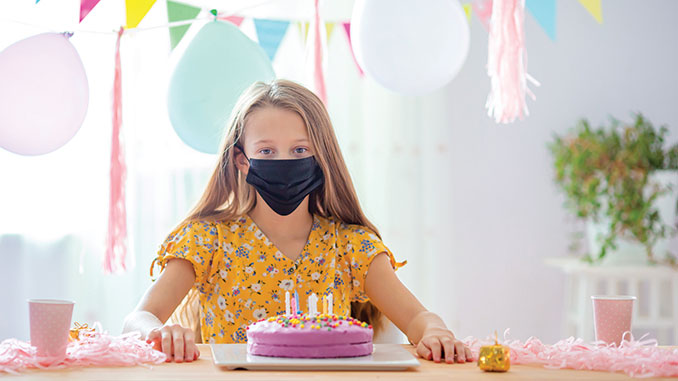 How to make your child's birthday feel special, despite the Covid pandemic.
Published: October 27, 2020
By: Jennifer Jhon
Birthday party plans have changed during the pandemic. Scenes of children and their parents crowded into a party room, arms around each other as they sing "happy birthday," have been replaced with pictures of children posing alone with their cakes.
But South Florida parents have come up with plenty of ways to make the day special for their little ones.
Bruna Brandao, a mom of one in Deerfield Beach, went to a Zoom party in May. 
"It was super fun! The mom of the child did a scavenger hunt of the birthday boy's favorite things," such as his favorite fruit (banana), his favorite sport (baseball) and his favorite character (Spider-Man), she said.
"Then she had people share their favorite memories with the birthday boy. Everyone had a turn. We sang happy birthday and took silly pictures together. It was fun!"
How to party in the age of Covid
Zoom painting parties are in fashion, as are Zoom cupcake and cookie decorating parties that allow friends to create together.
Drive-by birthday parades have also become very popular. Parents are making the event as fun for partygoers as it is for the birthday child, handing out goody bags, cake pops, and juice boxes and bringing in entertainment, such as bubble machines, magicians, princesses, superheroes, and other characters. 
Guests can be invited to decorate their cars to compete for prizes or wear costumes to fit the theme. Drive-by games such as basketball and cornhole can add to the festivities, and ice cream or snow cone trucks can be called in to deliver birthday goods.
Some companies are offering their birthday packages for delivery or pickup, such as the Chuck E. Cheese Party Pack, which includes two pizzas, a cake, goody bags, cotton candy, party decorations, and gifts for the birthday child.
Families can also order birthday gift boxes from online retailers such as Etsy, Amazon, The Popcorn Factory, and flower delivery companies.
How to have fun outside the home
Don't want to stay in? There are options to go out for birthdays while maintaining social distancing. AMC and Cinemark Theatres are offering Private Watch Party packages, or you could take the party outside to the Swap Shop Drive-In in Fort Lauderdale, which allows friends to enjoy a movie together and sing happy birthday from the safety of their own cars. 
Some small indoor activities are also open for private events, such as POD22 in Miami, Prissy Missy Spa in Weston, and others.
No matter who is invited or how you choose to celebrate, making your child feel special is key to making good birthday memories. With luck, you might just find yourself making a tradition of this year's creative party plans.