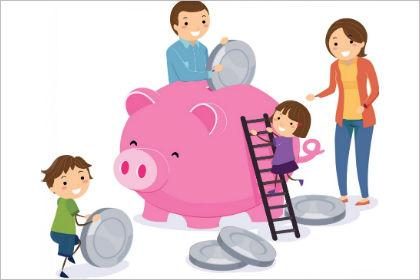 The poetic justice of one family's frugality
Published: June 27, 2018
By: Kara Martinez Bachman
When I was young, I was sure my parents had to be the cheapest people to ever walk the earth. Ever. It used to disgust me.
Until I had kids.
The groundwork for my embracing of frugality probably began when I met my husband. I hadn't believed anyone could be cheaper than my parents were, or that there could be anything at all good about it.
I heard stories of how he grew up. Cultivating a huge garden to have free vegetables. Saving slivers of soap to melt down into new bars. Reusing plastic food containers. And what must be the worst of all, the absolute pinnacle of cheapness: recycling Christmas tree tinsel for 20 years (it was so old, it just looked like gray transparent plastic, with no shine). His parents made mine seem downright normal in comparison.
I remember the day I told him my parents had made me and my three siblings share a Coca-Cola at Disney World.
"What are you complaining about?" he asked. "You at least got to go to Disney World."
This story, though, always stuck with me. I'd tell it — until I had my own children old enough to complain while at Disney World.
"You've got perfectly good water bottles," I'd said to my own little kids when we'd made our trips to the Magic Kingdom.
"Fill up those bottles at the next water fountain. You'll be fine."
I'll be darned if I'll spend triple what a Coke costs in the rest of the known universe, in the kingdoms that are less magical, and where people have mortgages to pay.
We'd sit on a bench right outside "Pirates of the Caribbean" and snack on trail mix and affordable odds and ends we'd brought in our backpacks to tide us over. My husband and I would always laugh at how much we had become like our own frugal parents.
We're not gonna stop going, though, are we? We need the Disney magic. I'd never suggest otherwise.
Since I guess it's in my DNA, I'm frugal with my kids. It's OK. It's for their own good. Generic-brand chips and cereals with lame rip-off names have never caused lasting PTSD.
The tradeoff for us cheapskates is we teach our kids through action how to make smart money decisions. We teach ourselves something about it, too, and feel proud when we notice others struggling to pay the bills, while we — the frugal, the planners, the budgeters and the sharers of Cokes — can relax.
When you're on vacation with your children — standing in line at an amusement park, or feeling frustrated by the cost of something as simple as a movie, drink and small popcorn — remember that it's OK to stand firm. The rides will still be thrilling, or the movie still great, without all the extras.
It's OK, parents, if you're cheap — forgive yourselves. Your kids will grow up to be just fine. They might need therapy, but they'll be just fine. (Only kidding. They'll be strong, resilient people who know the value of a dollar.)
So … when your little ones nag a time too many and you've had enough, just tell them to shush up and be grateful. It could be worse — they could at that very moment be eating generic-brand Vienna sausages from a can next to Cinderella's Castle.