Published: November 14, 2022
Holiday in Paradise (HIP), a month-long holiday attraction returns to West Palm Beach from Thursday, December 1 to Saturday, December 31 featuring the world's only 35-foot, 700-ton holiday sand tree, and this year, Ferris the Ferris wheel is joining in on the fun.
In addition to her giant stature, Sandi entertains with light shows and synchronized music each night on the quarter hour from 6pm-10pm (except on days with scheduled special events). The dancing Centennial Fountain will also be seen at Sandi's nightly party.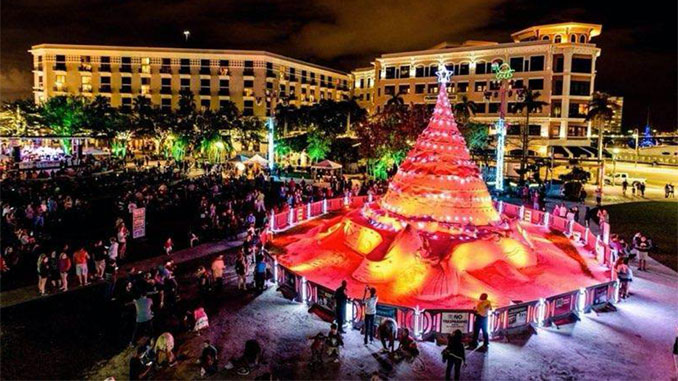 With the addition of Ferris to this year's activities, guests will be able to see HIP and Sandi from an entirely new perspective as they view the area from 65 feet in the air. This giant ferris wheel offers gondola seating and a light show with rides available nightly from 6pm-10pm. It is recommended to purchase tickets in advance here. The cost is $5.00 per rider for a single ride or $20 per rider for unlimited rides for one night (plus sales tax and processing fees).
Throughout HIP, you can find other huge sculptures made entirely of sand, as well as lots of photo spots for taking pictures with the family.
Holiday in Paradise is located at 100 North Clematis Street, West Palm Beach, FL 33401. Sandi is located in the heart of downtown West Palm Beach's Great Lawn, which is next to Clematis Street and Flagler Drive. There are parking lots nearby or you can park in city garages on Evernia Street and Banyan Boulevard.