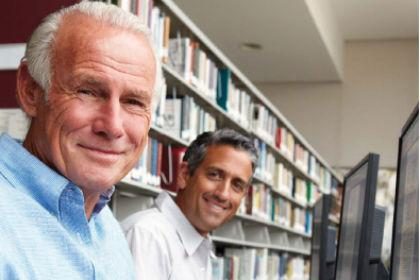 It's never too late to learn at these seniors-specific programs
Published: May 25, 2018
By: Greg Carannante
"Use it or lose it."
As we get older, the phrase becomes more than just a cliche — it can be a lifesaver.
Growing scientific evidence suggests that staying mentally and socially active may help keep your brain healthy and lessen the risk of cognitive decline and dementia — particularly worth heeding in this era of advancing Alzheimer's. Experts recommend that seniors engage in mentally challenging activities that expose the mind to new topics, such as formal education.
There is no shortage of places to make that happen in South Florida, but one of the most comprehensive, time-honored and seniors-specific is the Lifelong Learning Institute at Nova Southeastern University, which has been enriching the lives of mature adults for over 40 years.
LLI expands horizons for seniors through programs that promote intellectual stimulation, physical well-being and social growth. The academic calendar peaks from October through May, and though the summer schedule is somewhat reduced,
it's still eclectic and thought-provoking. For example, there are such sessions as "Reel Science" on June 19, in which Dr. Robin Sherman focuses on how depictions of science in film and television
influence society; or Margery Marcus's "Books in America: The Banned and the Burned," on July 26, which culminates with a surprising Top 10
countdown of the most banned books in our history; or "President Donald J. Trump: A Preliminary Assessment," by Dr. Vincent Toscano on Aug. 7.
Located at NSU East Campus Alumni Hall in Fort Lauderdale, LLI also offers social opportunities to connect with like-minded seniors through outings and special events. Ranging in age from 50 to 90, members are split about 50-50 male to female. Memberships range from $100 (trial month/single) to $900 (annual/couple). Classes are also offered at David Posnack Jewish Community Center in Davie and Aventura Turnberry Jewish Center.
For more information or to watch a sample class, please visit www.osteopathic.nova.edu/lli
Savvy Senior Club
On the roster of speakers at the Lifelong Learning Institute is one who has created her own group to motivate and inspire seniors. Motivational speaker Anne Goldberg started the Savvy Senior Club on a whim three years ago this month.
It has grown to almost 800 members.
The club hosts monthly meetings in Davie and Delray Beach that feature Goldberg's lectures from her series, "The Art of Living Longer: A Curriculum for a Happier, Healthier Life." One such presentation is "Choosing to Feel Happy, Not Crappy!" from 1-2pm July 19 at The Phoenix in Delray Beach.
Also, guest speakers include doctors, nutritionists and physical therapists who explore such topics as "TMI: Too Much Inflammation," "Is Your Food, Food?" and "Balancing Hormones" — the subject of Dr. Merna Matilsky's talk 6:45-8pm June 14
at The Phoenix.
The meetings are open to the public and free for now. Beginning in July, there will be a $5 admission.
For more information, visit www.meetup.com/Savvy-Senior-Computer-Club-55 or FaceBook@AnneGoldbergTheSavvySenior.