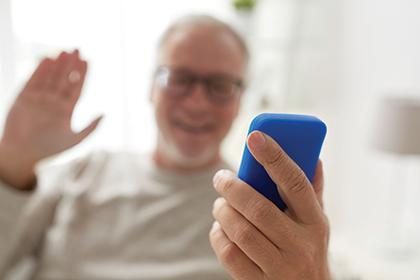 5 Cyberspace Sites that you should know
Published: October 23, 2017
By: Greg Carannante
You see them almost everywhere these days, assuming the position as they walk, head bowed, shoulders slumped, eyes glued to the device planted in their hand and plugged in to their ears — mystifyingly sidestepping anything in their path out here in the real world. There's even a medical term for such posture: Text Neck.
Their umbilical-like attachment to their devices makes it all too obvious that these kids — our children and grandchildren — are much different beings than we are when it comes to using technology, especially for social media.
Teen-aged or younger grandkids may have never known a world without social media, and they use it in vastly different ways than their grandparents use it — if they use it at all. To help bridge the grandparents' gap, here's a little social media primer on five sites that are helpful to know to stay connected to the grandkids.
INSTAGRAM
In its seven years, Instagram has become very popular with the younger set. Originally a simple app for sharing photos on mobile devices, it has gained fans by offering a variety of photo filters and adding features like the ability to post videos. Referred to as the new Facebook, the site has attracted converts seeking to sidestep the political posts, notifications and hacking that have recently plagued the older site.
Grandchildren are likely to be on Instagram, so it's a good idea for their grandparents to be there, too. An account is needed to use the app, but it's not necessary to post to it, which can only be done from a mobile device. However, posts can be viewed on your computer. With the search feature, you can follow celebrities or other interesting accounts, or you can keep it a more personal experience by just following close friends and family — like those hyper-connected grandkids.
SNAPCHAT
Having not grown up with hand-held devices, the senior set can have difficulty using this mobile-devices-only app, whose texts and images disappear seconds after being received. Users must be at least 13 years old, but Snapchat scored quickly with teens, who like knowing their images and messages won't hang around in cyberspace. Adults use the icon-driven
app, too, but not many are over 35 — and it doesn't seem to be gaining popularity with grandparents.
A new feature, Snap Maps, shows users where their friends are. The location feature can be easily turned off but it's still worrisome to parents who fear for their kids' privacy.
TWITTER
As Americans are reminded almost daily, President Trump is one senior who is a "bigly" fan of this app. Twitter lets users "tweet" messages of no more than 140 characters, with images. Although there is a direct messaging feature, all tweets are public.
Other social media platforms are more suitable for keeping up with the grandkids, but grandparents might find it fun to tweet along with a grandchild during a sports game, TV show or other event about which users can share their opinions and check those of others. Twitter is also a good way to follow breaking news or follow a favorite celebrity.
TUMBLR
This blogging platform/social network is good for posting photos, links, quotations and audio and video files but isn't especially good for connecting with grandchildren. The site is recommended for ages 17 and older and much of its available content is inappropriate for kids. A new Safe Mode does give viewers the option to hide explicit posts — but since it's the user who's required to make the choice, it's not as "safe" as parental controls.
With its own ready-made community, Tumblr is big on sharing, reblogging and letting users find online friends with shared interests while remaining anonymous.
FACEBOOK
Launched 13 years ago, the granddaddy of social-media platforms remains popular with all ages, although its demographic has steadily trended older. It's been transforming over the years from a tool for sharing personal posts to one that feeds you info on your preferred topics. Most posts come from your friend pool but some are sponsored.
It's likely that if you're grandchildren are old enough to be on Facebook — 13 in most places — you may be seeing fewer posts from them lately because they're probably on Snapchat and/or Instagram. But since their folks are no doubt on The Social Network, it's still a good way to at least keep connected with your own kids.