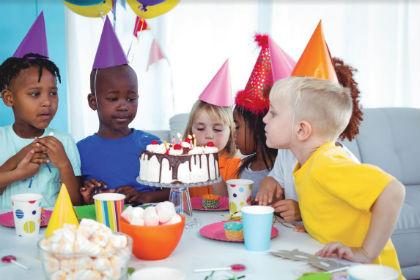 Give your child a party to remember
Published: October 31, 2017
By: Denise Yearian
For kids, a birthday is big. It could be the biggest day of the entire year. You want to make it special, memorable and most of all fun. But a great birthday party is not always easy to pull off. And you sure don't want to mess it up. Here's Help.
Today parents have many options to choose from: entertainers who come into the home; local facilities that offer a variety of packages; and a plethora of do-it-yourself books and websites for the brave-at-heart. In fact, the biggest decision parents have to make is where to have the party and what the theme will be.
Several weeks before his big day, ask your child how he would like to celebrate it. Tell him what the options are, based on your time, budget and preferences. Brainstorm together and consider his interests and hobbies. Can the party be centered on one of these? Whether you have the party at home or in a venue, you can incorporate something that lets your child's personality shine.
PARTY PLANNERS
If you want to have a party at home but don't have the
time or energy to plan it, consider hiring a party planner
to help with the details.
"A party company can help alleviate the stress of having to coordinate everything from the decor and rentals to the entertainment as well as helping to plan the proper flow of
the party for all of the guests," says Jennifer Wilson, owner
of All About Entertainment, a South Florida party planning
and event company.
They can also help to take the party theme to the next level.
"Once we did a Safari-themed party for twin 10-year-old girls and one of the main parts was a Safari-themed scavenger hunt," Wilson says. "Each time they found a clue they would get a gift for their birthday, for a total of 10 gifts since they were turning 10.
"Another fun party we did was a dinosaur theme. We created a dinosaur dig with sand and excavating tools, where the kids could dig and find dinosaur eggs. Inside each dinosaur egg there was a baby dinosaur and the kids could keep all of the dinosaurs that they found."
To find a reputable planner, ask friends and relatives who have used one. Were they happy with the services they received? Also, check local resources such as parenting magazines, and search online or contact a local party retail center to ask for referrals. Once you have a few names, call the organizations and ask:
• What services do you offer?
• What ages do you typically cater to?
• Can the party be tailored to a particular theme?
• What exactly do you provide? (games, activities,
refreshments, cake, invitations, decorations, party favors)
• How long do the parties run?
• How much do you charge?
• What am I expected to do?
Finally, ask for references of several people who have used their services recently and could vouch for them. Because entertainers are often called upon for special library, festival and fundraising events, ask if they have any upcoming appearances where you could watch them perform. If so, bring your child so he or she can get a feel for the entertainment you are considering.
AT-HOME PARTIES
One way to theme a party according to your child's interests is to have it at home. Here you have two options: Do it yourself or
hire outside help. If you have time and the desire to host the party at home, the possibilities are unlimited.
After deciding on a theme, make a guest list. The recommended number of children will depend on whether the party will be held inside or outdoors. If, weather permitting, you'd like to have the party outside, you could easily invite 15 guests. However, if the party is indoors, it's best keep it to no more than 10.
Another way to determine how many children to invite is to consider the birthday child's age. Some experts recommend
using a formula where the number of guests attending is equal to one to one-and-a-half times the child's age. For example,
a 4-year-old's party would have four to six friends; an 8-year-old's would have eight to 12 guests. Whatever number you choose, keep it manageable.
Unless the party is a sleepover, keep it to two or three hours (one-and-a-half hours for children 4 years and younger). Make a list of activities you are planning and the approximate length of time each one will take. Remember that a well-planned party allows for both quiet activities and active play. Guests should be given time to warm up to the setting, release energy during the party and calm down before heading home. Since the children will be arriving at slightly different times, plan a simple but flexible activity that keeps them busy while freeing you to welcome other arriving guests.
When selecting games, consider the number of children, their ages and whether the games will be held inside or outdoors.
Choose ones that are easy to explain, fun to play and involve all the children. Cooperative games are best because they take the spotlight off any one child and focus on the team as a whole. Whatever activities you choose, remain flexible. If the children aren't enjoying themselves, move on to something else. And always plan more activities than you need.
When it comes to food, stick with serving kid-friendly basics: sandwiches, pizza, veggie strips and pretzels. If you want to spruce it up, cut the sandwiches into interesting shapes, or turn the pizza into a clown face with pepperoni eyes, a cherry tomato nose and a strip of green pepper for the mouth. The cake can be special, too, by allowing the children to ice and decorate their own cupcake.
Simple decorations go a long way, too. A few helium balloons and crepe paper can make any room look festive. Choose party favors that are fun but inexpensive, such as a toy related to the party's theme or a bag filled with fun but healthy treats. For those wishing to spend a bit more, there are fun activities like painting T-shirts or planting flowers in pots — or maybe select an activity that reflects the theme. The idea is to be flexible and creative without busting your budget.
If you are hosting the party yourself, get help on the big day. An extra pair of hands (or two or three!) is essential no matter
what age the children are. As you prepare a guest list, ask a few close friends or relatives to come and help.
PARTY PLACES
If you want to give your child a memorable birthday celebration but don't want to have it at home, there are plenty of establishments available. Local businesses that offer packaged events may cost a bit more, but the benefits might be well worth it — no setup, cleanup or activities to plan.
Choose a location based on your child's interest. The Perfect Party Guide at browardfamilylife.com can help you find the right venue.
Because every establishment's offering is a bit different, call and get specific answers to these questions:
• How long do the parties run?
• What activities are included?
• What about food and refreshments?
• Are there free refills on soda or juice?
• Do they supply the cake?
• Do they require a minimum or maximum number of children to attend?
• Is there a host or hostess that does the work (or do you)?
• What is the cost and is a deposit required?
Before making the final decision, stop by the facility and check out a party underway:
• How smoothly does it run?
• Is the facility safe and clean?
• Are the bathrooms easily accessible?
• Are the guests enjoying themselves?
• Is the host or hostess friendly and good with kids?
• Do the guests have plenty of time to enjoy the activities, or are they rushed from one to another?
• Does the food look appealing?
By taking the time to stop by, you'll learn a lot more about the venue than if you'd just made a phone call.
Finally, remember: Your child's birthday comes only once a year. It deserves recognition. Whatever you decide,
make it special.