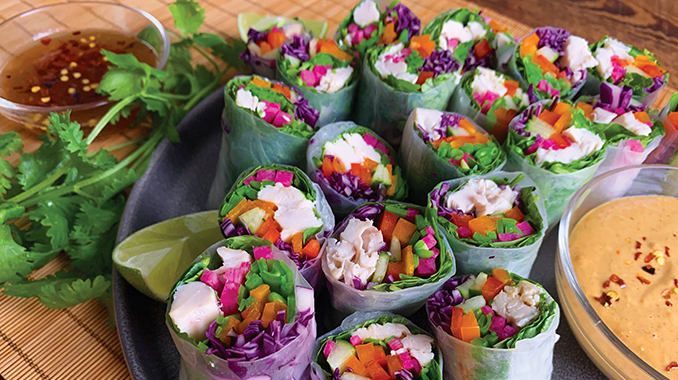 Published: July 27, 2023
By: Recipe and Photo by Susan Rosser
Over time, I have developed coping mechanisms for a South Florida summer.
Chief among them is lunch-for-dinner. Yes, we all know about breakfast-for-dinner.
But many lunch foods don't require cooking — which is desirable when the outdoor temperature is still well above sweltering. There's nothing wrong with a tuna sandwich or Italian sub for dinner. And, it's a great excuse to serve potato chips — a welcome addition to any meal.
These summer rolls check all the boxes. They're fancier than a sandwich, packed with veggies and a side of chips would not be out of place. To speed things along, get the whole family involved in the rolling process. Please note, I intentionally have not given amounts for this recipe because you might want to make just two or three for yourself or a whole bunch for a crowd. Or, you can prep a batch of veggies in advance and have them ready to go for some last-minute rolls in a flash. Also, the veggies are just suggestions — use whatever you like, but the fresh herbs really make it. Another alternative is to swap the chicken out for chopped shrimp. Serve with the nuoc cham and peanut dipping sauces.
Summer-All-Year Rolls
Ingredients:
Round pieces of rice paper
Cooked shredded chicken
Cucumber, cut into matchsticks
Carrots, cut into matchsticks
Bell peppers, cut into matchsticks
Watermelon radish, cut into matchsticks
Snow pea pods, cut into matchsticks
Scallions, cut into matchsticks
Red cabbage, thinly sliced
Fresh cilantro
Thai basil
Fresh mint
Nuoc cham and peanut sauce for dipping (recipes follow)
Preparation:
Dip the rice paper into a bowl of water until it just barely softens. It will continue to soften once it is out of the water, so don't leave it in too long or it will become challenging to work with. Place the rice paper on a damp clean kitchen towel. Grab a small handful of chicken, vegetables and herbs and place them near the bottom of the paper, centered between the left and right, leaving about an inch at the bottom edge. Fold the bottom edge over the vegetables. Fold the left and right sides of the paper towards the center, and then roll the bundle away from you. If you don't eat it right away, place the finished rolls under a damp dishtowel and continue.
For the Nuoc Cham
2 tablespoons granulated sugar
¼ cup fresh lime juice
1-2 tablespoons fish sauce
1 garlic clove, grated
1/4 cup water
Red pepper flakes, to taste
Whisk all the ingredients together and serve immediately with the summer rolls, or store in the refrigerator until ready to use.
For the Peanut Sauce
1/2 cup smooth peanut butter
1/4 cup soy sauce
2 tablespoons rice wine vinegar
1 tablespoon honey
1 garlic clove, grated
1 teaspoon fresh ginger, grated
water to taste (to thin it out)
In a small bowl, combine all ingredients except the water. Once combined, add enough water to thin to your liking.