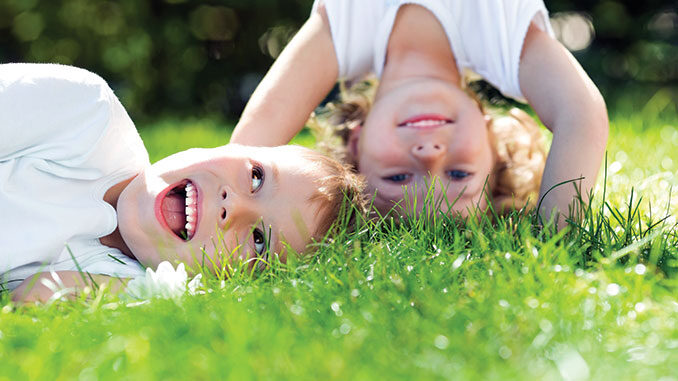 A guide for leaning into a more carefree, creative and spontaneous season
Published: May 26, 2022
By: Christa Melnyk Hines
Which version of summer is most true for you?
A. Lazy days spent lounging poolside with my happy, contented family.
B. A mad rush of activities, exhausted parents and grouchy kids.
Want a summer that's a little more lounging and a lot less racing around? Here's your guide for leaning into a more carefree, creative and spontaneous season. 
Hit pause. Rather than vault into summer, ease into it. "Our school year is full of activity, routine and deadlines. Use the first few weeks of summer like a detox from constant activities," says Shannon Kinney-Duh, a mom of three and holistic life and spiritual coach.
Tip: Brainstorm a list of summer desires and activities together. Mindfully answer questions like: What do I/we want summer to look like? More downtime? More family connection? Less running around? And remember, free activities count too. Kinney-Duh's sons enjoy making stop-motion movies, writing plays, painting at the park, water balloon fights and movie nights in the backyard.
Boredom is okay. Kinney-Duh suggests we look at boredom as a creative opportunity. Boredom, she says, "invites kids' creativity to kick in, providing their deep need to play more with a space to flourish." Multiple studies show that kids, who are given the time and space for creativity and personal expression without adult interference, turn out to be more flexible to change, stronger problem solvers and innovators.
"Children need time to immerse themselves in creative activities, a place that feels safe to express ideas that are unconventional, and encouragement to explore the unknown so they can discover what they enjoy and unlock a universe of possibilities," writes Helen Hadani, a researcher at the Center for Childhood Creativity, in her paper Inspiring a Generation to Create: Critical Components of Creativity in Children. 
Tip: Keep a space in your home that allows for freewheeling creative expression. Stock it with painting, drawing and craft supplies, inexpensive cameras, recycled objects, and building materials.
Strike a balance. For some of us, envisioning long days without a plan causes our brain synapses to crackle and pop with alarm. Without structure, won't our kids spend the next two and half months fighting or turning into houseplants playing video games? Of course, we also don't want to spend the entire summer peeling our sweaty selves in and out of the car as we run our kids from one scheduled activity to another. 
"All too often we fall into the 'too much/not enough' trap," Kinney-Duh says. "We end up filling our days with obligations and too many activities with this underlying feeling that if we don't, we somehow aren't doing enough for our kids. This cycle can easily leave us feeling tired, overwhelmed and depleted."
Decide what a happy medium looks like and what your priorities are, including your needs for self-care. 
Tip: Ask questions like… What types of skills would I like my kids to work on this summer? What are they interested in doing? Could a responsible sitter help run my kids around a few times a week? What are ways I can recharge and care for myself to ensure I show up feeling present, patient and engaged with my family?
Provide simple structure. While summer is meant to be more laid back, providing a framework around the days helps kids feel secure and grounded. A sense of structure is especially important for children with sensory, attention or impulse control issues. They "benefit greatly from monitoring and feedback during the summer to stay on track, maintain and improve communication skills," says parent and life coach Sara Minges.
Tip: Plan weekday mornings for more structured activities and the afternoons for free play. Perhaps designate Sunday evenings as s'mores nights with friends or Fridays as pizza and game nights.
Be realistic. When planning your family's summer vacation, take into account each family member's interests and build in time to relax and take breaks from each other. "Too many activities and not enough 'chill time' can push everyone's last nerve," Minges says. Instead of focusing on creating the perfect vacation, remain flexible. While you can plan for some variables, you can't control the weather, a moody teenager or your two-year-old's inopportune meltdown while going through airport security. "Any personality, irritability or anxiety issues experienced during the year will still be there and may become more pronounced," Minges says. 
Tip: Choose a vacation destination with activities that appeal to each member of your family. Remind your kids of the importance of flexibility. "They may not have the extras or comforts they are used to when traveling such as comfy pillows, TV, separate bathrooms and beds, favorite foods or friends to play with," Minges says.
Make a family media plan. Establish your family's technology rules as soon as summer starts to avoid tech overload and battles over time allowances. The American Academy of Pediatrics recommends no tech time for toddlers, other than video chatting, and only one hour a day for preschoolers. Set reasonable guidelines for your older children to ensure they're getting plenty of exercise, good sleep and face-to-face time with family and peers. 
Tip: Set aside one tech-free day a week. "That means no technology at all," Kinney-Duh says. "It may sound hard and you may feel restless at first, but it's worth it!" 
Inspire creative connection. Document the summer with photos and stories in a summer journal that your whole family can contribute to, including ups and downs. Chances are the moments when things went awry are those that you will recall with laughter later. 
Tip: Create a "wall of gratitude." Minges suggests using post-it notes or slips of paper and markers on which each family member writes their favorite moments from their vacation and pins it to the wall. Encourage younger children to draw pictures of their favorite moments. Don't forget to take a photo of your wall!
Savor summer. Notice and embrace the unplanned moments when family connection unfurls. "Our kids grow up fast and the summer seems to be shorter and shorter every year," Kinney-Duh says. "Slowing down and savoring the moment is really what summer is all about." 
Simple Ways to Spend Time Together 
Explore a nature trail
Camp under the stars
Kayak
Swim at night
Try a new activity
Take a family cooking class
Plan a "do-nothing" day
Play games
Introduce your kids to an activity you loved at their age
Source: Shannon Kinney-Duh, A Free Spirit Life