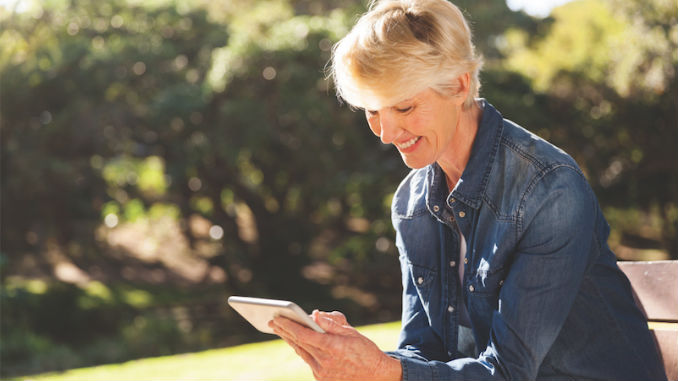 The Dos and Don'ts of Clicking Your Way to Romance Over 50.
Published: October 31, 2018
By: Greg Carannante
You've just turned 60, you've been married for half those years and you've suddenly found yourself single. Or maybe you've been divorced or widowed for years now — or never married at all — and you feel that the time to move on has finally arrived. 
Whatever the reason, you'd like to meet some new people, and you're just not sure how that happens in this day and age — especially at your age.
Since the last time you were on a real date, there've been some seriously staggering changes in the world of courtship. For one, that word isn't even used anymore. Instead, you've heard some new ones, like "swipe right," "hookup" and "booty-call." You're not quite sure about all that. You'd just like to meet someone and hopefully, date your way into a relationship. 
But depending on where you live and how your days are spent, the idea of diving back into the dating pool may be more than a little daunting.
Who do you know, where do you go and how do you go about it? 
What's a single senior to do?  
The first thing may be to realize that you're not alone. Singles, who represent more than half of all U.S. residents, now outnumber married adults — and 35 million of them are over 50. But while there are still plenty of opportunities to meet someone in the real world, for many seniors, the virtual world has become a viable option.
Arguably nothing has reshaped the dating scene like online dating — and over-50 is its largest growing segment, according to Bela Gandhi, president and founder of the Smart Dating Academy. Two-thirds of the company's clients are 50 to 78 years old, and much of its dating-coaching services focus on optimizing their online-dating profiles and photos. 
"The great benefit to being over 50 is we have a lot of experience," says Gandhi, who the Huffington Post has called "The Fairy Godmother of Dating."
"We know ourselves well and we know who we want and we know who we don't want. We're not anxious about marriage and kids. And we've got time to look for Mr. or Mrs. Right."
Swipe right for romance
Looking online for Mr. or Mrs. Right begins with choosing the right dating website, which could possibly be as bewildering as trying to find the right partner. Dozens of sites are available and several of them — such as OurTime, Just Senior Singles and SilverSingles — are geared to older daters.
Before committing to a site, it's important to understand what each site offers compared to what you are looking for as a single senior. For instance, some sites specialize in carefully made matches, while others have extensive search tools to more personally involve you in the matchmaking process. 
While some sites like Mingle2 are free, most are subscription-based. For example, the online-dating grandaddy, Match.com, offers rates ranging from $9.95 per month for a 24-month subscription to $59.95 for one month. Be aware that some online matchmakers offer free services that are essentially designed to entice you into paying. They might let you check out profiles of people to whom they've matched you, but you won't be able to contact those matches unless you upgrade to a subscription. But subscription sites generally offer better service and results than the freebies. And many also offer mobile apps so you can keep connected on the go. 
Once you've settled on a site, the degree of difficulty in getting started is to some extent up to you. You'll usually be guided through the process of uploading photos of yourself and creating a profile — your age, where you live, your interests, the kind of match you're looking for, etc. Let's just say that some profiles reflect a lot more time and effort than others. 
Once your profile is published, you can search for potential matches and peruse the profiles of those recommended for you. Swipe left if you're not interested, swipe right if you are. Or, if someone really sparks your interest, send a message. You'll also be able to check out those who have "winked" at you. After that, online dating proceeds pretty much like the dating you're accustomed to — with a few recommendations specific to seniors.
Cast your net out wide
Because online sites require you to state how old you are, age-related dynamics can make or break a match right off the bat. "But age is just a number," says Gandhi of the Smart Dating Academy. She advises against age discrimination in dating — particularly when it comes to seniors.
"Don't get so hung up on that number," she says. "Look at what the person looks like, what they sound like. Every single person that I talk to in the dating world will tell me: 'I'm a 63-year-old but I'm a very young 63. I look 10 to 15 years younger than I am. I'm very active, I work out and I want someone who can keep up with me. I don't want someone old.' 
"You never know, love is going to come to you in an unexpected package — and maybe that's age. Be empathic. The way you want people to look at you, look at them as well."
Age is not the only potential senior dating deal-breaker. "You're gonna see a wide swath of people that are either retired, semi-retired or not yet retired," Gandhi says. "My advice to you is to keep your mind open and cast your net out wide. If you're semi-retired, be open to people who are active professionally or people who are totally retired. Don't pigeonhole yourself into thinking, 'Well, if I'm still working I need to be with someone else who's also working.' Maybe you can be with someone who's semi-retired and who loves the activities you're doing in your profession — they've been there and done that and they'll provide a good yin to your yang."
The same goes for the make-or-break categories of separated, divorced, widowed or never married. "Give people across all of these quadrants a chance," she says. "There's a lot more variety because we've been around the block. I've seen amazing stories that happen to people that have been married four times, and divorced three times and lost a spouse and go back at it again. There are great people with every label out there. Try to look at the person for who they are, not what that label is."
Senior Dating Sites
Seniors can be found on most dating sites, but some, like those below, specifically target the more mature date-seeker. 
For reviews of these and other dating websites, visit www.top10seniordatingsites.com/reviews
Dating Advice From the Matchmaker
Professional matchmaker Bela Gandhi describes the Smart Dating Academy, which she started nine years ago, as like a personal trainer for dating. Here she shares some of her secrets for successful online and in-person dating.    
Keep your profile positive, specific and fresh. Include zero negativity and nothing sexual, and show — don't tell. Refresh your profile every week.
Photos determine 90 percent of your success. Use five to six high-resolution photos of yourself, both headshots and body shots. Look at the camera and dress well. Appear happy, approachable. "You've got to step up your game to be competitive," Gandhi says.
Don't lie about your age (or anything) in your online profile. "Starting anything with a lie is bad karma," she says. "Would you want to date anyone who starts with a lie?"
Beware of online scammers — they tend to prey on singles over 50. Look for red flags like bad grammar and punctuation, speaking about God to throw you off the scent and trying to switch the conversation to personal email ASAP — then you're on your own. 
Be proactive — send five messages per day. "You're looking for a needle in a haystack."
Good emails begin with reading the recipient's profile to find something to connect on and end with a question to get a conversation started. And absolutely don't cut and paste a generic email. 
After five to 10 messages, ask to chat by phone. Say something like, "It would be great to put a voice to a name." If someone doesn't want to chat on the phone, they may not be serious about dating. Phone calls can also help you screen-out "crazies" or negative people.
During phone chats, smile so your tone and energy go up. Be positive and sincerely interested in the other person. Practice sound bites so you're prepared to talk about the good stuff. 
On a first date, focus on the other person. "Make your date feel like a million bucks," Gandhi says. "If you're totally invested in the person in front of you, you can't think about your own anxieties. It stops the monkey chatter in your brain. The best way to get someone to like you is to like them first."
On the first few dates, don't discuss the past in detail — if you must, keep it positive — and don't get into health issues either. "People need to earn your story," she says. "Giving people pieces of yourself on a timely basis is perfectly legitimate in the dating world."
Date more than one person at a time. "Think about your dating life as you would a horse race." 
Don't have sex with someone until you trust them. "We have a term called 'sexclusivity,''' Gandhi says. "That means don't have sex until you're in a committed relationship — which is usually no earlier than three months and anywhere from 10 to 20 dates with the same person. Sex clouds your objectivity. Hold that off till later so you can objectively judge this person as being good for you or not good for you. Be patient."