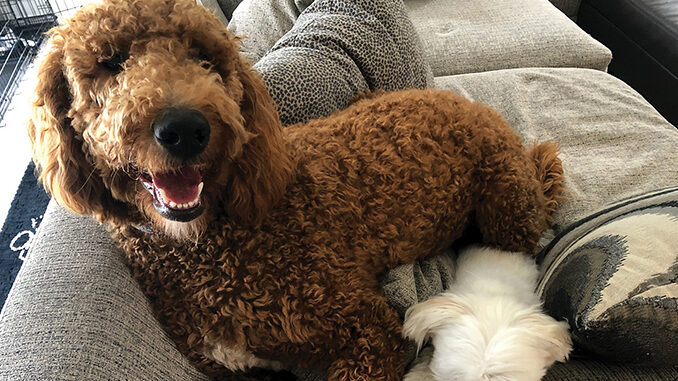 Furry friends bring love, acceptance and other benefits to most families
Published: November 19, 2021
By: Jennifer Jhon
With the winter holidays here, parents might be considering gifting their kids with a furry friend. After all, those puppy-in-a-box and kitten-with-a-bow videos are the cutest, and they generally end with tears of joy all around.
But is a pet a good idea for your family?
"About 90 percent of the time, it's a wonderful idea," says Diana Johnson, the head veterinary technician at Faithful Companions Animal Clinic in Pembroke Pines. "I think every family should have a pet, especially when families have children. They bring extra comfort that some people need after a long day." 
Pet owners experience health benefits across the board, not just mentally but physically, as they interact with their furry family members, she says. "If they can adopt a pet and help a pet, they help themselves
as well." 
After nearly two years of a global pandemic, with our mental health the way it is, the companionship and nonjudgement that animals offer is especially important, Johnson says.
And children with pets learn responsibility, as well as nurturing and empathy.
Learning to Nurture
Carole Himmel, who lives in Sunrise with her 20-year-old son, Max, and daughter Katelyn, 10, has had animals her whole life. "I think when you have animals, you tend to be a nurturing and caring person," she says.
And Himmel is certainly caring. Two years ago, she rescued a 3½-week-old puppy named Bella, bottle-feeding her for 2-3 months before being able to start her on puppy food.
"Every three hours, I would get up. I actually put her bed on my bed. I would wake up and make her a bottle and go feed her, just like a baby. So she's really attached to me."
Before Bella, her family rescued Kitty. "Someone had moved out of a house and tied the cat to a fence. Kitty was almost dead when we found her, she was skin and bones. We took her to the vet, and we nursed her back to health. … Kitty is a fat, happy cat now," Himmel says.
Their most recent rescue is Lucy, a puppy adopted from the Humane Society of Broward County in May as a playmate for Bella after the family started to spend more time out of the house.
When they met Lucy, who was just a puppy, they fell in love instantly. "From the second she saw us, she was ours. … She'll put her forehead up on my forehead and snuggle into me. She's the sweetest girl."
From day one, Lucy and Bella have been like sisters, she says. "They play together. Lucy will look over at Bella and she'll start licking her face and grooming her, and then Bella will start licking Lucy's face and grooming her. They love each other."
Himmel has passed her love for animals to her daughter. "If I would let her have 100 pets, she would have 100 pets," she says.
Katelyn is a rescuer as well, and she has the scars to prove it. In January, an iguana bit part of her finger off when she tried to free it from a chain link fence it was trapped under. 
Despite the experience, Katelyn still catches lizards and iguanas, her mother says. "She has no fear."
Bringing the Love
The desire for a "playmate" also motivated Faran and Kara Fagen, both schoolteachers from Coral Springs, to add to their family.
They already had two children, two dogs and some fish in 2020, but their poodle, Jury, was in declining health, and they didn't want their other dog to be alone. Plus, Kara's birthday was approaching. So Faran surprised her with a Goldendoodle puppy, which they named Alice.
Their dogs bring unconditional love to the family, Faran Fagen says. "They just want you to play with them and pet them." 
Their Maltese, Counsel, just wants to sit with you, and he's nice and warm and fuzzy, Fagen says. "Alice is loads of fun. She's still a puppy, so she always wants to play."
The kids, 8-year-old Blair and 14-year-old Spencer, love playing with the dogs. "It's just nice to have somebody around who wants to love you and have fun," Fagen says. 
Alice is particularly affectionate. "When we come home, with Alice, it's like a big lovefest. She just hugs everybody for five minutes each. … She just puts her arms on your shoulders, she doesn't lick you or anything, she just wants to hold you because she's so happy that you're home."
For the parents, the dogs help entertain the kids. "They like to walk the dogs and play games with the dogs. It gives us an easy filler activity," Fagen says.
He says the dogs are also good for emotional balance and tension relief, because they are nice and calm. 
They also help teach responsibility. "We'll come home, and Blair will run right over to the dogs and let them out the back so they can go to the bathroom," he says.
Fagen says getting Alice has really been a blessing for his family because she has such a good temperament. "She has the most amazing personality," he says. 
Part of the Family
Sydney Barfus, 16, a junior at Plantation High, has had pets her whole life. 
"I think pets are really good to have with kids because it can teach them responsibility and helps them find a schedule that works for them where they like taking care of them," Sydney says. "It gives them someone to play with when other people are busy."
She lives with her parents, Perry and Heather, and her 13-year-old brother, Dillon, in Fort Lauderdale along with a dog named Lucky, a cat named Tuit and pet pig named Pickles.
Sydney says her favorite part of having pets is interacting with them and having them welcome you when you get home. "Or if you are ever stressed or worried about something, you can just pet them, and they give you loving," she says.
She also likes to travel with them when the family goes camping, visiting grandparents, and taking other trips. "It's just a joy to have them around. Something always goes different than expected, and it's always entertaining," Sydney says.
She expects to get her own pets when she graduates and leaves home. "I just like having them around, being able to talk to them or have them just come into my room and greet me," she says.
Creature Comforts
The comfort Sydney feels from her animals is familiar to Johnson, who has been at Faithful Companions Animal Clinic for about 20 years.
Johnson says her family dog was a great help to her oldest daughter, now 13, when she was in middle school. 
"Preteen years are hard on kids. She had a lot of pressure from school, a lot of pressure from friends. She would come home, and she would just sit with our dog. She would just sit and talk to her and tell her all her problems, and the dog would sit there and just stare at her and lick her face. And she can hug her, and there is no one there at that moment judging or looking at her any kind of way," she says. "It's just a dog that cares about their human and is willing to just listen to anything that's going on."
Making the Commitment
There are a lot of reasons to have a pet, but families should understand that it is a lifetime commitment, whether you purchase or adopt, Johnson says. Families should also consider finances, including medical costs and behavioral training costs, she says.
If it is financially possible for families to own a pet, she encourages them to do their research and choose the right pet.
"If you like to be an active person, if you enjoy being outdoors more, then a dog would be a better fit, because then you can give the dog what it needs," she says. "If you are more of a sedentary person, a cat is better-fitted."
For young families who are active, either would be fine, she says.
She urges families to be aware of the financial costs behind pets. "Few people understand how expensive it can get, especially without pet insurance."
Animal health care costs are comparable to human health care costs, she says, so an ER visit with your pet could cost thousands of dollars. "We really want people to do their best to acquire pet insurance because it does make a big difference. It is life or death sometimes for these pets."
But Johnson also says the costs of pet ownership are worth it.
"To me, personally, the comfort of having something there that's fuzzy and warm and gets to listen to all the crazy things that happened to you throughout your day and doesn't have a thing to say about it, that's priceless."