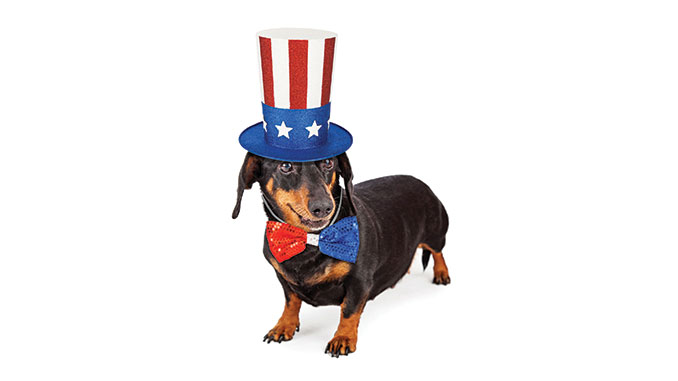 July 5 is one of the busiest days of the year at animal shelters. That's because pets often panic from the noise from fireworks, bolt and get lost. Dogs, especially, can become upset enough to crash through windows, jump over fences, or break chains to escape. 
Here are some tips to keep your pets safe this Independence Day: 
Don't take dogs to places where there may be fireworks.

If you plan to be away from home on the holiday, bring your pet inside the house and leave the animal in a quiet, protected room. Animals left outside in the yard may not only attempt to escape, they may also fall prey to possible abuse by misguided individuals.

If you're at home with a scared dog, don't reinforce its behavior by offering sympathy. Instead, divert its attention by practicing an obedience routine or playing a game.

 

Leave a scared cat alone. Don't try to force a feline from its hiding place. The cat will come out when it feels safe.

 

Make sure your cat and/or dog is wearing a current Miami-Dade County animal license tag. County law requires all dogs over four months old to wear a license tag which

 

provides identification and ensures a call home if your pet is lost. Tags are available for cats, but they are not required. Since cats are clever enough to take off their collars, a microchip is

recommended

instead of a tag.