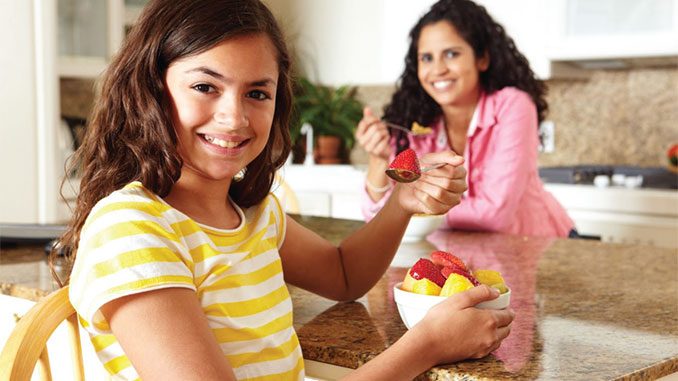 5 ways to keep your family healthy in the new year
Published: January 14, 2021
By: Malia Jacobson
While last year was marked by a public health panic, 2021 may be the year that personal health reigns. Families are embracing a more proactive approach to staying healthy in 2021, says Michelle B. Smith, a registered dietitian nutritionist. "Many families are wanting to take more control of their health and realizing that we have so much more control of our health than we previously thought." 
Ready to move family health and wellness to the top of your priority list this year? Here are five trends to track.
1. Greener meals
Recently, Yale's program on Climate Change Communication found that Americans have become more willing to eat fruits, vegetables and other plant-based foods over the past year. Smith expects that tendency to continue. "I think a huge driving force behind this trend is the desire to improve one's overall health and wellbeing," she says.
However, during the pandemic, health food has become more expensive and less accessible for many families. "I think COVID has been a double-edged sword when it comes to plant-based eating," says Smith. With meat shortages in some areas, and people eating and cooking more meals at home, experimenting with plant-based recipes made sense for some families. But stress and financial concerns made adopting an entirely new way of eating close to impossible for many.  
"This is where I remind my patients that the most expensive food items in your cart tend to be processed foods and meats. When done with a whole-foods twist, plant-based eating isn't just good for your overall health, but great for the health of your wallet, too!" Keep grocery bills in check by shopping the perimeter of the store first, where you'll find minimally processed beans, grains, fruits and vegetables; save highly processed plant-based dairy and meat alternatives for occasional splurges. 
Parents often ask about getting enough protein on a plant-based diet, notes Smith. "We now know that as long as the diet is balanced, and enough calories are being consumed, this doesn't have to be a worry." Plenty of plants offer protein, from peas to beans to whole grains like quinoa, so kids eating a well-rounded vegetarian diet can easily consume enough. 
2. High-tech tracking
Research in nutrition and physical activity suggests that preschoolers should take up to 15,000 steps daily and middle school-age kids should rack up 11,000. Multiple sources, including the CDC, recommend an hour of physical activity per day. With regular P.E. and recess on pause, that's no easy feat, so more families are turning to wearable activity trackers to motivate kids to move. 
Wearable technology was last year's top fitness trend, according to the American College of Sports Medicine. Feature-rich kids' fitness trackers from well-known brands like Fitbit, Garmin and Leapfrog are keeping up with their grown-up counterparts: Along with counting steps, some offer games and challenges, rewards for meeting exercise goals, and different settings for different types of exercise. Using integrated apps, parents can monitor health and activity metrics, monitor chores and screen time, and even dole out allowance.
Trackers are trendy, but do they work? Scientists say yes. In multiple studies, kids who used fitness trackers were more active and spent more time outdoors. Activity trackers may not be right for every child though, depending on their age, temperament, technical savvy and level of motivation. Families who want to try out the trend without worrying that their child will lose — or lose interest in — a pricey device can find basic models that track steps and a few other metrics at major retailers for about $20.
3. Focus on Vision
Thanks to increasing hours spent focusing on small screens, childhood myopia (or nearsightedness) was deemed a global epidemic in 2019. Adding to the issue is the current pandemic prompting long-term remote learning and an upswing in recreational digital device use. Remote learning also means that many children don't have access to routine vision screenings at school. But even with vision screening, some common vision problems like convergence insufficiency, or problems coordinating the eyes to focus, are easy to miss, says Alan P. Pearson, OD Ph.D. 
Our eyes function best with a mix of close-range and distance viewing, so long hours on screens without breaks are problematic, says Pearson. "Blurry or double vision is a real problem for children because it's going to interfere with the quality of learning, attention and focus." Taking regular vision breaks of 20 seconds for every 20 minutes spent on screens can alleviate complaints like eyestrain and dry eyes. 
Parents can look for signs of vision problems, that might not seem obvious at first, by tuning into four categories of symptoms: feeling-related complaints ("my eyes feel sore"), descriptions of how objects look ("the words look blurry"), changes in performance (like skipping or misreading words), and behavioral signs, which could include avoiding close-vision tasks like reading, unintentionally winking or holding reading materials very close to the face. Noting symptoms in any of these areas warrants an eye exam from an eye doctor.
4. Pet parade
If your kids were begging for a puppy pre-pandemic, 2020 may have been their year. According to a recent study by TD Ameritrade, a third of Americans considered adopting a pet for companionship once social distancing became the norm last spring. Pets provide a bounty of health and wellness benefits to their humans, from lower levels of stress to an ever-present reason to go outside for a walk. According to the Centers for Disease Control and Prevention, pet owners are happier and more physically fit with lower blood pressure and better emotional health. 
To make a pandemic pet adoption stick, make sure your lifestyle can accommodate a new animal companion even after work-from-home and remote schooling mandates are long past. Families should also plan for pet-related expenses since owning a dog is said to cost an average of $1,200 per year.
5. Beyond virtual P.E.
Despite the best efforts of their parents and teachers, many kids are getting less exercise during the pandemic, according to researchers from the University of Southern California. With extended remote learning and limitations on extracurricular activities, more families are looking for exercise options online. Kids are getting in on the virtual exercise trend through virtual workouts and classes ranging from HIIT (high-intensity interval training) to yoga to dance fitness. 
 If a remote fitness class doesn't sound appealing, one-on-one fitness coaching might be more motivating, especially for tweens and teens with specific athletic goals in mind. 
Malia Jacobson is a journalist specializing in health and family topics.